Mercedes Benz GL
Aggregated Reviews
The Mercedes Benz GL Class has been reviewed by Experts (10) and Users (3). Its score is 72 out of 100. This is based on 13 reviews in total.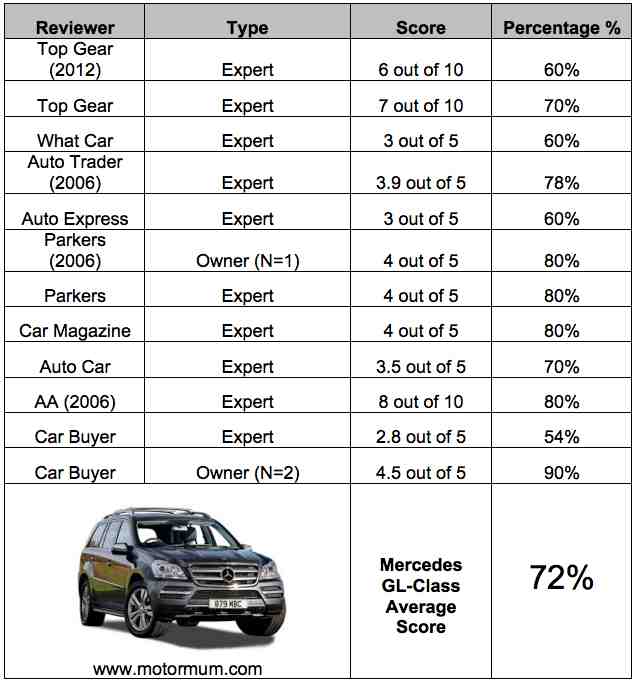 Top Gear - Expert (350 Bluetec)
Top Gear reviewed the 350 Blue Tec 7 Seater Merc in October 2012. They are truly impressed with its cavernous space. It's bigger than the Q7 and little brother the M-Class. The M-Class only has 5 seats.
Although for comfort if you only need five seats they suggest the Range Rover may be better. If seven seats are a must and comfort is too then this is the SUV for you. The engine is huge so fuel economy wont be. The diesel Mercedes Benz GL averages 38MPG which isn't bad but it's not good either! The petrol model gets to 62 miles per hour in 5.8 seconds. Do we really need to propel our four children to that speed that quickly? You decide. The score given is 6 out of 10.
Top Gear
This general review isn't dated. But I'm assuming by what they are saying that it's recent (2012). They talk about its size and adept MPV capabilities but air on the side of caution when recommending it to us Britain's due to the engine size. Fuel will not be cheap. Neither is the purchase price, from £59,000 you can get the entry model, but their recommended choice is the 63 AMD 5 door. This will have the ultimate luxury you require with a mass of additional gadgets. With the Mercedes technology the inside is whisper quiet. Score 7 out of 10.
What Car
Expensive but luxurious is the general feeling from What Car. Top marks are given for refinement merely because you can hear front row passengers when sitting in a third row seat. Apparently wind noise is non-existent at speed. It's the ideal car for those who need a seven seater and want the opulence of a Mercedes.
Mercedes Benz GL Class pictured above.
Although the third row seats are described as big they recommend adults only sit in them for short journeys. What is impressive is the third row seats fold away at the touch of a button. This gadget is available as standard. The middle row, middle seat folds away neatly to allow passengers to access the third row. They would love it if price weren't a consideration. The overall score given is 3 out of 5.
Auto Trader (2006)
Oooof a 5 out of 5 for performance and equipment but a mere 2 out of 5 for running costs. The Mercedes GL is one of the biggest SUV's available in the United Kingdom but also the most expensive. They recommend the GL350 CDI Blue Efficiency V6 if you're on a budget, but honestly, is 59K considered on a budget? This model is the best seller. If you want to blow the budget go for the GL450 CDI. They say it's too big for the UK roads but some feel that the plushness is worth it. Score 3.9 out of 5.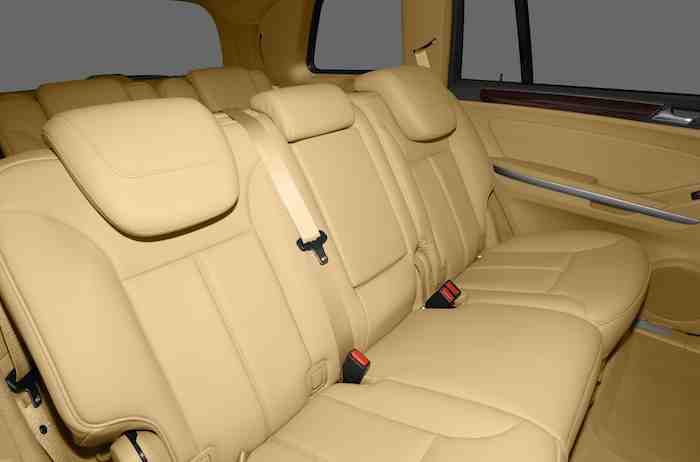 Mercedes Benz GL Class interior seating pictured above.
Auto Express
Auto Express write about the 2012 model. Although this car is huge they explain this is because of customer demand in the US and Middle East. I guess fuel is cheaper there. Mind you I think fuel is cheaper anywhere but in the UK. The performance is outstanding considering its size, which is 5.14 meters long. In the UK there are two engine choices; petrol and a diesel. It has top marks for safety despite not being tested by Euro NCAP. There are side and passenger air bags and pre safe, ABS and ESP. I still don't understand what that means. However they are reliable and shouldn't need too many trips to the mechanic. Score 3 out of 5.
Parkers 2006 - Owner Review (N=1)
Owner reviews of the GL Class are lacking. I did try and search the Internet extensively to find as many as possible but unfortunately didn't succeed in finding many. An owner of the GL420 CDI 5d Tip Auto wrote a review in February 2009. Now this is the muscular model. He loved it and scored it a 4 out of 5. He says it's easier to drive than the Discovery 3 and although parking is tricky the parking sensors make it easy. Luckily for him his seven seat requirement is coming to an end so will be able to buy (and afford) a Ferrari next. This sums up owners the type of Mercedes GL owners - they are rich!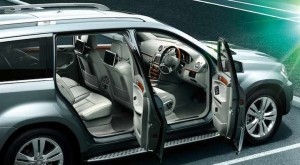 Mercedes Benz GL Class interior seating (side view) pictured above.
Parkers 2006 - Expert Review
This review is based on the 2006 variant which is similar in size but has fewer refinements and plushness than the 2012 models. The pros and cons are similar in that it is huge, practical and has superb build but is still tricky to manoeuvre and isn't that fuel efficient. Although second hand you could pick one of these beauties up for just over £15K. Score 4 out of 5.
Car Magazine
The peeps at Car Magazine also write about the 2006 model. They ask if it's an over inflated luxury 4WD. Maybe it is but in a fight on fight it beats the Q7 and Range Rover on size and luxury. Although other reviewers say its off road ability isn't as great as a Range Rover. In 2006 there were three engine variants with 224hp, 306hp and 388 hp. Score 4 out of 5.
Auto Car
Auto Car discuss the market this SUV is aimed at being the same as the Audi Q7. They say the GL is better because its off road driving ability is as good as its on road driving. This is different to what someone else has said above. The pictures on the Auto Car site are as excellent as ever, and definitely worth a look. The boot space is 200 litres when all seven seats are in use. To get the feeling of spaciousness the roof has been raised. This has attributed to the cars overall size on the road. It can be quite intimidating facing one of these especially if you're a Picanto owner like myself. They describe the GL's appeal as a niche. Score 3.5 out of 5.
AA: GL 420 CDI Review
According to the AA this car was released in Britain in 2006. It is as wide as the M-Class but longer because of the additional seating. That makes sense! Although you may not need the sixth and seventh seat Mercedes have supplied them because the marketing people have advised them that this is what we want? Access to the third row seats is only available to agile individuals and its off road ability is on a par with Land Rover. It has no First Car appeal due to its expense. This is stating the obvious but I like that the AA include it. Safety is excellent as is the overall rating of 8 out of 10.
Car Buyer (2006-2012) - Expert
No video from Car Buyer with this review. That's a shame. Maybe Mercedes wouldn't lend them one. Car Buyer make the same comments as other experts. It's huge and expensive and lacks the style of a Range Rover. Some may disagree with that. It's good to drive and has air suspension as standard.
This SUV is built in the US and is shipped over here to support the niche that wants it. Not many reviews say how reliable a car is but this is the second reviewer (or maybe third) that has said how reliable the Mercedes GL is. I should hope so when you spend over £70K to buy one. Score 2.8 out of 5.
Car Buyer (2006-2012) – Owners (2)
Both owners would recommend this car to a friend. This is indicated by a lovely graphic of thumbs up. Both write-ups give high scores for reliability and performance but low scores for running costs. Both owned the 420 CDI, 3L Diesel Automatic variants. Its good to know you can sit in comfort for at least 12 hours. That is a rather long commute. Score 4.8 out of 5.
2013 Review – Not Yet Rated
The 2012 Mercedes GL has been reviewed by a few Car Review experts, but has not been scored. I guess the priorities to write the reviews and score accordingly is less so for the niche it would provide information to. Needless to say, I have included the following list of reviews for information.
Conclusion
The Mercedes GL SUV 7 Seater Car isn't small or economical. It has been built in direct competition to the Audi Q7. It fills a small niche in the UK but is more popular where fuel is cheaper. For opulence it is the best. It can drive off and on road well. It costs a small fortune but owners love them.
The overall percentage for the Mercedes Benz GL Class is 72%
.more...