Mercedes Benz GL
GL - Large Off Roader
As one of the largest seven seaters on the road today, the Mercedes-Benz GL Four Wheel Drive is impressive both on and off road. It is safe and has an excellent diesel engine. The running costs and buying price can be crippling though.
Mercedes Benz GL Class pictured above.
Built on a modified version of the M-Class architecture, the Mercedes Benz GL manages to fit in three rows of seats without looking like a boxy SUV. As you'd expect, this is a quality vehicle, which is part of the reason Mercedes achieved record sales in the US last year, where it has sold extremely well.
Purchase Price
There are two models to choose from the GL 350 CDI BlueEfficiency and the GL 500, with prices £58,935 and £73,155 respectively. Second hand prices range from £18,000 up to £60,000.
Running Costs
Falling into Car Tax band M, it is not cheap to run and it is one of the most expensive off-road vehicles available today. As a company car, expect to pay even higher prices for tax. With 100g/km of CO2 being the benchmark for new cars of the future, the Mercedes GL disregards that and comes in with a whopping 242g/km of CO2 for the 3.5-litre diesel.
The barmy 507bhp V8 is even worse at 322g/km of CO2. The most frugal diesel manages to return 30.7mpg, which for a car of this size is fairly impressive, but the petrol engine can only muster between 15mpg and 26.6mpg for the V8 model. Insurance is high, too, (group 49A and 50A), making it very expensive to run.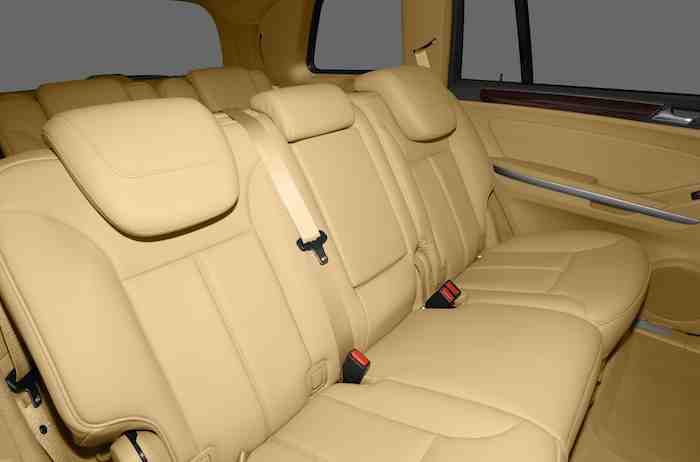 Mercedes Benz GL Class interior seating pictured above.
Safety Features
One area where the GL does well is its safety features. There are lots of airbags, such as side, curtain, window, head and of course, driver and passenger ones, too. There is traction control mated to the ABS, which can apply brakes to one or more wheels if any loss of traction is found by the electronic control unit.
Comfort And Extra Features
Mercedes cars are always comfortable. Leather-swathed seats, soft and sumptuous carpeting and with a 5.2m wheelbase, even with six and seven seats, there is enough room to stretch out. Long distance travelling is a breeze in the GL. Only the very best materials are used in the GL and in all of Mercedes' line-up. Nappa leather, solid fixings and a good-looking interior are guaranteed.
The exterior might not appeal to everyone's tastes but the car commands attention. The engines are as reliable as ever, too. There are many gizmos including TVs in the rear headrests and electrically adjustable and heated front seats. Other features such as its dual-zone climate controls, air conditioning, leather-wrapped steering wheel including radio controls, heated front seats and cruise control come as standard. Options such as leather interior seating, memory system, rear radio controls, voice recognition navigation system and heated rear seats are also available.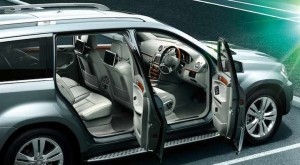 Mercedes Benz GL Class interior seating (side view) pictured above.
Performance
For such as bulky car, all of the GL models manage to hit 60mph in less than 10 seconds. The 350 CDI diesel hits the benchmark time in 7.9 seconds. Unbelievably, the V8 does it in a supercar time of 6.5 seconds, which shows the sheer torque of that iconic engine that is also found in the other AMG-fettled Mercedes cars. As for top speed it can go up to 149mph. Engine-wise, it goes beyond necessity, even factoring in the large frame. The top-of-the-range version generates a huge 388 break horsepower, making it an ideal choice for pulling trailers. Even the smallest engine size pulls off a powerful 265hp. The unbraked and braked towing capacity is 750kg and 3500kg.
Dimensions and Luggage Space
With all seats in the upright position there is a more than averaged sized boot. I'd say 1240 cubic litres would be enough for seven suitcases. The maximum load capacity without the rear seats is 2,220 cubic litres. With seven spacious seats, the GL is as practical as any car can be. There is a monstrous amount of space and there are many cubbyholes dotted around the cabin. At 5.2 meters long, it's not the easiest vehicle to park and rear visibility is poor thanks to the rear headrests in row three. The luggage capacity with the seats up is limited, but with the rear seats down the capacity increases to 2300 litres.
Off Road Driving
Weighing more than two-tonnes, the GL is never going to handle well but Mercedes does use clever air suspension that can disguise the bulk fairly well. With four-wheel drive it is usable off-road but on-road it is cumbersome and bus-like in its stance.
Conclusion
Although Mercedes intended to replace the ageing G-Class with this new GL series, the outcry that followed means the German automaker has continued with both for the time being. Acceleration and cruising at speed are unsurprisingly impressive and although it's a sizeable vehicle, it maneuvers easily. True, it may prove a bit cumbersome when trying to park in the city, but then this is a vehicle that is designed for so much more than a trip to the shops and back.
.more...