SEAT Alhambra
Expert & User Reviews - Aggregated
The SEAT Alhambra has been reviewed by Experts (10) and Users (45). Its average score is 83 out of 100. This is based on 55 reviews in total.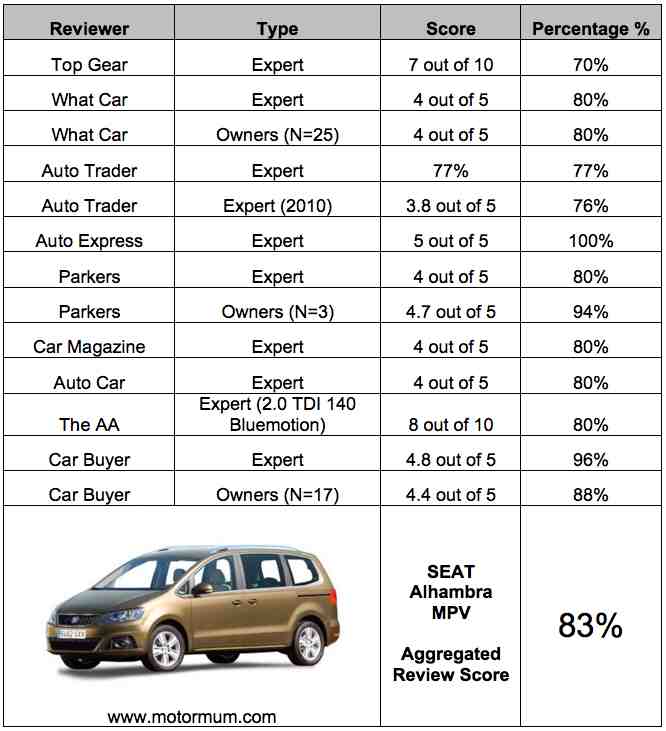 Top Gear - Expert
The SEAT Alhambra, according to Top Gear is a huge boxy wide drive with lots of space. It's a clone of the Volkswagen Sharan but costs a little less (few hundred).
But they imply you'd get better residual values buying a Sharan. Torque is lost with baggage and passengers (as other cars). Higher up the specification chain you get quality closer to that provided by Audi. I love Audi! Their model of choice is the 2.0 TDI CR 140 DSG SE Lux 2011 version. The rating given is 7 out of 10.
What Car - Expert
What Car say the SEAT Alhambra is hard to get hold of. I've seen loads around, both new and old. They don't like the limited luggage space (with all 7 seats in place). The rest of the review is generic. It's a good (and large) family car with seven seats. End of! The rating given is 4 out of 5.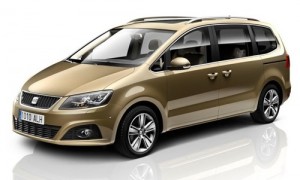 SEAT Alhambra pictured above.
What Car - Owners (N=25)
There are close to 25 different versions of the SEAT Alhambra written about by real owners. Despite positive feedback one owner says the speaker grills in the doors are poorly constructed and all broken. He highly recommends the 115bhp model. The rating given is 4 out of 5.
Auto Trader - Expert 10 point test
This 10 point test was undertaken in 2007 on the 2.0 PD Stylance SEAT Alhambra. They like its solid appeal and more affordable price. The equipment category comes out at 8 out of 10, which is good if you're buying one a few years old. The rating given is 75%.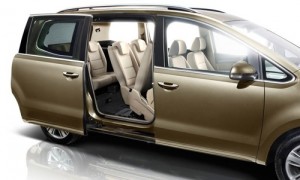 SEAT Alhambra with sliding door pictured above.
Auto Trader - Expert
Ok so the Seat Alhambra has less design flair than some of its little brothers and sisters, but so what. This review was written in 2011. Auto Trader is keen on its classy interior and dashboard, but see the outside as dull. Top marks for practicality and the recent generation (2010) being 22cm longer and 9.4cm wider. The 267 litres of boot space with all seats up is quite unique too. The rating given is 3.8 out of 5.
Auto Express - Expert
Auto Express have given one of the highest ratings available (5 out of 5). They love it so much they have called it the MPV of the year in 2013. Despite this they still think it looks grim, the ride is hard and there are limited engine choices. The rating given is 5 out of 5.
SEAT Alhambra side view (sliding door) pictured above.
Parkers - Expert
They (like others) love the Alhambra's practicality and affordability, but not the gearbox. According to Parkers you can get the same type of car from other more established car manufacturers such as Ford or Vauxhall. The rating given is 4 out of 5.
Parkers - Owners (N=3)
All three owners have scored their SEAT Alhambra either a 4 or 5 out of 5. All three owners owned a 2 litre diesel model. The overall rating is 4.7 out of 5.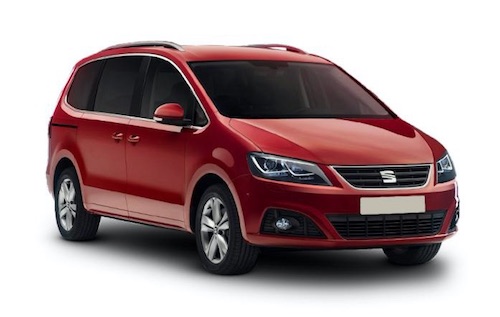 SEAT Alhambra (front view) pictured above.
Car Magazine - Expert
Car Magazine tested the Alhambra in Ecomotive (CO2 146g/km & 50mpg) and they liked it. They found accessing the seats in all rows easy. They warn of potential failures from the motorised rear door and tailgate. The rating given is 4 out of 5.
Auto Car - Expert
Auto Car can't criticise the Alhambra for anything apart from its blandness. They like the large sliding doors that facilitate easier access. The rating given is 4 out of 5.
The AA - Expert
The AA test drove the 2.0 SEAT Alhambra MPV (TDI 140 SE Bluemotion) in September 2010. Bluemotion is SEAT's badge for being environmentally friendly. The AA give top marks for the twin sliding doors and family car appeal. The boot cover is also liked. The rating given is 8 out of 10.
Car Buyer - Expert
The cheapest, greenest and fastest Seat Alhambra are one and the same; S 2.0 TDI CR Ecomotive 140 5dr. The fastest has an E after the S. Car Buyer love the Alhambra, which is why they named it MPV of the year in 2014. Top marks have been given for boot space, but I'm not sure why because with all 7-seats in use it is only 267 litres (not spacious). The rating given is 4.8 out of 5.
Car Buyer - Owners
If 17 people have left their review on this site and 81% would recommend owning a SEAT Alhambra to a friend that means 13.77 people would recommend owning one to a friend and the maths don't add up. The 2004 model isn't as big as a Renault Grand Espace, but the 2011 facelift version should counteract that.
One owner has replaced the front seats twice. He's happy about that as it negates the requirement of attending a regular gym class. The Alhambra has good MPG whilst towing or driving round France. There are so many positive reviews about this car that I can't pick out any more interesting negative snippets. Their rating is 4.4 out of 5.
Conclusion
Two expert reviewers named the SEAT Alhambra their Car of the year (2013 and 2014). The overall rating is high and nearly everyone has something good to say about this larger than average seven-seat passenger vehicle. Even better is that it is more or less identical to the Volkswagen Sharan only cheaper. The benefit of having twin sliding doors is praised by most reviewers and owners.
The Aggregated Car Score given by motormum for the Seat Alhambra is 83%.
.more...