SEAT Alhambra
Popular People Carrier Since 1996
The SEAT Alhambra is a family oriented 7-seater multi purpose vehicle (MPV). The car manufacturer Volkswagen produces the brand. The Alhambra range has been produced since 1996. Newer models come with a host of additional features including sliding doors, privacy glass and seven curtain air bags. New models come with three levels of trip; The S, SE and SE Lux.
The SE Lux is the most luxurious with a media system with Sat Nav incorporated; a small TV Screen, parking camera, Digital radio and an SD card slot. The question is what more could you wish for?
Costing around £25,000 upwards it is competitively priced in the market. Second hand models are widely available from under £1,000 to full asking price with only 1 mile on the clock. Some would say that the Alhambra is the cheaper version of the Volkswagen Sharan as they are more or less exactly the same cars.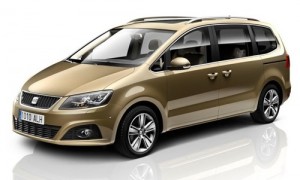 SEAT Alhambra pictured above.
Running Costs
A full service for a costs approximately £195. A full service plus MOT costs £230; or £59 for the MOT with a one-year guarantee; £119 for the MOT with a three year guarantee. An interim service costs £130; an interim service plus MOT costs £165. These prices were checked online at the time of writing using a national car service provider. Before you book a service or MOT you are advised to contact your local provider for a quote. Nowadays garages are selling service and maintenance costs in packages with affordable monthly costs.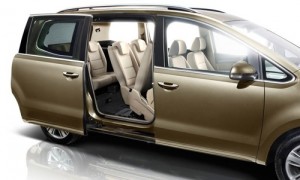 SEAT Alhambra with sliding door pictured above.
Emissions
The CO2 emissions range between 159 to 196 g/km. The Ecomotive model with a 2.0 TDI engine uses least CO2 (159 g/km), followed by the S and SE models (175 g/km) and the SE model with a 1.9 TDI tiptronic model (196 g/km). CO2 emissions near 200 g/km are relatively high in terms of 7 seater cars, making the Ecomotive model the greenest in the range.
SEAT Alhambra side view (sliding door) pictured above.
Car Tax Band (VED)
Linked to the CO2 emissions levels is the Car Tax. The SEAT Alhambra falls in car tax bands G (the Ecomotive model), H (S and SE 2.0 TDI models) and J (SE 1.9 TDI tiptronic model).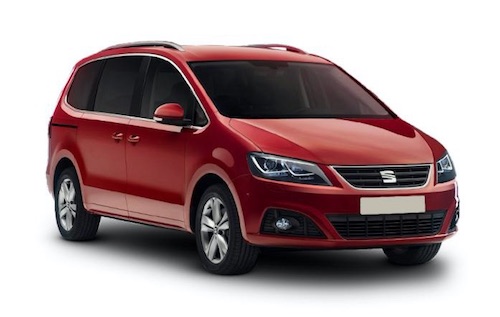 SEAT Alhambra (front view) pictured above.
Fuel Efficiency (MPG)
Fuel efficiency for the urban miles per gallon cycle is 36.2 (Ecomotive) to 28.2 (SE 1.9 TDI tiptronic). The extra urban cycle is 57.6 to 47.9. The combined mpg is 47.1 to 38.2. But you must remember that there have been loads of Alhambra models over the years so the MPG stats will vary considerably. The fuel tank capacity is 70 litres.
Accessories
There is a wide range of accessories you can choose. A selection of items includes additional arm rests, chrome mirror covers, a heavy duty boot tray, a set of roofbars, iPod cables and cradle, a portable DVD set and Bluetooth.
Boot Space and Dimensions
Being only 4.84m long, 1.904m wide and 1.720m high it still isn't that big a passenger vehicle. The Boot capacity with all seating upright is 267 cubic litres. This increases to 658 litres with the 3rd row folded and 2297 cubic litres with the 2nd and 3rd row folded flat. If you want to tow more stuff then it can do that too; up to 2200kg in some models. The towing with without the brake is 750kg across all models.
Safety Features
Safety features include driver's, front passenger's, front side and curtain airbags; an electronic stability programme (ESP); emergency brake assist (EBA); child locks; locking wheel bolts; an electronic alarm and an immobiliser with cryptocode.
Performance
The 7 seater achieves 0-62 mph in 11.9 (Ecomotive) to 15.1 (SE 1.9 TDI tiptronic) seconds. The top speed ranges from 110 to 121miles per hour. All the Alhambra Seat models use diesel engines. The fuel delivery system is direct injection with turbo. This people carrier falls within car insurance groups 11 to 12.
Conclusion
Manufactured by the Volkswagen Group, the Seat Alhambra is part of a family of 7 seater cars. Volkswagen also produces the VW Sharan brand. It is also closely related in terms of the components used to the Ford Galaxy. The Seat Alhambra is marketed as a lower price choice that achieves good functionality for family outings.
.more...