Volkswagen Touran
Compact Seven-Seater
The Touran is a compact seven seat multi-purpose vehicle (MPV) produced by the German carmaker Volkswagen. The VW Touran was first a launched in 2003. VW also produces the larger MPV Sharan and Caravelle. The Touran range was launched during the 2006 Paris Air Show. It is economical, well built and is available with an abundance of additional features.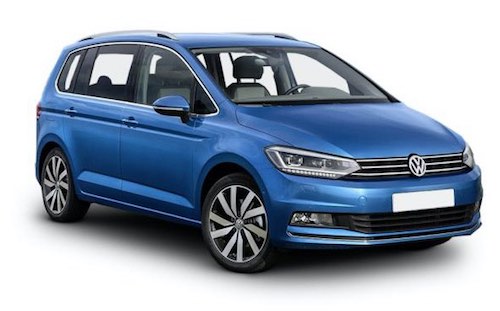 Volkswagen Touran pictured above.
Purchase Price
The costs varies between £16,585 (S model) and £24,535 (Sport model). The SE model retails for between £19,145 and £22,585. This makes it substantially cheaper than the Caravelle (costing between £31,735 and £38,935) and moderately cheaper than the Sharan (around £30,000).
Servicing Costs
A full service is £195. A full service plus MOT costs £230. An interim service is £130; an interim service plus MOT is £165. A MOT with a one-year guarantee is £59; a MOT with a three-year guarantee is £119. These prices are subject to change over time. They were checked online at the time of writing with a major national service and MOT provider. You are always advised to check with your local provider before budgeting for a service/MOT.
CO2 Emissions and VED Banding
In terms of CO2 emissions, the Touran has a typical emissions rate of 125 g/km. This makes this compact 7-seater considerably greener than both the VW Sharan and Caravelle. As such this people carrier falls within Car Tax bands (VED) D and G.
Miles Per Gallon (MPG)
The standard S model of the Touran has an urban miles per gallon cycle of 35.3; extra urban 51.4mpg and combined: 44.1mpg.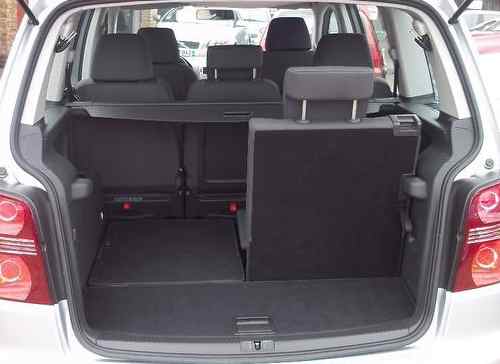 Volkswagen Touran boot space pictured above.
The SE model has an urban miles per gallon cycle of 31.7; extra urban 50.4 and combined 41.5. The diesel S Blue Motion Tech model has an urban miles per gallon cycle of 51.4; extra urban: 68.9 and combined: 61.4. This makes the S Blue Motion Tech model one of the most economical in terms of fuel efficiency available.
Additional Features
Options available with the Volkswagen Touran include alloy wheels, air conditioning, carpet mats, leather upholstery, panoramic sunroof, a leather trimmed steering wheel, a RCD 510 touch screen radio, a RNS 315 touch screen navigation and radio system, a rear view camera, a DAB compatible radio and adaptive chassis control (ACC).
Safety Features
Safety features include driver and passenger airbags, Isofix child seat protection, an electronic engine immobiliser, remote central locking, an automatic hill hold function and rear parking sensors.
Performance
The Volkswagen Touran achieves 0-62 miles per hour in between 11.9 and 12.8 seconds. Its top speed is around 115 miles per hour.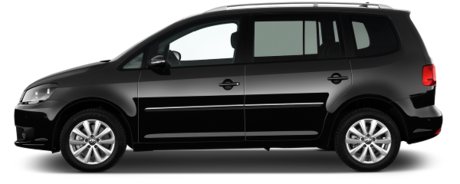 Volkswagen Touran side view (black) pictured above.
Insurance Band
The majority of Volkswagen Touran 7 seaters fall within insurance groups 6 and 7. Some models fall within the higher range of 9 to 12.
Golf Platform
German automaker Volkswagen has done an impressive job with its Touran Though this fine seven-seater was originally based on an extended version of the same platform used to produce the fifth-series Golf, the Touran introduced its own special blend of practicality and value. There is a very similar vehicle called the Golf Plus whose front end is of a very similar size to that of the Touran, but the bigger MPV is quite a bit longer than the Golf Plus, especially at the rear, where it has 200mm more overhang. Other aspects of the Touran, particular the engine options and much of the suspension share a lot in common with the Golf.
Conclusion
The Touran has been around since 2003 and the latest models continue the excellent look and feel of the original. Since the 2010 model year, the Touran has been based on the platform from the Golf VI. VW even introduced a modified version of the latest Touran in China. The latest face-lifted Touran models carry a very slick, modern front-end that fully supports the corporate look being blended into its full range. The rear end is arguably less successful but it is always difficult to design a sleek rear for MPVs and this one is no disaster.
.more...