Toyota Verso
Toyota Verso MPV - Aggregated Car Review
The Toyota Verso has been reviewed by Experts (11) and Users (73). Its average score is 69 out of 100. This is based on 84 reviews in total.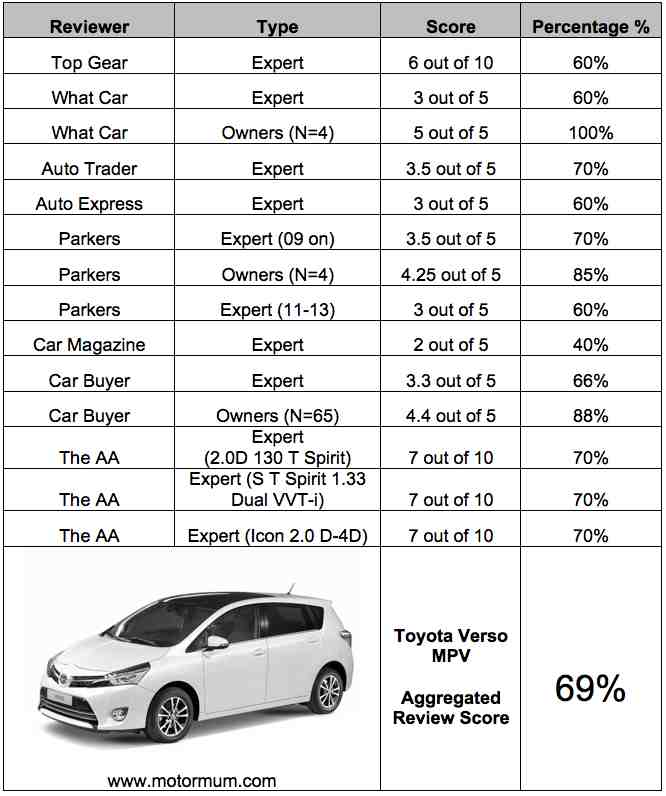 Top Gear - Expert
Top Gear test drove the 2.0 D-4D TR Toyota Verso in 2009. They call it dull but admire the practical elements. The interior is tough enough for kids. The third row has curtain airbags (a first for third row seats). Driving is a little dull which is why Top Gear thinks the S-Max is more exciting. At the end of the day the Verso does what it is supposed to do.
In 2009 the removable rear seats were replaced with some funky flip ones. This made everything easier (and even more practical). Top Gear advise to transport gnomes only in the third row. A depressingly dull review considering practicality, reliability and functionality are top priorities for most families when trying to find a family car. The overall score is an average 6 out of 10.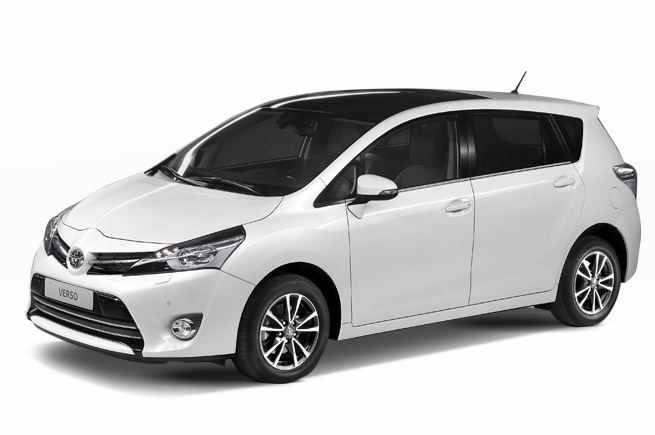 Toyota Verso front view pictured above.
What Car - Expert
What Car's review is of similar ilk to Top Gear in that the Toyota Verso is practical and worth considering if you need that sort of thing. The seats are tricky to adjust. The parking sensors are liked but aren't available in the base model. The expert at What Car doesn't like the mere 155 litres of boot space when all seats are in use. The score is 3 out of 5.
What Car – Owners (N=4)
In general the reviews are positive. One quirk is the need to rev the engine over 4000 rpm to get the Verso going (but we don't know what load she's carrying). There's a disgruntled comment on why What Car's downgraded the Verso score from 4 to 3. Owners like the reasonable running costs and aren't that bothered (at all) that it isn't a sports car. The rating given is 5 out of 5. That is 100%. You can't get higher!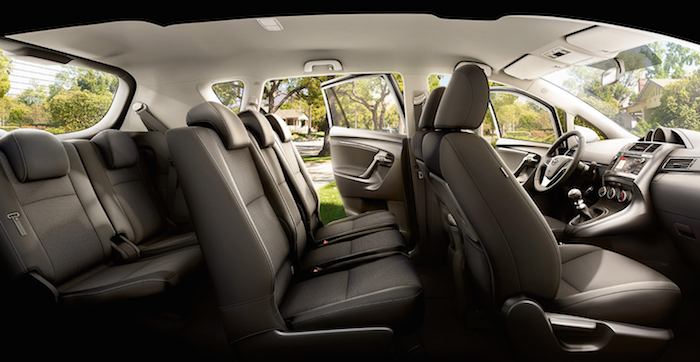 Toyota Verso seating layout pictured above.
Auto Trader - Expert
The Auto Trader experts are impressed with the level of kit and seating configurations that are available when buying a Verso MPV. It's a family car – what else would you expect. The recent work done to reduce the diesel engine noise has worked well. Good ratings are given for reliability, safety and Tardis like qualities of the Verso. It really can carry a lot of people (well a maximum of 7) without looking that big from the outside. The rating given is 3.5 out of 5.
Auto Express - Expert
According to Auto Express the residuals are good but the interior is dated. The extended warranty (5 years) is a bonus. They like the new facelift (2012). Their model of choice is the new 1.6 diesel engine (from 2014). They say it's smooth. As it's diesel it's likely to be extremely economical (and I checked and it is, up to 62.8 MPG). The rear seats are small but will everyone please stop going on about it! The rating given is 3 out of 5.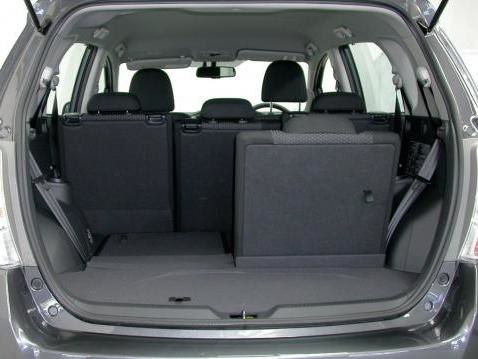 Toyota Verso flip seats pictured above.
Parkers – Expert (09 on)
I think Parkers are too critical of the Verso interior. So it maybe drab (to them) but it needs to be functional for us! Safety is given the highest ranking, it's those curtain air bags in the third row and 5 star Euro NCAP test rating. Well done to Toyota. Parkers love the comfort, seven seats and reliability provided by Toyota It is a safe bet. The rating given is 3.5 out of 5.
Parkers – Owners (N=4)
New information = the turning circle is good. This is good to know. Oh and it's practical but sassy. Excellent! What else? There are four owner reviews to look at. All are positive. Dealers are nice and the Verso MPV is liked. The rating given is 4.25 out of 5.
Parkers – Expert (11-13)
Is it true that the 2011-2013 Toyota Verso has no diesel engine? According to Parkers it is. There is a diesel engine in 2014 so don't worry. It is the 1.6d one mentioned above. Visibility, safety and practicality are all good but we knew that already. Someone please tell me what I don't know. The rating given is 3 out of 5.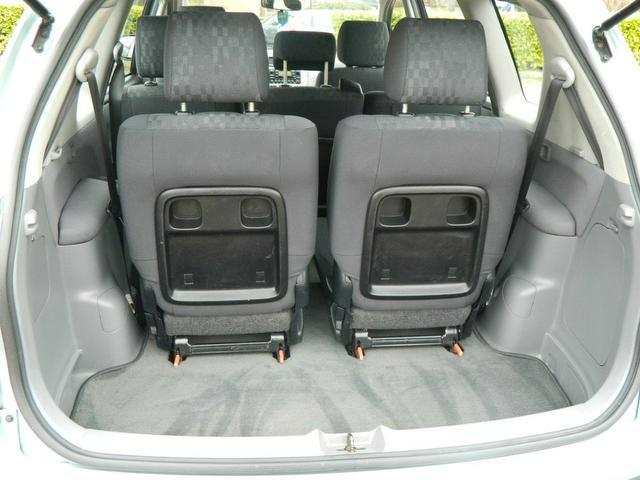 Toyota Verso removeable rear seats pictured above.
Car Magazine – Expert
Car Magazine (Ollie Kew) test drove the Toyota Verso 1.6 D-4D Excel (2014) recently (April 2014). This information is one of the newer reviews, so well done Car Magazine. The new Verso MPV has better MPG and lower C02 (as most cars do). It sounds like the cabin hasn't improved much. Ollie doesn't like it, although he seems to wince and say it's hardwearing. This reviewer is also the first to mention the Korean rivals such as Kia and Hyundai. The new Kia Carens has more for less. The score is 2 out of 5.
Car Buyer - Expert
Well, other reviewers say the Toyota Verso isn't as good as the Ford S Max but Car Buyer say it competes well. Okay so running costs are reasonable (TAX < fuel etc) but those darn service intervals aren't long enough. The flexibility and adaptability of the second and 3rd row seating options are commended. The strong resale values add a positive slant to buying a Toyota Verso. The score is 3.3 out of 5.
Car Buyer – Owners (N=56)
Despite most reviews being either a 4 or 5 out of 5 only 60% would recommend the Toyota Verso to a friend. The lowest review was down to a recall and a breakdown soon after buying. The ongoing theme is practicality, economy and the necessity of 7 seats. The overall score is 4.4 out of 5.
The AA – Expert Reviews (3 Models)
Fortunately for you I have combined the three reviews from the AA into one paragraph. You can read them at your leisure. There isn't that much new to learn.
In April 2009 the AA test drove the 2.0 D 130 T Spirit Verso. They liked it but in a perfect world would like more engines to choose from. The rating given is 7 out of 10.
Insurance Group
This MPV falls within insurance groups 6 to 8. These insurance brackets are on the lower spectrum which makes insuring one reasonably cheap.
In March 2011 the AA test drove the S T Spirit 1.33 Dual VVT-I Verso. The flexible seating is admired, as is the increased economy. It is an improvement from earlier versions. The rating given is 7 out of 10.
The latest review from the AA is written on the Expert Icon 2.0 D-4D Verso. It was written in February 2013. The looks have improved as has the driving experience. Not to inspiring levels though. The rating given is 7 out of 10.
Conclusion
Well what can I say that hasn't been said before? Not much! Okay it's practical because of the seven seats that fold in all sorts of ways. It is economical and has a reasonable C02 figures. Residual values are better than other car manufacturers but the interior is repeatedly described as dull. Top marks are always given for reliability and safety. All in the Verso could be a solid choice when choosing a Family Car.
The Aggregated Car Score given by motormum for the Toyota Verso MPV is 69%.
.more...