Toyota Hiace
It's been around since the 1960s and is one of the most effective, and well-known, panel vans in the world. As Toyota, and indeed many other manufacturers, made the most of their chassis and models, the Hiace soon became known as a people carrier, although in reality the panels of the panel van were replaced with windows and a few seats thrown in for good measure. It's a crude, but thoroughly versatile 7/8 Seater.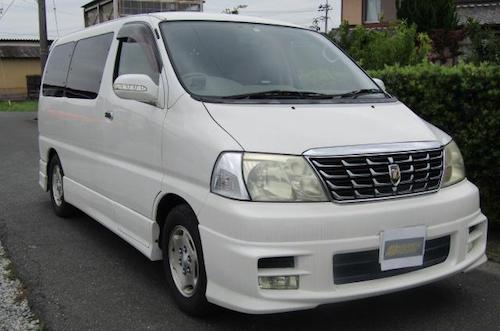 Toyota Hiace pictured above (from Ebay).
Second Hand Cost
Prices vary from under £3,000 to around £6,000 for second hand models. The very new models are not available in this country unless bought as an import.
Security
The only downside to the Toyota Hiace is its security record. In Japan, it ranks top in terms of the most stolen vehicle in the country, partly due to its inferior security system compared to more expensive SUVs. If you can hold onto this vehicle, however, few other people carriers compete, and it's got the history to prove it.
Engine Performance
The New Van model has a myriad of options, including fridge-freezers, the Hiace tries its best to hide its humble beginnings. Alas the new model is only a Van and does not have the option of extra seats. It is dated and outclassed by other vans or people carriers on the market, but with Toyota's strong engines and reliability, you can't discount the second hand version. The 2.4-D4D diesel is seen in anything from a pick-up truck to the luxury Camry, and is one of the best large-capacity diesels around. It is punchy, with 192lb ft of torque and has 120bhp. Please note that I am unsure as to whether the new Hiace has the option of seven seats.
Dashboard Features
The floor-mounted gearstick isn't as direct as Renault's dash-mounted units on its Traffic vans, but it has a precise change that is light. The dashboard and the vents look like they've been lifted from the 1990s parts bin and are lacking in the quality that Toyota are known for these days. The driving position is good, although the seating is firm and unsupported. Satellite navigation and air-conditioning come as options.
Quickly becomes a van
Where the version becomes competitive is in its practicality. If you run your own business and need to haul around large items then it quickly becomes a van. It's a heavy vehicle, at 2.8-tonnes, therefore it can tow heavy caravans or trailers. With the seats in place, it not only carries seven people easily but there are eight seats available for passengers, and a small boot space. If you're looking for a seven-seater that has a huge payload, then the Hiace goes one better in terms of seating and is hard to beat with its load-lugging skills.
Additional Features
There are many options, such as curtains for the rear windows, roof-mounted TV systems, leather seats that are arm-chair like, and sliding rear doors. There are Hiace's with two sunroofs, rear climate control and fold-down front central seats, which act as a base for cup-holders and extra cubby holes. With the latest generation Hiace's having been restyled, they are starting to look a little like 'posh' minibuses, rather than a van with windows. There is a huge demand for air-conditioned mini-buses in Asia, and for people in the UK that regularly need to carry more than five people around.
Van or MPV
Now in its fifth generation, this robust people carrier has evolved beyond all recognition into a vehicle that seats seven people and more with ease, not to mention some style. The key to this range is variety. While it is most commonly bought as a minivan for transporting groups of people, the Hiace is also a popular van for businesses, depending on the model. The distinction is in the paneling or windows as well as the seats in the back, or not, as the case may be.
Engines
As such, there is a range of engine sizes available, from a two-litre petrol up to a three-litre diesel, with a number of increments in between. It's a case of deciding what the vehicle needs to do and then choosing the engine to match. Styling-wise, the super-long van, the very definition of a people carrier, is certainly the pick of the bunch. It's tall-sided elegance, combined with an effortless simplicity, makes it look very much like a miniature passenger coach.
Conclusion
Although the earlier generations of Hiace were crude oil-burners that were little more than a bunch of seats in the back of a van, the new vehicles are more upmarket and wouldn't look out of place on the school run or for taking the family on holiday on the weekends. With Toyota's reliability, the Hiace is a force to be reckoned with.
Just as long as you can deal with the van jibes from passers-by. The fact that some of the first 1967 generation of this model are still doing the rounds in a number of African countries is testament to their enduring appeal and longevity.
.more...