Toyota Verso
Compact Verso Seven Seat MPV
The Toyota Verso is a compact multi purpose vehicle (MPV) manufactured by the Japanese carmaker Toyota. Due to its compact size it has car-like handling and looks, in contrast to many other MPVs on the road today.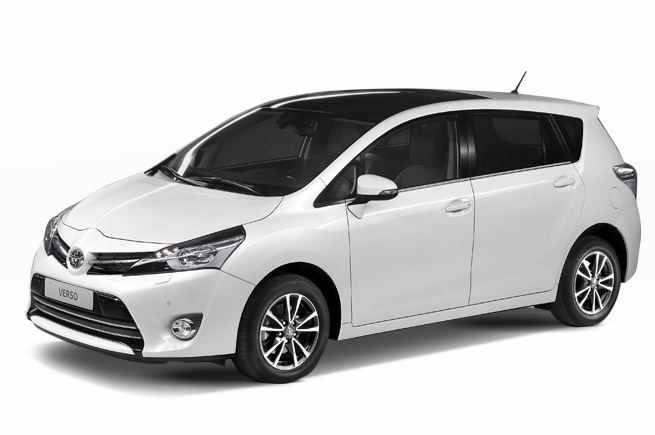 Toyota Verso front view pictured above.
Launched in 2009 at the Geneva Motor Show. It succeeds the Toyota Corolla Verso. All Toyota's are now sold with a 5-year guarantee. The Seven seat models are available in the T2, TR and T Spirit but only with the 2.0 D-4D, 1.8V Matic, or 2.2 D-Cat engines. In newer models all the rear seats fold flat. In older models they could be completely removed.
On The Road Price
Prices start from £17,765 and go up to £24,995. The T2 is the economy model, followed by the TR model and the TR Spirit. This people carrier has been around for quite a while so there will be a lot of second hand models available. Used prices vary between £2,000 and £15,000.
Running Costs
A full car service costs £195. A full service with an MOT costs £230. An MOT on its own costs £59 (one year guarantee) or £119 (three year guarantee). An interim service costs £130. An interim service plus MOT costs £165. Although these prices were correct at the time of writing, checked online through a major car service provider, it is always advisable to verify pricing with your local provider.
CO2 Emissions and Car Tax Band
The CO2 emissions range from 158g/km to 205g/km. Toyota has thus developed a particularly eco-friendly car, combining great functionality with green awareness. This is part of Toyota's general reputation for environmentally friendly manufacturing. The Car Tax bands applicable, as defined by its CO2 emission levels, are from G to K.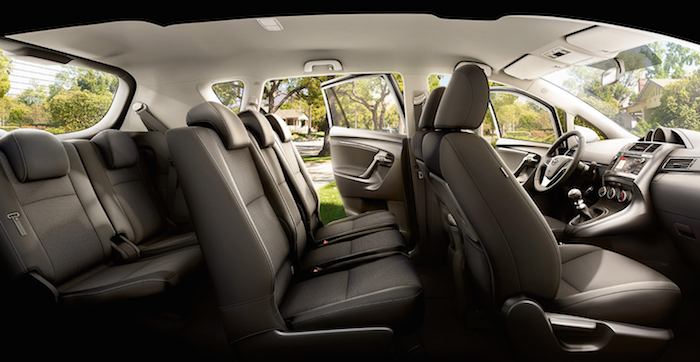 Toyota Verso seating layout pictured above.
Fuel Efficiency (MPG)
Fuel efficiency on the combined cycle ranges from 39mpg (petrol) to 53.3mpg with the 2.0D-4D Manual engine. The fuel tank capacity is either 55 litres or 60 litres depending on which model you buy.
Additional Features
The extras available include up to five accessory power sockets, cruise control, a premium navigation system, USB and Aux inputs, integrated Bluetooth with steering wheel controls, a panoramic roof with sunshade, an overhead storage box and an under floor storage area.
Safety Features
To start with, the Verso is the safest vehicle in its class, featuring curtain airbags in the third row that led to a five-star rating by Euro NCAP when it was tested in 2010 and 2011. Not only does it score better than any compact, it also ranks higher than any other MPV for passenger safety. The safety features include airbags for the driver, front passenger, child locks; traction control; energy absorbing impact crumple zones and side impact beams on all side doors.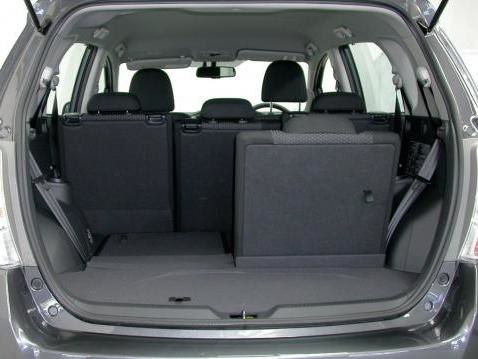 Toyota Verso flip seats pictured above.
Performance
This very safe MPV typically achieves 0-62 mph in just over 10 seconds seconds. Its top speed is around 115 to 121 miles per hour. The braked towing capacity is around 2880 kg. The engine options are good too. There's a dainty 1.6-litre petrol engine, as well as a 1.8-litre, while in diesel, the choice is between a 2-litre and a 2.2-litre engine. The latter has proven to be the most popular, delivering good acceleration and a smooth cruising speed on motorways while keeping things cost-effective.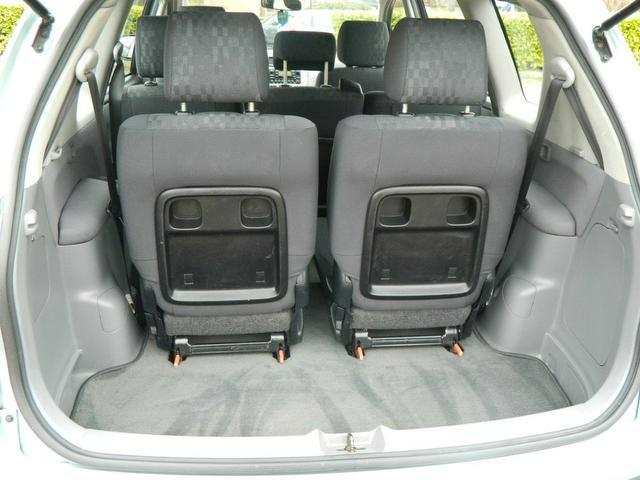 Toyota Verso removeable rear seats pictured above.
Third Row Seating Space
Inside is essentially a 7-seater trapped inside a 5-seater's body, and, indeed, both seating options are available. The version with seven seats is similar to many other vehicles in the compact MPV segment in that the 2-3-2 configuration leaves little in the way of legroom at the rear. That means confining children to the third row, as there simply isn't sufficient space for adults. The Toyota Verso is therefore the kind of vehicle that serves small, growing families when budget is a major consideration. In these terms, it's difficult to beat. Definitely more compact than other seven seat vehicles this car is only 4.440 meters long and 1.620 meters high. Although it is higher up than regular cars so it is easy to maneuver children in and out of rear seats.
Insurance Group
This MPV falls within insurance groups 6 to 8. These insurance brackets are on the lower spectrum which makes insuring one reasonably cheap.
Conclusion
The T Spirit, the top of the range, combines Japanese attention to detail and precision with a range of great functionalities. The headlights automatically activate using dusk sensing technology and the windscreen wipers automatically sense rainfall. For your comfort while travelling, it can be upholstered in leather. It is a great compact choice that has an impressive road performance. With its low price, smallish frame and engine sizes most commonly seen on run-of-the-mill saloons, the Verso is the type of 7-seater that defies the traditional concept of a people carrier altogether. It's a compact MPV in every sense, and although there a number of sacrifices made as a result, overall, this is a vehicle that delivers superb value for money.
.more...