Vauxhall Zafira
User & Expert Reviews
The Vauxhall Zafira (including the Tourer) has been reviewed by Experts (14) and Users (726). Its average rating is 69 out of 100. This is based on 726 reviews.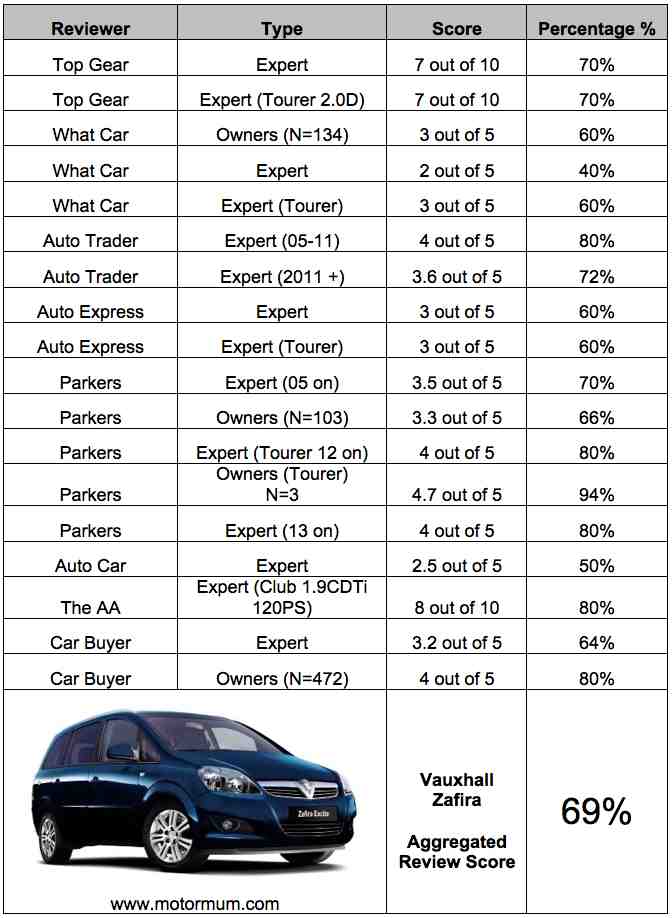 Top Gear Expert - Elite
Top Gear drove a 2011 Vauxhall Zafira Tourer Elite. They liked it for what its supposed to do. The new seating option sounds fun. The middle outer seats can slide back when you remove the middle seat, giving greater legroom. This sounds fun but my children would break it quickly.
They would at least get a banana skin trapped in the tracks. Never mind about theat. The Tourer Elite is a smooth ride and should be better with passengers. I think that means that with extra weight the ride is even smoother. The rating given is 7 out of 10.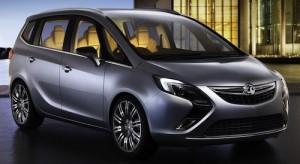 Vauxhall Zafira Tourer pictured above.
Top Gear Expert – Tourer 2.0D
At the same time Top Gear looked at the 2 Litre Diesel Tourer. They conclude that it is a more bespoke 7-seat MPV which costs about 3k more than the regular Zafira. The base model is more or less the same price as an original Zafira. So if you want something more luxurious go for the higher specification Tourer. In a Tourer, the space in the rear seats is supposedly slightly bigger too. Apparently the Tourer doesn't have as many cubby holes or gadgets as other MPVs. The rating given is 7 out of 10.
What Car – Owners (N=134)
A whole load of owners, 134 in fact have reviewed their Vauxhall Zafira. Some love them. Some hate them. The majority do like them. It is a very popular car and the different models written about only goes to show the huge choice of various engine types and specifications there are to choose from. The rating given is 3 out of 5.
What Car - Expert
This review is based on the older Zafira (before the Tourer was a twinkle in its eye). It doesn't do well and only scores 2 out of 5. The bench seat isn't liked but the low purchase price is. The rating given is 2 out of 5. There are lots of facts and figures quoted in the review but not much of an opinion.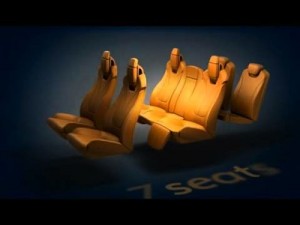 Vauxhall Zafira Tourer (seating view) pictured above.
What Car – Expert (Zafira Tourer)
The Zafira Tourer has done better than the plain Zafira by scoring one point more. The clever seating (individual middle row seats) and better styling has contributed to that. The economy has also improved. The rating given is 3 out of 5.
Auto Trader – Expert (05-11)
This review is based on 2005 to 2011 Zafira's. The family favourite Zafira is criticised wildly for being boring. But at the end of the day it does a good job at transporting families around. Auto Trader recognises the Zafira as stylish and extremely practical. They love the Zafira's ability to hide bulk (from the outside it doesn't look like a seven seat MPV). Although Vauxhall Zafira's are so common everyone knows that it is one. The rating given is 4 out of 5.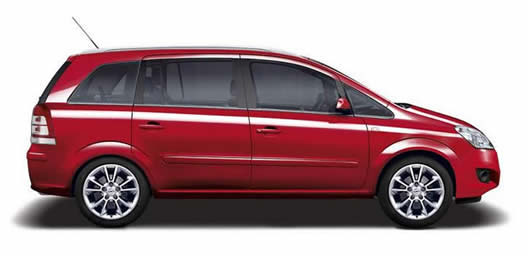 Vauxhall Zafira side view pictured above.
Auto Trader – Expert (2011 +)
The Tourer redesign is based on a Train. Yes the ones on rails. This is because they want it to be fast. To be fast it needs to be ergonomic (smooth against the wind). The poor old Zafira has spent hours being shaved in a wind tunnel. After a good shave the tweaked Zafira was reborn under a new name. The Zafira Tourer is the most aerodynamic MPV on sale in the UK. The Tourer is Vauxhall's attempt at bringing out a more luxurious MPV. Although they have done quite well there are still better choices out there (according to Auto Trader). Auto Trader recommends the 1.6 diesel for its economy but you could find that out from reading the manual. This Vauxhall Tourer is designed to be tougher and more reliable than the regular Zafira. Ongoing quality improvement is a good thing, right? The rating given is 3.6 out of 5.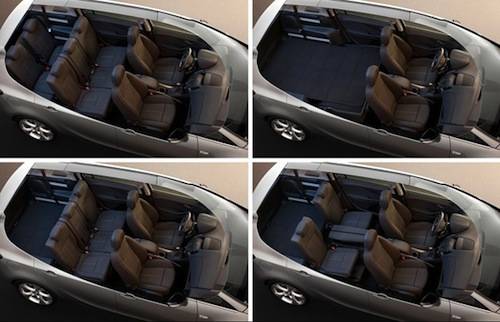 Vauxhall Zafira various seating options pictured above.
Auto Express - Expert
The model of choice from Auto Express is the 1.7CDTi Exclusiv Vauxhall Zafira (not a Tourer or a 1.6 diesel like Auto Trader recommend). The Tourer is praised for being better in nearly every way apart from how much it costs from new. Although cheap it is still more than the regular Zafira. You can get a new Tourer in 2014 and a regular Zafira in 2014. Both will be new, but the Tourer will be better and it will cost more. The low residual values are good for second hand bargain hunters but not for first time buyers. The full marks for safety are liked (as you'd expect). It is a family car after all! When you become a parent the safety features on a car become one of the most important features when buying one. The rating given is 3 out of 5.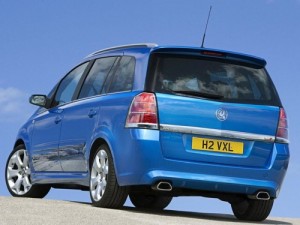 Vauxhall Zafira VXR (fast) pictured above.
Auto Express – Expert (Tourer)
Auto Express like the reduced road noise heard from the cabin even if the diesel engine is very heavy. The practicality and overall improvements made to the Tourer are liked. The Auto Express review is quite generic and typical to others with lots of facts and figures. Yet again, a reviewer suggests there are better MPV options out there. However, good news for buyers as the lifetime (100,000) mileage warranty should attract a new breed of risk averse purchasers, or at least those sitting on the fence. Auto Express consider the Zafira a bit heavy too. The rating given is 3 out of 5.
Parkers – Owners (N=103 - 2005 on)
With so many reviews and engines to read it is virtually impossible to get an overview. The overall rating is 3.3 out of 5 (calculated by adding up all the individual scores and working out the average). The graph shows the ratings and scores given overall.
As you can see around 75% scored the Zafira MPV 3 out of 5 upwards. The Zafira is reasonably priced to buy second hand. Which is why so many of us have them. There are four in my village (and I live in a tiny village).
Parkers – Expert (Tourer 12 on)
In 2012 Vauxhall added the word Tourer to the old Zafira to give it new zest and improve its likeability. This worked to an extent. The flex 7 seating is better and the level of standard kit has gone up. The sleeker design and slightly better engines has helped to eradicate the dullness attributed to the Zafira's past. The rating given is 4 out of 5.
Parkers – Owners (Tourer N=3)
Only three reviewed the new Tourer Zafira. The Tourer is more like a car than an MPV. The new gadgets are liked. By having a makeover Tourer is trying to compete with the Ford S-Max and judging by the favourable reviews it worked. The overall score is 4.7 out of 5.
Parkers – Expert (Insignia Country Tourer 13 on)
Not happy with adding Tourer to the name, Vauxhall have now added Insignia Country too. Despite this, Parkers have stuck the same score to it as the regular Tourer (see above). I'm guessing the Country name is because it model comes with 4WD as standard. This 4WD is of course not really designed for off road, just a few bumpy ones. The rating given is 4 out of 5.
Auto Car - Expert
I do like the reviews from Auto Car, but why keep talking about the Xsara Picasso. Okay so the Zafira has been around a bit but its appeal is it's availability and practicality. Don't people get that? Does it really matter that there are no sliding doors? Why compare the interior space of a Zafira to a Mercedes Benz? Does Auto Car think Benz and Zafira owners are in the same price bracket? I don't. Auto Car aren't impressed with the Zafira and give an overall score of only 2.5 out of 5.
The AA – Expert (Zafira Club 1.9 CDTi 120PS)
I've put this one in the list as it was one of the first Vauxhall Zafira's to go on sale way back in 2005 (when YouTube started). Considering you will probably see a lot of these on sale second hand it is probably worth a read. Back then it scored 8 out of 10, which only goes to show how ahead of its game Vauxhall were back then.
Car Buyer - Expert
Although Car Buyer think the Zafira is bland they like its practicality. The boot space is small but instead of criticizing this (as most other reviewers do) they point out how typical this is for most 7-seaters. They say you can get a massive discount on a new Zafira, but watch out because you may loose a lot when trying to sell later. They like its build quality and low running costs. Although the fuel economy of the diesel is good you have to pay a lot more to get a Zafira with a diesel engine. So take note! The rating given is 3.2 out of 5.
Car Buyer – Owners (N=472)
With nearly 500 individual reviews it has been virtually impossible to read them all (its not the time but my sanity). I didn't realize the Zafira was so popular until now. Most people buy a Zafira because of the good second hand value. They seem to hold on to them because of the poor resale value. A lot of people don't use the seven seats all the time but love being able to flip them out when they need to. At the time of writing 59% would recommend buying one of these to a friend, this equates to around 278 people. The overall score is 4 out of 5. This is higher than the expert score.
Conclusion
The Aggregated Car Score given by motormum for the Vauxhall Zafira (including the new Tourer model) is 69%.
.more...