Vauxhall Zafira VXR
Anyone familiar with Vauxhall's 'racing version' will know the significance of the VXR tag. With a 237bhp 2.0-litre turbo engine lifted straight out of the Astra VXR, the Zafira VXR proves that people carriers no longer have to be slow and dull to drive. The model offers the practicality, versatility, economy, comfort and space of the original Zafira, but with the power and speed of a sports car.
The VXR engine boasts a 16 valve 2.0-litre turbocharged unit, which gives a top speed of 144mph and a 0-60mph benchmark figure of 7.2 seconds. Thanks to these features, it has oodles of torque and needs no thrashing to extract its full potential, helping to save on fuel and managing 29.4mpg on a combined cycle.
What sets the VXR apart from the vanilla Zafira are the chunky side-skirts and bumpers, the twin tail-pipe and the more aggressive looking grille. It rolls on 18-inch sporty alloy wheels with 225/40-section Continental tyres. There are also front fog lights and an array of VXR-exclusive bodywork colours; Star Silver, Arden Blue, Flame Red and Black Sapphire.
But this vehicle is not just about a crazy engine; it has plenty of ultra-sleek interior add-ons too. Among other features, drivers can expect to find: DAB-digital radio with MP3 compatibility, leather-trimmed Recaro seats that give good lumbar and side support, Xenon headlights, Continuous Damping Control, cruise control, electric heated door mirrors, air conditioning, and Vauxhall's excellent Flex 7 seating system.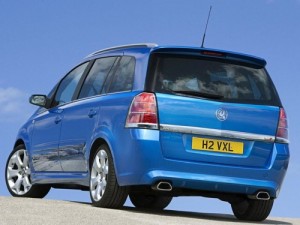 Vauxhall Zafira VXR pictured above.
The latter allows numerous lay-out combinations, with everything from two to seven seats. The centre-row seats even have their own air conditioning vents but, even though adults can just about be squeezed into the vehicle's back row, these spots are generally more suited to children.
The abundance of cubby holes, drinks holders and storage bins also make the Zafira VXR one of the most versatile models on the market. And with all seats folded away flat or removed, an incredibly useful boot space of 1,820 litres becomes available.
On the road, the VXR is elegantly compliant with a special knack for squashing speed bumps. While some drivers used to a super-soft ride might not like the firmness of the VXR, it's important to remember that all that power can't go to the front wheels without firmed up dampers.
On the motorway, the VXR excels. In any gear, at any revs, it will catapult you forward, making overtaking a doddle. Other drivers will be left in the dust as this mini-MPV goes rocketing past.
Going hand-in-hand with all that power, however, there is traction control, stability control and ABS. Enormous brakes also come as standard, offering exceptional pedal feel, stopping power and virtually no fade - even with hard use.
If you're looking for a seven-seater that not only looks great but is versatile, usable and quick off the mark, the Vauxhall Zafira VXR is a great choice. It falls into insurance group 15E, with hugely competitive prices starting around the £22,000 mark. Regular Vauxhall Zafiras are also an exceptionally practical Choice!
.more...