Redesigned Zafira
We've had a few sneak looks at Vauxhall's third generation Zafira, a redesigned 7-seater set to hit showrooms shortly. It was first showcased at the Geneva Motor Show earlier this year after the first pictures started to do the rounds on the internet in 2010.
Well, the wait is just about over and the result is a good one for a car that should compete with the likes of the Ford C-Max and Citroen Grand C4 Picasso.
Sleeker Design with added space
The first thing most drivers of the older versions of the Zafira will notice is the front has been redesigned as part of a successful bid to disguise the length of scale of the vehicle, a difficult thing to achieve when trying to pack that additional space into a 7-seater. The front headlights have been given a longer fixture which certainly helps to hide the vehicle's bulk leaving an elegant sporty finish. This was a feature that Vauxhall, or Opel as they are known in Europe, had previously incorporated into preliminary designs of older versions only to leave them on the workshop floor when the final production model was rolled out.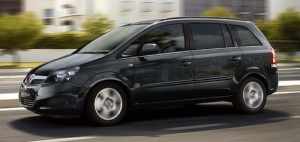 Vauxhall Zafira pictured above.
Vauxhall will still produce 2nd Generation Zafira
A move that will likely leave other automakers feeling a little anxious is that Vauxhall plans to keep producing a redesigned version of the second generation Zafira once this new model is released as a cheaper and slightly smaller alternative. That will help the company further segment the market, one that has, of course, become increasingly competitive as manufacturers have queued up to release their take on the 7-seater.

Vauxhall Zafira seats pictured above.
2nd Row of Seats now individual seats
The key to the Zafira remains its 'flex' system which applied to the three rows of 7 seats and the Flexrail, a triple-layer movable container system for stowing away things like iPods and bottles of water. It's a unique system on the Vauxhall version of the 7-seater and continues to work well in this latest incarnation. The key difference though is that the second row of seating is now actually individual seats that can be adjusted independently. This adds to the comfort of the vehicle.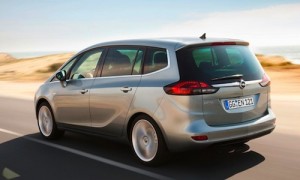 Vauxhall Zafira 2012 pictured above.
Third Generation Zafira Performance
In terms of performance, there are 3 diesel versions up to a 2.0 litre and both a 1.4 litre and 1.8 litre petrol version. By 7-seater standards, emissions are low although there of course more powerful vehicles out there in this class.
As ever, it's a toss-up between power and fuel economy with this 7-seater, and in that respect Vauxhall has gotten things just about right. Don't expect a something that gets up to 60 miles per hour in just a few seconds but then it's hardly pedestrian either.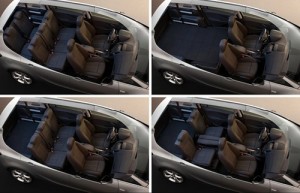 Vauxhall Zafira birdsey view of seats pictured above.
Priced to Compete
For those that are considering a number of 7-seaters the key point is that Vauxhall has in this vehicle produced one of the best-looking in its class, and one that hides its bulk well. It's well priced too, and the use of space and options for using or folding down the seats inside are excellent. And with a lower priced older generation Zafira coming out alongside, this is a vehicle that looks set to compete strongly.
.more...