Ford Galaxy
Aggregated Car Reviews
The Ford Galaxy has been reviewed by Experts (9) and Users (37). Its score is 79 out of 100. This is based on 46 reviews in total.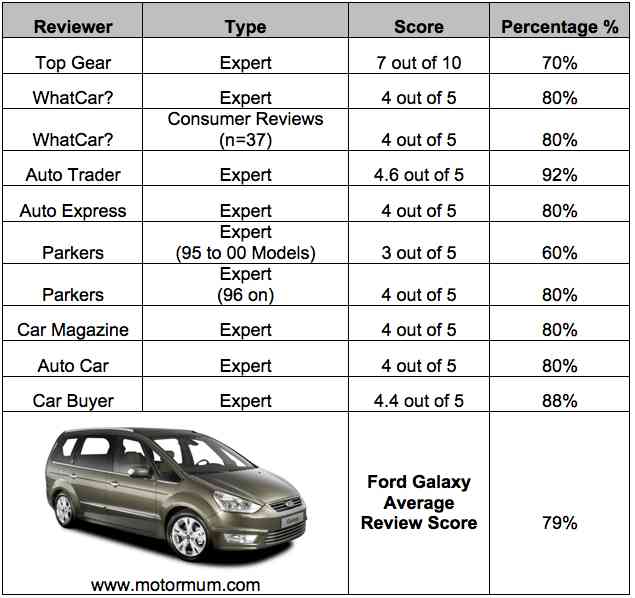 All the experts including Top Gear, Auto Express, Car Magazine and Parkers have reviewed the spacious Ford Galaxy. There so are many models, from the nineties to present day to choose from that it's difficult to give an overall balanced score.
Top Gear - Expert
The Titanium TDCi was driven by Top Gear in October 2010. Apparently they see Galaxy's all the time at taxi ranks and outside schools. This is because it is a popular people carrier in the UK. Now that I have explained that we can move on. Its new face lifted version makes it more appealing with the pretty LED lights at the front and blackened windows at the rear. Great for looking a bit posh but hiding the children picking their noses in the back seats. Most of the review is about driving in a Galaxy is practical and quite cool. They talk about some BHP and MPG but at the end of the day they say its great to transport children as there's more room than the mid sized S-Max or smaller C-Max. The overall score given by Top Gear is 7 out of 10.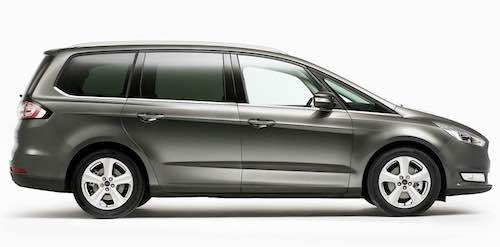 Ford Galaxy side view pictured above.
In 2006 Top Gear drove the 2.0 TDCi Ghia Galaxy. In 2006 Ford introduced the fold flat seats rather than the fully removable ones in the Galaxy. They were rather cumbersome I have to admit.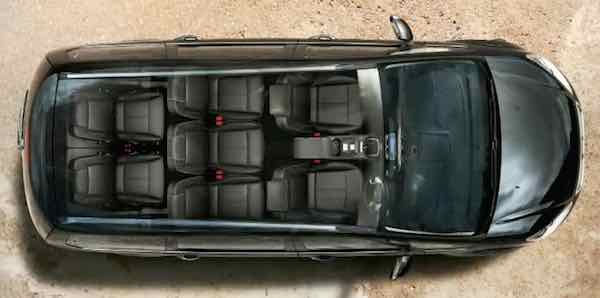 Ford Galaxy overhead view pictured above.
What Car? - Expert
Yes big, yes fun and more expensive than the S-Max. I get it. Lots of engine choice, a good ride seven airbags etc. Nothing to remarkable in their review, it is factual and to the point. Overall score given was 4 out of 5. They say that the boot space is reasonable with all the seats in place. They justify this by saying you can fit in a couple of bags. What does that mean? Do they mean huge beanbags or a couple of 5p, (I live in wales), carrier bags? Luckily I know that the cubic litres space in the boot when all seats are upright is between 308 and 435 cubic meters. Isn't that useful?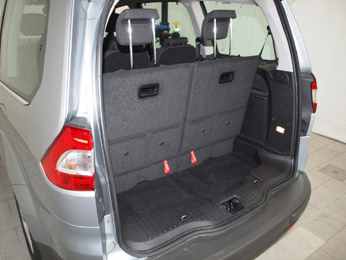 Ford Galaxy boot space (Titanium model) pictured above.
Thirty Seven (as at March 2013), What Car readers scored the Ford Galaxy a 4 out of 5. The same as the experts. They must be right? There are some disgruntled customers mentioning the actual MPG achieved. A chap who rented a Ford Galaxy and then bought one, (now that's good marketing), said the new Titanium X Auto's MPG isn't as good as the 2.0 Litre Ghia diesel. A couple of people say that it pulls to the left, (not politically). I'm not sure reading all the user reviews from What Car will help, as some are good and some aren't.
AutoTrader - Expert
Auto Trader reviewed the 2006 plus models in January 2008. They consider it a premium MPV but think there are cheaper alternatives. They like the U shaped handbrake and interior style. Apart from some facts and figures speak; there is nothing dissimilar to other reviews. The score given is 4.2 out of 5.
Auto Express - Expert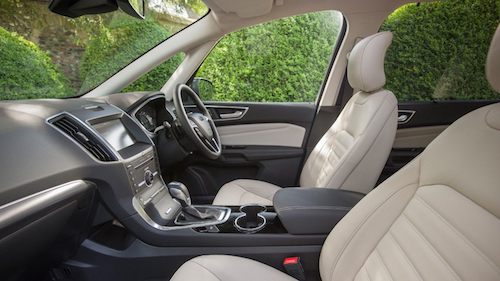 Ford Galaxy front seat view pictured above.
Reviewers at Auto Express detail the similarity in looks the Galaxy shares with its younger siblings the S-Max and Grand C-Max. I think that all Fords look similar. It's the name badge I think. They call the Galaxy a full sized MPV. I suppose this is because of the extra space. It has a knee bag, which should protect your femur in a collision. That's very handy. Their advice for would be penny pinchers is to opt for Diesel and Ecoboost, as the MPG will be higher and Car Tax Band Lower. I'd worked that out for myself, but can't stump up the extra £2-3,000 to buy the diesel Ecoboost variant. I'm not alone am I? Score = 4 out of 5.
The AA: NCAP Crash Test
What can I say. The newer Galaxy's score top marks for safety.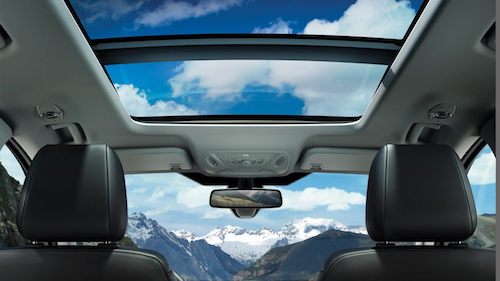 Ford Galaxy panoramic sun roof pictured above.
Car Buyer - Expert
For completeness I'm including the Car Buyer review. They do have a nice little video, which as I've said before is a nice snippet into the Galaxy world. Score = 4.4 out of 5.
Car Magazine - Expert
In October 2008 Car Magazine test drove the 2.0 TDCi Ghia (2008) Ford Galaxy. Without the extra gadgets it would have been a bargain but that extra inch of wheel and all the toys took the price to over 30K, which doesn't shout bargain in Car Magazines opinion and mine. I like the way they compare the Galaxy with similar sized MPVs and say which is better or longer or wider and more comfortable. Score = 4 out of 5.
Auto Car - Expert
There is nothing new in this review. Although Auto Car doesn't think the Galaxy is cheap. Score = 4 out of 5.
Parkers - Expert (95 to 00)
As the Galaxy was one of the main people carriers in the 90's there are many second hand versions available. In 1995 Parkers reviewed the 95-00 Galaxy variant. They say the V6 is the best drive whilst the 2.0 litre struggles with a full load, but don't we all? Safety isn't as good on older models, but what do you expect? Score 3 out of 5.
In April 2006 Parkers reviewed the face lifted Galaxy and scored it a more favorable 4 out of 5. Things are improving! Wow 30 stowaway compartments on board. Sounds like a plane. They say it looks boxy, but what's wrong with that? Score 3 out of 5.
Conclusion
It's big and posh, (newer versions), but cheap if you compare it to an Audi or other similar luxury MPVs. Its more expensive when comparing it to its younger sibling the S-Max. Mmmh, this is confusing! There are loads of models to choose from; 2013 brand new top of the range to an under £100, 1995 diesel.
The Ford Galaxy percentage is 79% overall. This is when taking all car review scores into account.
.more...