Ford Galaxy
Large 7 Seat People Carrier
The Ford Galaxy is very popular in the UK with specifications ranging from basic to luxurious. All models have seating for seven.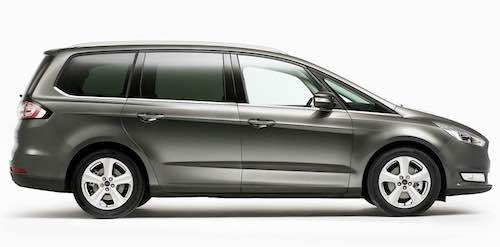 Ford Galaxy side view pictured above.
With a look and feel that is very much Ford saloon combined with huge amounts of interior space, this people carrier has come a long way since the clunky first version that rolled off the production line in 1995.
Featuring seats that fold almost completely into the floor, on both the second and third rows, this is a people carrier that feels spacious inside whether all rows of seats are used or not.
Purchase Price
New on the road prices start from £24,995. Second Hand models are widely available and can cost less than £5,000. There are quite a few models to choose from but only the Zetec, Titanium and Titanium X are available from new. But these models still have a choice of seven diesel and two petrol engines.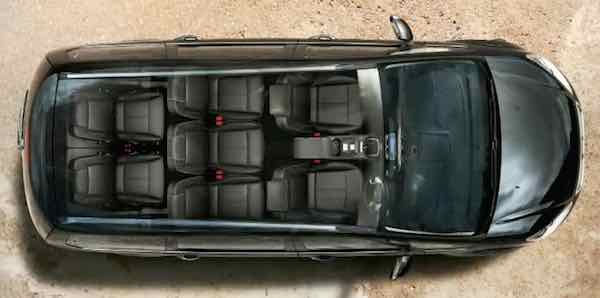 Ford Galaxy overhead view pictured above.
Miles Per Gallon (MPG)
The new Galaxy model fuel efficiency stats vary from 39.8 mpg (2.2 Duratorq TDCi 200ps Durashift 6sp auto) to 54.3 mpg from the 1.6 Duratorq TDCi engine. The petrol engines average just under 40mpg. Current fuel tank capacity is 70 litres. The ride is made as smooth as possible courtesy of the optional Continuously Controlled Damping that reconfigures the firmness of the suspension every 0.2 seconds.
Co2 Emissions and VED Ratings
Emissions range from 139 to 189 g/km depending on which Ford Galaxy version you go for. The least environmentally polluting is the 1.6 Duratoq TDCi model. With these Co2 emissions the VED Bands range from E to J. This is an improvement on older version where the Car Tax band could be as high as bracket M.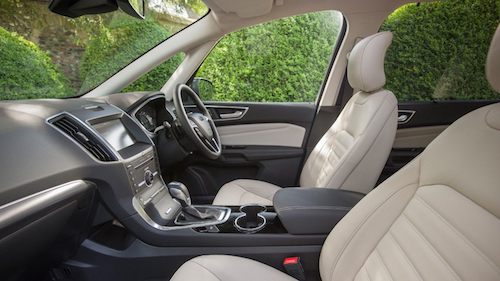 Ford Galaxy front seat view pictured above.
Running Costs
The cost of four tyres varies and is dependent on the width of your tyres or whether or not you have alloy wheels. The basic model has 16 inch tyres which are relatively cheap and easily available. Most models will need to be serviced annually or 20,000 miles (whichever is sooner). It costs around £200. The insurance group ranges from 10 to 11. This is quite high compared to other people carrier car options available.
Dimensions - Inc. Boot Space
The Ford Galaxy is between 4.82metres in length but add 10cm if you have a tow Bar. It is 1.884 meters wide with an extra 15cm each side for wing mirrors.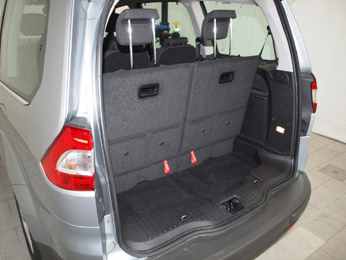 Ford Galaxy boot space (Titanium model) pictured above.
The luggage space is specified as between 308 and 435 litres. With the third row seats folded flat the boot space is an ample 1130 to 1260litres. If you need to use it as a van you'll be able to cram in 2,325 litres of something into back when using the 2-seat mode.
Performance
Performance-wise the Galaxy is a powerful vehicle. There are six engine choices on this model, from 1.8 litre to 2.3 litre, in diesel and petrol versions, with the six-speed version reaching 60 miles per hour in a very respectable 11.2 seconds.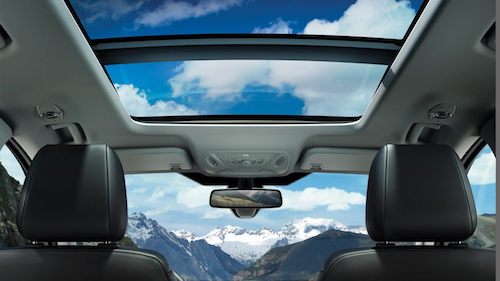 Ford Galaxy panoramic sun roof pictured above.
Standard Features
All models come with: Duel Zone Electric Air conditioning, a roof rail system, rear wipers, a quick clear heated windscreen, a heated rear window, park assist, a child observation mirror, a trip/fuel computer and seat back trays. Heated front seats will cost an extra £350 and leather seats a mere £1,600. The panorama roof comes as standard with the Titanium-X but costs £1,000 as an extra on lower spec Galaxy's. And for £600 you can order a retractable tow bar. As for safety features you get basically everything possible with any type of new Galaxy you buy. This is good to know. The basic colours are blazer blue and frozen white, otherwise for a different colour you are looking at an extra £545.
Conclusion
Overall it is a luxury people carrier available at a price that is not much above middle range. As such it represents excellent value for what you get, and that includes a great deal of space combined with a very smooth ride. It also has a 5 star NCAP safety rating.
.more...