Ford S-Max
The Sporty MPV from Ford (S-Max)
When Ford designed and released their S-Max model, they tried to differentiate it from the other 7-seaters on the market by making sure that alongside great functionality the vehicle also contained a sporty edge. Because of this aim, it boasts a much sportier trim than other models and gives a performance that you would not usually associate a people carrier. This sporty saloon-style MPV is not to be taken lightly.
Since it first rolled off the production line in 2006, it has proven to be a vehicle that makes the grade, including winning the European Car of the Year award in 2007. And it has had a major facelift since then.
Storage Space
Still, despite this slight emphasis on performance is still able to transport seven individuals. Thanks to the large cabin and storage space, seven people can comfortably fit in complete with luggage while seats which lay completely flat make this MPV incredibly versatile.
Purchase Price
A brand new model will set you back from £22,600 for a basic model. This will come with most of the features you would expect such as Air Conditioning, electric windows, cup holders and all the safety features you can imagine. No safety features are left out or cost extra on any of the S-Max choices. Upgrades such as adaptive cruise control, the Titanium X-pack, a panorama roof can add thousands to the cost. The three models available are the Zetec, Titanium and Titanium X-Sport. .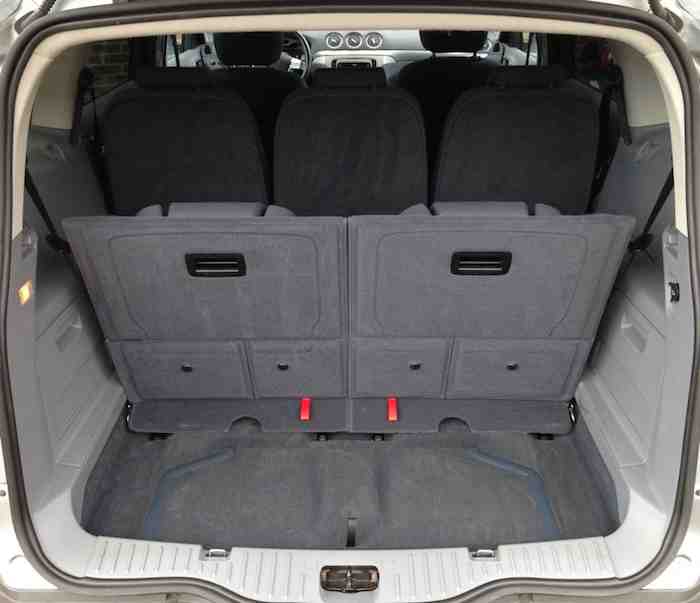 Ford S-Max boot space pictured above.
Gadgets and Lots of Them
The latest versions look even sportier as Ford has endeavoured to further refine the nose to take the box shape out of this sleek 7-seater. The main addition in recent years though has been gadgets, and lots of them. In the top trim model Ford packages the S-Max with voice command for changing radio stations, songs and making mobile phone calls. There's USB, iPod and mobile-phone connectivity, and no need for a key anymore for the ignition. When things get hot there's a dual-zone air conditioning feature that allows for different temperatures in the back and front of the vehicle.
Safety Features
Safety features have also received a major improvement too with 9 airbags in the latest model. This comes after Ford already secured the best-in-class rating from Euro NCAP. As a 7-seater it's spacious and flexible allowing the two back rows to fold down to make way for cargo. Plus there is plenty of room in the third row, which incidentally Ford eliminated in the new Chinese version, the S-Max Trend.
Insurance Group
Due to the large amount of different models available, there are a wide range of insurance groups for the model the lowest is 18E and this goes up to 26E.
Car Tax and Emissions
Fuel Co2 emissions range from 139g/kg for the 1.6 DV6 TDCi Start/Stop (115ps) model to 194g/kg co2 being emitted from the 2.0 litre petrol Ecoboost SCTi Powershift 6sp Automatic (240ps). Car Tax Bands start at Band E and go up to Band J.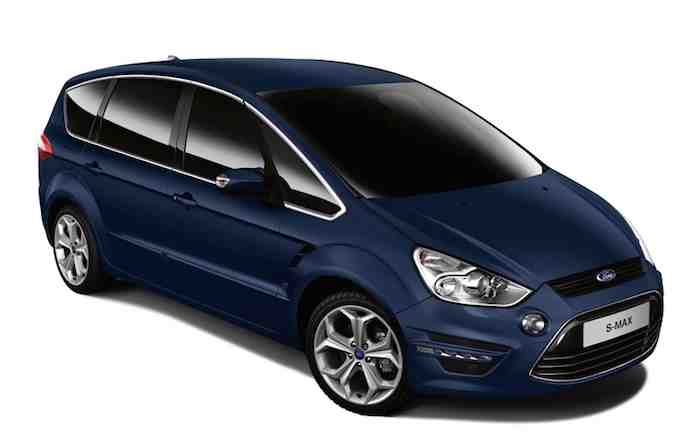 Ford S Max pictured above.
Miles Per Gallon (MPG)
As usual the diesel is the more economic out of all the engines with up to 54.3 miles to the gallon when driving the 1.6 diesel. As you would expect the petrol engines average mpg ratings in the mid thirties.
Performance & Speed
The maximum speed ranges from 112 to 146miles per hour and the fastest s-max can get to 60mpg in a very quick 7.9 seconds, (2.0 EcoBoost SCTi PowerShift 6-Speed Automatic).
Dimensions
This car is 4.768m long and 1.884m wide with a height of 1.658m. The boot space is only 285 litres when all seats are upright. With just five seats in use the boot space increases to 1051 litres.
Servicing
Being economic to service, with a stop at the garage needed every 12,500 miles and each visit costing just shy of £200, although prices do vary nationally.
Conclusion
I consider this MPV the most versatile available on the market, with the variance in different model styles giving their drivers a range of performance options while still being able to comfortably transport seven people it is a serious contender for my favourite.
In our country the S-max remains a popular vehicle. It does what Ford does best – it gets the balance right between retail price, performance and features to satisfy the average road user. The vehicle itself though is anything but average.
.more...