Mercedes R Class
Aggregated Reviews
The Mercedes Benz R-Class MPV has been reviewed by Experts (7) and Users (18). Its score is 69 out of 100. This is based on 25 reviews in total.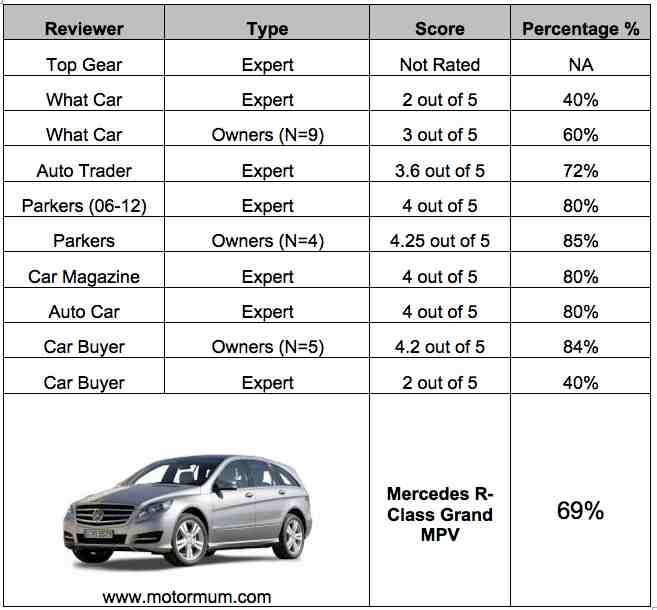 Top Gear Experts
The experts (or assumed experts) give the R-Class a psychiatric assessment and decide that it is schizophrenic. This is down to its multi personality. Is it a car, an MPV, an estate, 4WD, 5 or 7-seater. Well actually it is all of those things. It used to be a 6-seater, but the Benz folks added a middle seat in the second row. Actually they squashed it in.
They don't say much more in the realms of reviewing, apart from its a great wallowing beast. Basically its another muscle car from Mercedes for us to drool over. This review has not been rated.
What Car - Expert
What Car has given good ratings for all sections of its review. The R-Class is defined as refined and smooth. It is pitched to be a luxury MPV cruiser. The power is good but there are only two engines on offer. It isn't the tallest MPV but to get those three rows of seats in it is one of the longest. When the third row seats are in they create a slight blind spot for the driver whilst reversing. You can get either a short or long wheelbase R-Class; both options have seven seats. The longer wheelbase offers a bigger boot (414 litres). Functionality is good with the rear seats easily folded away. With the shorter model the boot space is minimal (and that's a polite way of saying it). The rating given is 2 out of 5.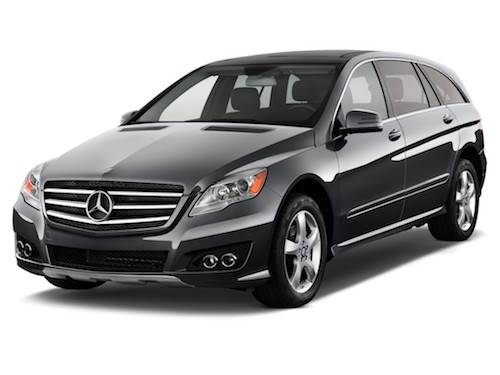 Mercedes Benz R Class pictured above
What Car – Owners (N=9)
The models written about include the R320L CDI Sport 5dr and 4WD variants. The average MPG figures are in the high 20's. Overall low marks are given for running costs. This is a consistent theme with Mercedes vehicles. One owner previously owned a Volvo XC90 T6 and felt that the R-Class was quicker. He loves his car and finds it useful when transporting more than five. He finds it long but is getting used to parking it in and around London. The next reviewer hates his R-Class. According to him the access door is too small, so despite there being a huge interior he can't get anything into it. For the price he thinks you can get better. The rating given is 3 out of 5.
Mercedes Benz R Class boot space shown above
Auto Trader - Expert
According to Auto Trader the diesel options are considered economical. The fuel efficiency is in the 30's. The same niggles such as length, difficulty in parking and small rear seats are repeated in this review. Although on the plus side, they say the space is good, comfortable and the ride is refined. Does its cavernous interior and large exterior really warrant it being called a marmite car? You are not left with much space in the boot if you opt for the R300 model (shorter wheelbase), but if you stretch yourself to the R350 CDI version you'll get up to 414 litres of boot space when all the seats are in use and 2,385 litres when they aren't. The many cup holders and cubby holes come as standard with this car. This is typical of all MPV's nowadays. Unlike the Viano the R-Class irons out road bumps. The 7-speed gearboxes helps the engine provide a smooth journey for the passengers. Typically for Mercedes high ratings are given for safety and equipment. The rating given is 3.6 out of 5.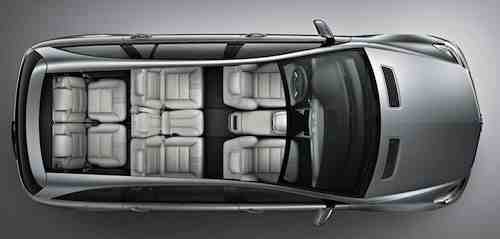 Mercedes Benz R Class seating view (birdseye) pictured above.
Parkers (06-12) - Expert
In 2009 Parkers reviewed the 06-12 Mercedes Benz R-Class MPV. Strangely although it's a seven-seater as standard Parkers state that six can be seated in great comfort. They must be talking about the 6-Seater that was dropped in 2008 and not the 7-seater we know today. As well as adding a seat, in 2008, the R-Class also had the AMG styling added. Although Parkers don't like the way this MPV looks or the difficulty experienced in dragging it around town they still rate it a generous 4 out of 5.
Parkers (06-12) – Owners (N=4)
There are four owner reviews on the Parkers website. Half gave top marks; 5 out of 5 and the other two gave a 3 and 4 out of 5. All reviews are based on 2006 registrations and R320 L CDI automatic engines. I thought the 3 out of 5 bloke may have said something negative but even he thought the R-Class was wonderful. One person quotes the R-Class as the only option for quality and flexibility. Despite some manufacturing niggles that were fixed under warranty he is completely happy with his purchase. Favourite gadgets include the command satellite navigation and expensive audio system. The rating given is 4.25 out of 5.
Car Magazine
In 2006 Car Magazine reviewed the R62 AMG R-Class. This is the original six-seat version which arrived on our shores at a cost of £74,000. Its fuel economy averaged 17 to the gallon which may have been affordable in 2006 but it definitely isn't now. Boot space is limited in the R63 when all six seats are in use. According to Car Magazine it either fits four people with suitcases or six with toothbrushes. I like their description. The overall rating given is 4 out of 5.
Auto Car
According to the experts here Mercedes are trying to make the R-Class a jack of all trades. An MPV, a 4WD, an estate and an SUV. This review must be based on the 6 seat variant as it only mentions six seats. According to them when all rear seats are down you get more boot space than the Mercedes E-Class estate. That seventh seat has come in 2008 at the cost of the middle row storage unit. Where are you going to put your Pims now? The rating given is 4 out of 5.
Car Buyer – Owners (N=5)
Of the five reviewers only 3 would recommend the R-Class to a friend. Probably because of its price. Overall the scores are generous with a final rating of 4.2 out of 5 to quantify the positivity. One owner said his R-Class squeaked and niggled and is on its third trip back to the garage. Even a top rating individual criticised the running costs associated with owning one of these. A pensioner gives top marks but he seems to be a Mercedes Fan anyway.
Car Buyer - Expert
I've moved forward into the newer R-Class models now. These are the cars with seven seats, (not six – that was so 2006). Overall the opinions are similar. Despite the previous positivity about ride and handling Car Buyer say the handling is described as disappointing. At the moment the greenest and cheapest is the R300 CDI Blue Efficiency 5 door which costs around £45k new. This is the one with no boot space.
The fastest, biggest and top of the range is currently the R350 CDI L 5dr. It will cost you about 3K more. Although they consider this, USA built MPV, has good quality and equipment they aren't keen on its expensive running costs or value for money. The rating given is 2 out of 5.
Conclusion
In 2006 the Mercedes Benz R-Class started as a six seater that wasn't very economical and then in 2008 Mercedes added an extra seat. If you want one of these new you can get either a regular or long wheelbase version. The longer model has 414 litres of boot space when all seven seats are in use. Everyone loves the quality of this car but there are some manufacturing niggles as well as gripes about initial and ongoing expense. I suppose this is where the love hate relationship comes from and why the R-Class can sometimes be called a marmite car.
The Mercedes Benz R-Class has been reviewed by Experts seven experts and eighteen. The overall average score 69%. This is based on 25 reviews in total.
.more...