Mercedes E63 AMG
Perfect Mummy Motor
When researching a new car, there are many factors to consider. Value, performance, comfort, safety, and reliability are just a few. But if you have children, some of these concerns are more key than others. Unfortunately, all too often, it feels like we have to sacrifice some of these qualities to get what we need most. Fortunately, for mums considering new vehicles, the Mercedes E63 AMG hits high notes in all of these categories and more.
Total Control
With its handcrafted V-8 engine, high performance braking system, and 7-speed transmission, the Mercedes E63 AMG is second to none in handling and command. But even when you can't anticipate conditions, the E63 goes the extra mile--the 4-wheel Electronic Traction System (ETS) features sensors at each wheel that track your traction and compensate for conditions, automatically braking to maintain control when needed.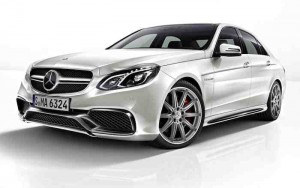 This added peace of mind is especially important when toting little ones. It's good to know that even when we can't anticipate everything, Mercedes technology is there to help us stay in control.
Safety First
Never one for the commonplace, Mercedes doesn't stop there. Safety features rank high on their list of priorities, and they deliver in style. The E63's Collision Prevention Assist feature sends a warning when the vehicle approaches stationary objects and assists with braking. This innovative feature can help avoid collisions and accidents, keeping little ones safe from harm.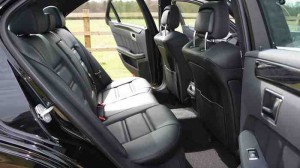 Other safety features include the groundbreaking mbrace2™ system, which allows for remote control of vehicle security using your smartphone. Never be locked out or risk having pets or children locked in again. Add in the rear-view camera, remote panic feature, and Neck-Pro head restraints to reduce injury potential, and the Mercedes E63 AMG is likely to be one of the safest vehicles for your family available today.
Let Me Entertain You
After you've considered safety and handling, it's time to turn our attention to entertainment. With the standard in-dash 6-disc DVD/CD changer and SD card reader, long drives needn't be a source of frustration for mum and kiddos any more.
The optional rear-seat entertainment system, featuring built-in LCD monitors with auxiliary inputs, allow your littlest family members to experience big-time fun enjoying their favourite movies, games, and more. And individual headset connections offer the greatest feature of all for mum--blissful peace and quiet.
The Comfort You Deserve
The concern over mums comfort always seems to come last--but we all know how important it is to make time for our own pleasure and relaxation. Although there never seems to be enough time in the day, mums can find respite in their every day tasks with the luxuries provided by the Mercedes E63. The embrace of buttery soft Nappa leather upholstery makes each chore a delight, and front seats offer venting and heating options for complete comfort.
Driver-seat memory ensures the perfect fit every time you take the wheel it would be nice if everyone could remember the way you like to be treated as faithfully as your Mercedes! Matt Saunders, Road Test Editor at AutoCar puts it best when he says that, "It may be expensive, but it's one of the best high-performance executive saloons on the market."
This is a guest blog for Motormum – about the author: David Newman works in digital marketing for L&L Automotive, marketing on a retailer level a wide variety of franchised brands including Mercedes-Benz, AMG, smart, Vauxhall, Citroen and the late Saab. David's passions are split between all things digital and automotive and sailing. Follow David on Linkedin, Motor Trade Book, and Google+.