Mercedes R Class
Mercedes R-Class Estate
The usual excellent Mercedes-Benz build quality and luxury touches fail to cover up the fact that the Mercedes Benz R-class Grand is one funky-looking beast. And beast it is – not only is it beastly expensive to buy and run but its gargantuan size combines with an odd shape to make it beastly to drive in town, which makes the relatively cramped interior, well... rather a beastly shock.
Mercedes Benz R Class boot space shown above
With its flexible seating and high-end saloon styling, it is a vehicle not quite like any other. It somehow manages to fit in seven seats, yet the most spacious version yet remains remarkably sleek.
On The Road Price
The R300 CDI BlueEfficiency is £44,575 new and the R350 L, (for Long Wheel Base) is £currently £44,740. Second hand prices start from £10,000 for a standard 5 seater and around £20,000 with seven seats. The insurance group for the BlueEfficiency is 44A whilst the R350 falls into group 48A.
Once you factor in the purchase price, the expected low residuals, the whopping showroom tax, the high car tax, the high insurance, the poor fuel economy and tyre wear, you can expect running costs to be at an eye-watering level. Motorists seeking anything that approaches the 'economy' end of the scale should definitely look elsewhere. Servicing packages can cost from £23 a month. The average MPG varies between 25.7 and 44.1MPG.
Car Tax Band (VED)
Given how much it costs to buy one of these it seems rather perverse to then worry about Car Tax. Detail though car tax might seem in this context, it remains an important detail for some. Even in its 'greenest' form the BlueEFFICIENCY model falls into VED Band K. If you're going to insist on tooling around in something the size and weight of this SUV, you'll have to accept that you're pumping a lot of carbon gasses into the atmosphere despite the fact that this Mercedes-Benz complies with EU5 regulations. With the low rolling resistance tyres and BlueEfficiency ethos the Co2 emissions are a reasonable 201 to 223g/km considering the size of the car.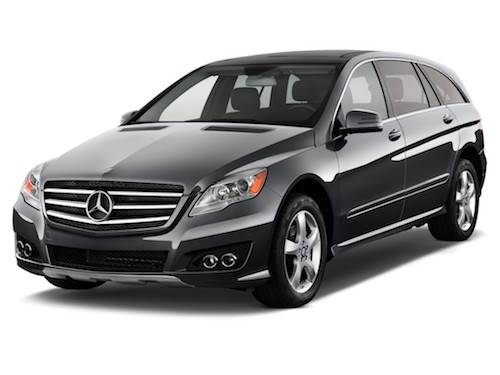 Mercedes Benz R Class pictured above
Safety Features
Typical of vehicles from this German maker of luxury automaker, this crossover comes with an excellent array of safety features. Dual-stage airbags and side bags protect people in the front seats. Window airbags protect all occupants. A variety of technical gadgetry helps the R-Class avoid collisions.
Comfort
The question of comfort is a tough call in a vehicle like this. Given the car's mammoth weight and exterior dimensions, there's a shocking lack of real room inside. A long-wheelbase version adds a huge amount of passenger and cargo room but then the driver will definitely find urban manoeuvring uncomfortable. With an option for air-bag suspension, the R-Class provides pretty good ride comfort and of course, the cabin comes with plenty of nice touches to keep people comfy.
Luxury with Gadgets
It's not easy to find quality issues in Mercedes-Benz products. The engineering and manufacturing is top-notch, though the overall design loses plenty of points for being so compromised. The R-Class does, however, offer a nice mix of traditional luxury and upmarket gadgetry, which is probably as it should be given the fact that it costs more than £40,000.
Performance
Mercedes-Benz is being a bit cheeky when it calls this a 'sports tourer'. Yes you can tour in it and yes, it's actually quite good, but it is far from sporting. The R-Class gets the four-wheel drive underpinnings of the M-class SUV, so it enjoys good handling balance. You're unlikely to be throwing this vehicle around on twisty roads, however.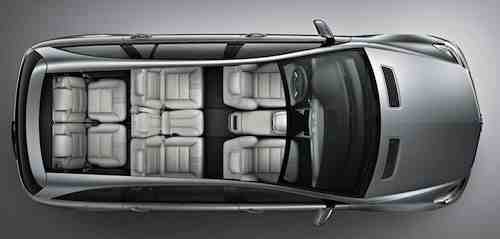 Mercedes Benz R Class seating view (birdseye) pictured above.
In terms of performance, the R-Class manages a reasonable compromise between speed, comfort and environmental costs. To call it 'green' is probably a bit disingenuous but if you insist on enjoying such luxury without rubbing Mother Nature's nose in a puddle of acid rain, you could do worse than invest in the R-Class. The BlueEFFICIENCY model manages 0-62mph in 9.5 seconds. The R 350 CDI L will stay with many little hot hatches on both the drag strip and the autobahn reaching 62mph in 7.7s.
Mercedes Benz R-Class - Appearance
The Mercedes Benz R-Class looks like a cross between a saloon and a jet aircraft, with its long windscreen that is stretched back over the center of the chassis, with the side windows gently sloping back to further help mask its bulk. This also means it has got an airy interior given the large amount of glass that wraps around the cabin.
Conclusion
The Mercedes-Benz R-Class fails to deliver true practicality. Yes, it's a people mover that (in LWB form) can shift a large group of people and plenty of cargo but it is huge. Interior space is nowhere near as good as it should be for such a big vehicle, especially in the short wheelbase model. The giant size of the R-Class also makes it a pain to manoeuvre around town. So why buy one? Why? Well, although buyers have gone crazy for SUV crossovers in recent years, prompting a string of new models in this ever-expanding segment of the market, the R-Class is even more distinct and unusual than the norm. Is it a seven-seater, a saloon, a hatchback or all three? It seems buyers haven't quite made up their minds. But for those looking for a lower driving position than a crossover SUV or something sleeker but with the same number of seats, this is practically unbeatable.
.more...