Mercedes Benz G55 - Legend SUV
Part-time military jeep and even a vehicle fit to transport the Pope (albeit a super modified version), the Mercedes G-Class is something of a legend in the world of SUVs.
According to the legend, the vehicle only came about following a suggestion from the Shah of Iran, after which it only became a civilian vehicle in 1979. With this kind of history, it's no wonder that many have mourned the loss of the iconic 7-seater the G55 AMG model, a vehicle Mercedes says was responsible for one third of all sales of G-Class cars.
G55 upgraded to G65
As a replacement to the G55 model, rumours continue to snowball in relation to a supposed successor, the Mercedes Benz G65 AMG. And if these rumours turn out to be true, it would perhaps pack the same punch as its deceased relative.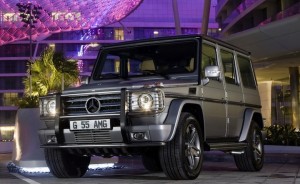 Mercedes G55 pictured above.
Performance
This apparent new kid on the block will be even more powerful, however. Whereas the G55 offered a 5.4-litre V8 engine, the G65 is thought to boast a staggering 6-litre V12 with some 600 horsepower. That would also make it considerably more powerful than the built-to-order G63.
4WD
What other details are there on this monster of an SUV? Well, rumour has it that the vehicle would feature a seven-speed transmission and four-wheel drive as standard. The price tag is thought to be somewhere in the astronomically expensive region of at least £200,000. A European version is thought to be a dead cert, while there is still no word on whether the vehicle would make it farther afield. Given the A55 was particularly popular in California and Dubai, it would seem almost certain that the follow-up A65 would make it to America at the very least.
First Look
The latest reports on the hotly anticipated G-Class come courtesy of the French auto website Caradisiac, which even suggests the first look at the G65 could happen as soon as next month, followed by a July debut in Mercedes showrooms. But doesn't that seem a little early given the lack of information out there and the silence coming from Mercedes themselves?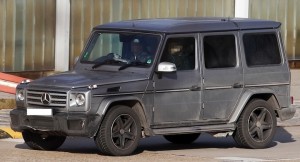 Mercedes Benz G65 pictured above.
Well maybe, but maybe not. The G-Class, and particularly its iconic military-style SUVs, are high-end vehicles that have traditionally seen sales fuelled by word of mouth. And these are not mass-selling vehicles. Indeed some, like the G63, are custom made and therefore depend on a certain degree of kudos. Just ask the Pope.
Mercedes Benz G65 - Launch
Given that the G55 has had its day, it also makes a lot of sense for a brand built on performance and a certain degree of excess. If Mercedes Benz were on the brink of unleashing one of its most powerful vehicles to date in a market that has gone decidedly up-market and competitive in recent years, then surely the best way would be a surprise launch at a motor show. Whether or not that is to be the case will be decided fairly soon, so there won't be a long wait to find out.
Conclusion
So just for the more senior and confused amongst us Mercedes used to have a 7 Seat G55 model, which was very popular for those with the money to buy one. Such people included the Pope apparently. This is set to be replaced by a faster, better, lighter, super G65 model. However when and where this will be launched is still unclear. The old G55 model had seven seats. No clear facts have been released on whether the G65 will have seven seats, although it is more than likely that it will.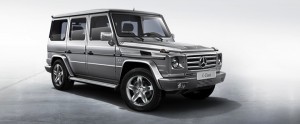 Mercedes G Class pictured above.
A car that looks very similar, (see pictures above), is still called the G-Class is available to buy now in the UK for around £81K. This has two rear bench seats that are split folding.