Volkswagen Caddy Maxi Life
AUser & Expert Reviews
The Volkswagen Caddy Maxi Life has been reviewed by Exerts (6) and Users (13). Its average score is 65 out of 100. This is based on 19 reviews in total.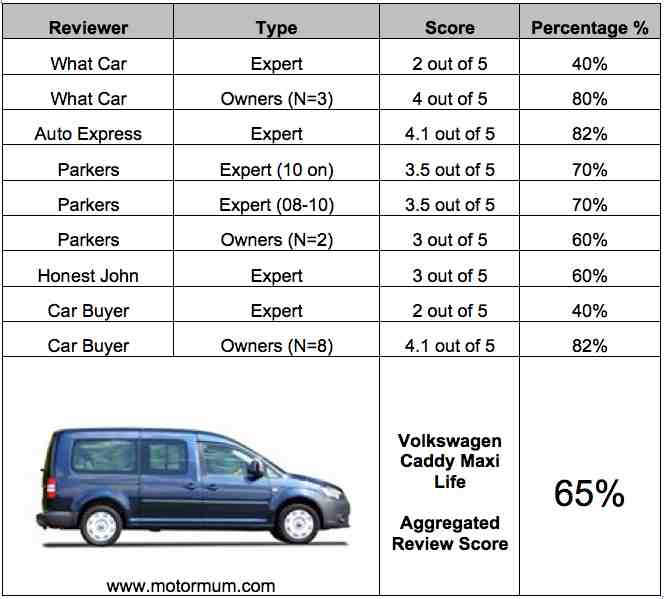 What Car - Expert
Yeah it's big and can carry seven people, but according to What Car other MPV's do it better (it being a 7-seater). Considering the VW Caddy Maxi Life is supposed to be a budget choice it isn't that cheap (£20k ish).
In an effort to squeeze those miles out of very expensive fuel VW have a 2.0 litre petrol engine than can run on CNG (Compressed Natural Gas) too. That's a first for an MPV (I think). The VW Caddy is a bit noisy at speed and over bumps. The rating given is 2 out of 5.
What Car – Owners (N=3)
There's a lot of love from VW Caddy MPV owners. They love its practicality (you can fit three childrens car seats across the middle row). They love the space (adults in the third row can sit comfortably and have room for their legs, heads and luggage). The engine is praised for its quality too. Not for speed or performance but its quality! It's a Wolfsburg motor which apparently means it's good! I'll take their word for it. It seems unjust that the What Car expert gives such a poor score in comparison to what real owners think. The rating given is 5 out of 5.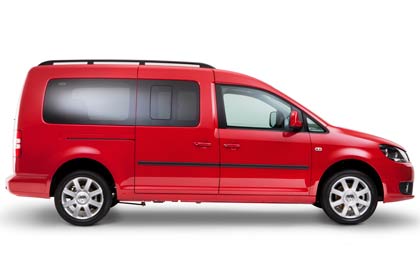 Volkswagen Caddy Maxi Life pictured above.
Auto Express - Expert
This review is based on the Van only. So I can only comment on the build quality, economy and safety features for front passengers. That aside, everything is very positive and the Caddy would provide a sound basis on which to make an people carrier. The rating given is 4.1 out of 5.
Parkers – Expert (10 on)
The review from the Parkers site loaded after a nice cup of tea and a biscuit. There are lots of positive remarks and more facts and figures. This is the fourth generation Caddy with a new range of engines, 4WD and some nifty gadgets. This is standard with all new cars (better and more). Parkers like the good quality (there's that word again) interior even if it feels sparse. Trust me, it won't look sparse when you're transporting your children around (they are clutter magnets). The rating given is 3.5 out of 5.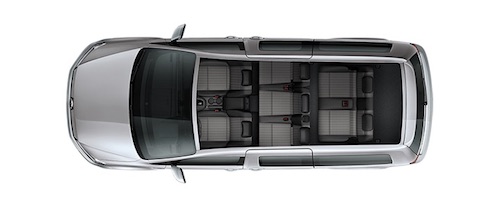 Volkswagen Caddy Maxi Life birdseye seating pictured above.
Parkers – Expert (08-10)
Parkers are impressed with how clever it is to make a seven seat MPV by adding windows and seats to a Van. There's a good choice of engines too, which could get you the perfect family car. The Parkers expert loved the sliding doors (most owners never go back after having sliding doors). They loved the high quality interior, practicality and space. They (as other experts) disliked the rear seats that had to be removed when not required, rather than flipped down. The rating given is 3.5 out of 5.
Parkers – Owners (N=2)
One loved it and one hated it. The Caddy is the same as marmite. One review is completely over the top (in a lovely way). They say it is the best thing they've ever bought (nothing to do with the tip run assistance of course). They say owning one says they invest in their family (well not really if it's only 4 star Euro NCAP rated). The other owner hated their VW Caddy Maxi Life, saying it was uncomfortable, loud, rocky and had a number of things break rather soon after buying it. Both reviews are at separate ends of the spectrum so the overall score has come out slap bang in the middle (a 3 out of 5).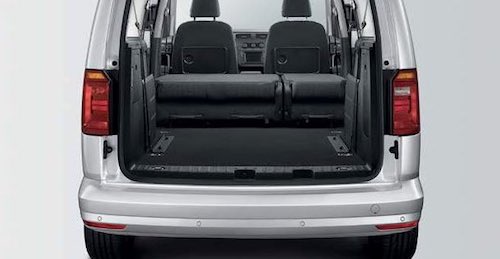 Volkswagen Caddy Maxi Life boot space pictured above.
Honest John - Expert
Mr Honest undertook his review in 2008. He likes the VW Caddy space but isn't keen on having to remove the rear seats to use more boot. Everyone seems to prefer flip rear seats. The rating given is 3 out of 5.
Car Buyer - Expert
There's no love or hate expressed by Car Buyer. The reviewer likes the large seating areas and practicality of additional boot space, as well as the 50 plus MPG achieved. They aren't keen on the third row bench seat, even if it is big enough for adults (in respect of head and leg room).
It is unfortunate that for a family car the VW Caddy Maxi life only achieved 4 out of 5 in the Euro NCAP crash test. The rating given is 2 out of 5.
Car Buyer – Owners (N=8)
Eight people have left their opinion on the Car Buyer site. Three quarters of them (6) would recommend buying one to a friend. A negative reviewer has given a 4 out of 5 for reliability (which is high) even though the VW Caddy broke down three times whilst he owned it. A common problem is the performance. It just isn't as good as people would like. This MPV is ideal for wheelchair owners due to the larger than average square boot. I'm sure it could also transport a variety of white goods (dishwasher etc). The rating given is 4.1 out of 5.
Conclusion
The VW Caddy MPV is a van with windows, sliding doors and a massive boot. It is supposed to be cheap but it isn't. The third row seat is a bench but you can fit three individual children's car seats across the middle row easily. It's functional beyond belief and perfectly practical for transporting passengers economically. That said it is still a van with windows.
The Aggregated Car Score given by motormum for the Volkswagen Caddy Maxi Life (mini MPV) is 65%.
.more...