Volkswagen Caravelle
Commercial People Carrier
The Volkswagen Caravelle is a 7-seater people carrier produced by Volkswagen Commercial Vehicles (VWCV). This vehicle forms part of the long and very well known range of Volkswagen transporter vehicles, first produced in 1949. Luckily for us British, it is sold both to private customers as well as businesses in need of reliable MPVs to move people.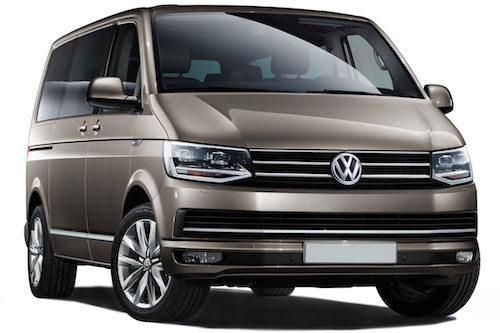 Volkswagen Caravelle pictured above.
Purchase Price
Depending on the model chosen, prices start at over £30,000. Making it one of the more expensive seven seat vehicles out there. A top end VW Sharan would cost about the same as a base model Caravelle. In choosing a Caravelle, of course, you are buying a dependable, well known and capable MPV with plenty of floor space. The older Caravelle's, AKA Transporters can be picked up for less than five grand! Generally used prices range from £2,500 for pretty decent versions.
Servicing Costs
Fully servicing a Volkswagen Caravelle costs £195, or £230 for a full service plus MOT. An interim service costs £130, or £165 for an interim service plus MOT. A MOT with a one year guarantee costs £59, or £119 for a MOT with a three year guarantee. Although these prices were checked at a major car service center online, you should always check with your local garage before budgeting your service and/or MOT.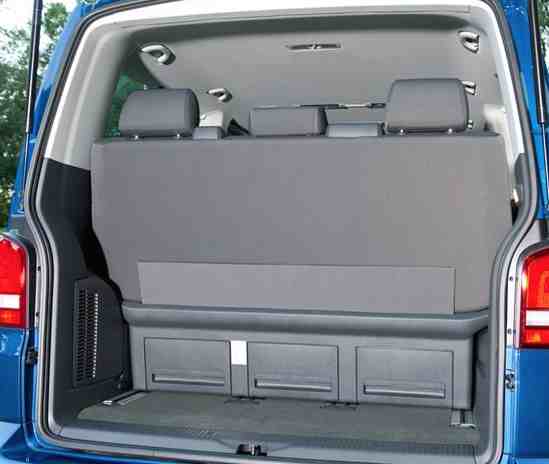 Volkswagen Caravelle boot space pictured above.
CO2 Emissions and Car Tax Band
The Volkswagen Caravelle has a CO2 emissions rate of 199 g/km (relating to the 180PS BiTDI 2.0 litre model) to a maximum CO2 emissions rate of 216 g/km (relating to the 140PS TDO DSG 2.0 litre model). The different Volkswagen Caravelle models falls within Car Tax bands (VED) J to K.
Miles Per Gallon (MPG)
The urban miles per gallon (mpg) cycle of the Volkswagen Caravelle is from 27.2 (140PS TDI DSG 2.0 litre model) to 29.4 (180PS BiTDI 2.0 litre model). The extra urban cycle is from 40.9 to 43.5. The combined cycle is from 34.4 to 37.2.
Optional Features
Optional features include a satellite navigation system and a choice of interior upholstery material. The emphasis is very much on functionality; the Caravelle performs well without a fuss, and without much in the way of extras.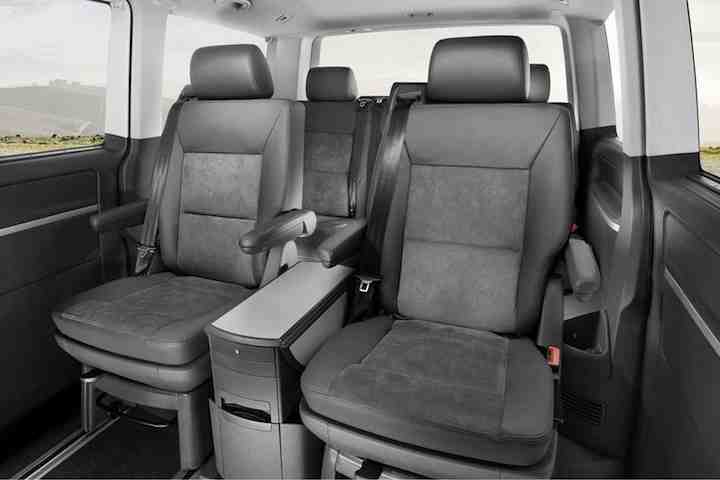 Volkswagen Caravelle interior seating pictured above.
Safety Features
Safety features are essentially limited to side and curtain airbags as well as driver and passenger front airbags. Rear curtain airbags can be acquired at an additional cost.
Performance
The acceleration speed of the Volkswagen Caravelle (0-62 miles per hour), is from 11.3 to 14.7 seconds. It has a top speed of 107 to 119 miles per hour.
Insurance Group
Depending on the model chosen, the Volkswagen Caravelle falls within insurance groups 12 to 16.
Conclusion
Built on a commercial vehicle platform shared with several other models (one of which retains the famous 'Transporter' name), the Caravelle offers a stylish way to carry people in a comfortable cabin with flexible seating arrangement. Although it can look like a commercial people carrier due to its long use as such by a variety of organisations, it is a highly functional and reliable MPV. It is as much suited to ferrying around your children, family and friends as it is for paying individuals.
Caravelle's History
Though the people mover has long been nearly as synonymous with the letters V and W as the equally-iconic Beetle, the days of the rear-engined Kombi van (AKA Transporter) are long over. In its place has come a series of reasonable attempts to re-capture the original fun and cheekiness of the various flavours of van once adored by hippies and college students.
In the 1980s, Volkswagen produced a squared-off version of the Transporter that initially used the famous air-cooled engine. A water-cooled engine that still lived at the back of the car soon replaced this. Everything changed in 1990, when the car truly became a van. With a front-mounted water-cooled engine and front-wheel drive, the T4 Transporter completely broke any remaining links with the Type 1 and Type 2 Transporters that had earned their places in the hearts of so many people around the world. Along the way, the first VW Caravelle's appeared. Despite the sound of the name, these are really vans, rather than cars. The point seems to be strengthened by Volkswagen's marketing of the models, which is through VW's commercial vehicle units, rather than the car dealerships.
.more...