Volkswagen Caddy Maxi Life
Commercial MPV + 7 Seats
After winning Van of the Year 2008, Volkswagen decided to pull yet more sales of the Caddy by adding another row of seats, stretching the wheelbase and adding a few more windows to create the Caddy Maxi Life MPV.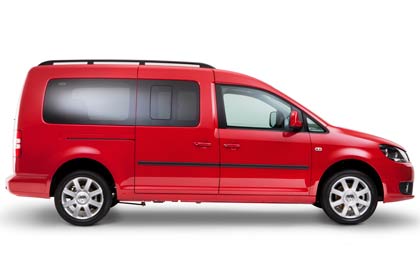 Volkswagen Caddy Maxi Life pictured above.
It is a stretched cargo van with sufficient space to slot in a double bed in the back. As with the van, the Life model features a good amount of space at the back with a standard 2-3-2 seating lineup.
The Caddy is a brilliant all-rounder, with great mpg and huge space in the rear, and it drives like a car. The Caddy Max Life can't quite hide the fact it was once a commercial vehicle, but it appeals to those who need seven seats.
Purchase Price
Prices are quoted exclusive of VAT as the VW Caddy Maxi Life MPV is considered a commercial vehicle. At just under £20,000 exclusive of VAT a new model on the road will cost you around £24,000. There are excellent contract hire purchase deals ranging from £229, (exc VAT) per month on a rental basis are available from the VW Commercial Vehicles website. As this is quite a new model on the MPV front there aren't as many second hand bargains around. Prices start at around £10,000 and go up to around £20,000 if you're buying a used model. Despite the fairly high purchase price, it won't depreciate as fast as its rivals and it could quite easily be sold on to be used as a courier van
Smart Van with Windows
VW has added 470mm to the wheelbase, giving more legroom and space for luggage, even with seven passengers. Don't think that it's just a 'window' van with extra seats added - it is a usable and smart MPV that just so happens to look like a van.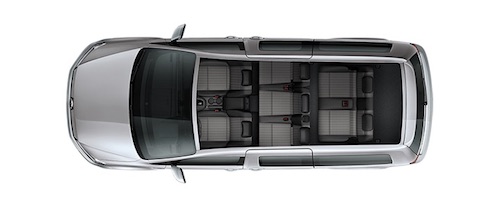 Volkswagen Caddy Maxi Life birdseye seating pictured above.
Lift Boot Lid
The asymmetric rear sliding doors are welcomed for those who will use the Caddy Maxi for adult passengers in the rear and for carrying large items. There is also a lift boot lid that removes the regular van door-look, although one cannot help but think that access for the rear would be better with a side-opening rear door. In tight spots the lift boot lid needs lots of room due to the height of the Caddy, which makes it a tad uncompromising.
Co2 Emissions and Car Tax Band
The new models comes with the latest VW BlueMotion technology which manages to reduce the Co2 emissions to 134g/km. This falls into Category E for Car Tax purposes.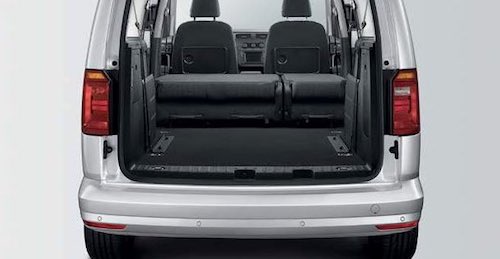 Volkswagen Caddy Maxi Life boot space pictured above.
BlueMotion Fuel Efficiency
The Volkswagen Caddy Maxi Life BlueMotion Model manages an impressive 60MPG. For a 7-Seater this is incredibly environmentally friendly and kind the the wallet.
Interior
The Caddy Maxi Life is available with privacy glass at the rear, which not only looks good but it keeps the interior cool too, and it's safer for carrying items in the back. The windows cover the C-pillars too, which makes it look like an uninterrupted glass cabin, adding to the styling. The side-rear windows slide open, which is a little strange for a family car but if that's what you have to put up with to have those excellent sliding doors then so be it. The boot capacity ranges from 0.53m cubed to 1.35m cubed depending on the seat configuration.
Performance
As with the Caddy van, the VW Caddy Maxi Life has VW's fantastic 2.0 Tdi diesel engine that is not only punchy at 138bhp but there is also the choice of the 1.9 diesel with the company's favoured DSG semi-automatic gearbox. While they can be a little noisy, not having to fill up for almost 600 miles makes the Caddy Maxi Life well worth the coarseness. Top speed is 116mph and even thrashing the motor will still see 44-plus mpg. The 0-60mph is covered in 11 seconds, which is average for a van of this size.
Practicality and Sliding Doors
Much of the space achieved inside is due to the sheer bulk at the back. Imagine the front end of a van spliced onto the back of a full-blown people carrier and that is exactly what you get with this People Carrier. As such, it's not the prettiest on the market but it certainly ranks among the most practical. Like a traditional people carrier, this vehicle features a sliding rear door for easier access and super-sized side windows.
Conclusion
The Caddy Maxi Life is fairly expensive compared to a Ford C-Max or even a VW Touran, but it has more space inside and if looks aren't the main factor in your purchase of a seven seater, then it's worth consideration. With the backing of VW's incredible reliability record and smart interiors, the Caddy Maxi Life is nevertheless a little bland but it does feel a cut above the rest in terms of quality.
.more...