Volkswagen Caravelle
Volkswagen Caravelle - Aggregated Car Review
The Volkswagen Caravelle has been reviewed by Experts (8) and Users (29). Its average score is 68 out of 100. This is based on 37 reviews in total.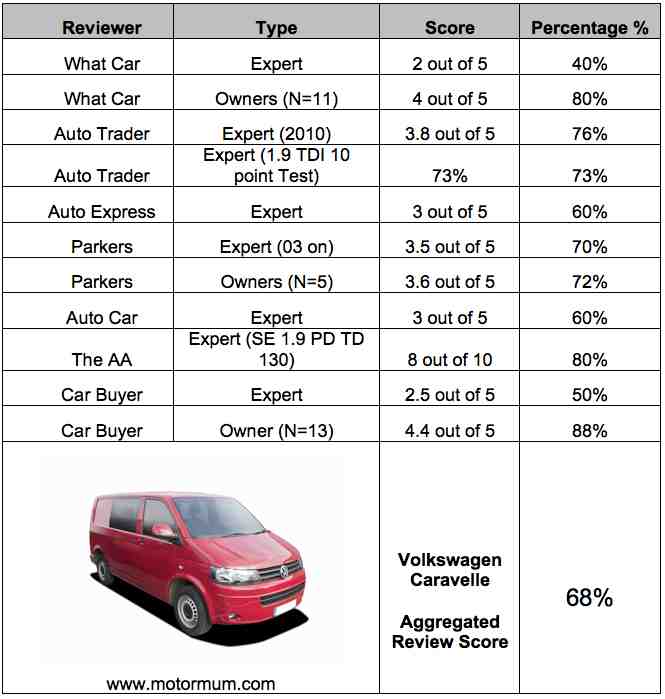 What Car - Expert
What Car give low marks for Buying, Owning and the equipment provided when buying a Volkswagen Caravelle from new. This is because they are a quite expensive to buy, run and don't give that much standard equipment (gadgets).
Apparently the ride isn't smooth either. Older models are more harsh to sit in that newer models but at the end of the day which would you prefer, a bumpy ride, or a squished one? The rating given is 2 out of 5.
What Car – Owners (N=11)
Overall most owners love their seven seat VW Caravelle. Some don't. One owner has one problem after another (air conditioning, water pump and Sat Nav unit). It does seem they had a lot of problems. Maybe his car was built on a Friday afternoon. Owners like their Volkswagen Caravelle's better than the experts (by scoring higher). The Caravelle is big and extremely practical. For pure passenger transportation (up to 9 people) the Caravelle is the best in its class. Mind you, the class is small. The rating given is 4 out of 5.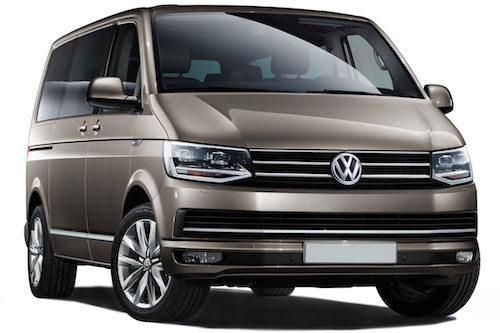 Volkswagen Caravelle pictured above.
Auto Trader – Expert (2010 on)
The Auto Trader write contains similar pros (seating, practicality and space) and negatives (difficulty removing seats, boxy shape and size). The interior is very Volkswagen overweight Polo if you like). Auto Trader approve of the 8 speakers that come as standard with entry models. There is also a flexible table. How good is that? The rating given is 3.8 out of 5.
Auto Trader – Expert (10 point test on 1.9 TDI)
Auto Trader in their ten point test give lower marks for the Caravelle's looks both inside and out. To be honest that is a subjective thing with beauty being in the eye of the beholder and all that. Top marks are given for reliability because it's a Volkswagen and a commercial vehicle. Why being a commercial vehicle should make it extra reliable I don't know. The overall score is 73%.
Auto Express - Expert
The Auto Express experts reviewed the 2010 VW Caravelle. According to them it's smarter than the I800 and slightly bigger. They love its practicality, size and being able to swivel the seats. They love flipping that key to get those sliding doors or boot open (although this pointless gadget is only available on top specification models). However for what you get Auto Express thinks the Caravelle is just too expensive and I tend to agree. The rating given is 3 out of 5.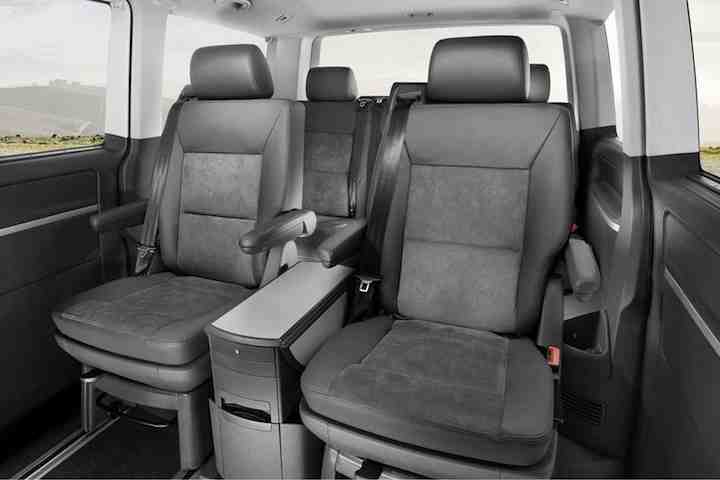 Volkswagen Caravelle interior seating pictured above.
Parkers – Expert (03 on)
According to Parkers the dash on the 2003 Caravelle 7-seat MPV is dated. Please remember that It would be by now anyway. They also don't like the firm and bouncy ride. The rating given is 3.5 out of 5.
Parkers – Owners (N=5)
There are some negative comments written by real owners on the Parkers site. Some might make you pause before buying a this MPV beast. Some problems include sliding doors that don't close, a faulty gear box or flat battery. The rating given is 3.6 out of 5.
Auto Car - Expert
Auto Car's review is full of facts and figures and less about what they think. This car is the perfect airport taxi as it can take people and their luggage with enough space for extra bags. Practicality and reliability are given high praise, as is the ability to transport fully sized people. The rating given is 3 out of 5.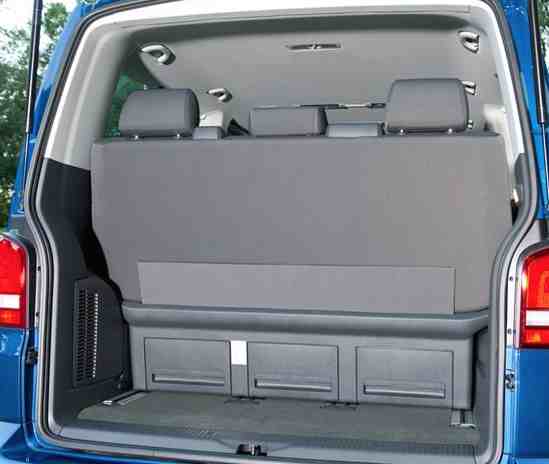 Volkswagen Caravelle boot space pictured above.
The AA – Expert (SE 1.9 PD TD 130)
This review is probably a bit old. I've included it because there are likely to be a lot of these particular models on sale now (second hand). It scored well for practicality and reliability therefore serving the niche of people wanting a massive MPV for not much money. The rating given is 8 out of 10.
Car Buyer – Expert
The prices range from 35K to 70K (OMG). If you spend 35K at least you're guaranteed to get the greenest and cheapest Caravelle (2.0 TDI 140 PS BM Tech SE 5dr) For 70K (2.0 BiTDI 180 PS Business DSG 4Motion 5dr) I hope you get a lot more. The Caravelle is big and reliable but stick to second hand if you want a bargain. If you had 70K I doubt you'd buy a VW Caravelle, maybe a Mercedes Vit or top spec i800 for half the price.
Newer models have been Euro NCAP tested and came out a 4 out of 5. I agree with Car Buyer – you can spend less and get the same or more, for example the Hyundai i800. The rating given is 2.5 out of 5.
Car Buyer – Owners (N=13)
Eighty Five percent would recommend a VW Caravelle to a friend. One of the thirteen reviewers had engine problems but still gave top marks for performance even if the engine stopped working (people are like that). The rating given is 4.4 out of 5.
Conclusion
The Volkswagen Caravelle is big but not beuatufil (well it is to some). You could probably do better by looking at alternatives and when I say better I mean spend less and get the same or more. However people love Volkswagens and that flexible table in the rear might be that one thing pushing you to buy a Caravelle. It is a fantastic Airport Taxi.
The Aggregated Car Score given by motormum for the Volkswagen Caravelle is 68%.
.more...