Volkswagen Shuttle
Up to Nine Seats
The Volkswagen Shuttle is a basic 8 or 9 seater multi-purpose vehicle (MPV) produced by the German carmaker Volkswagen.
Spacious & Practical
As versatile as it is spacious, the Volkswagen Shuttle is the quintessential minivan, whether you've got a large family, a taxi business or just need to ferry cargo around on a regular basis. As a people carrier, it doesn't get more spacious than this.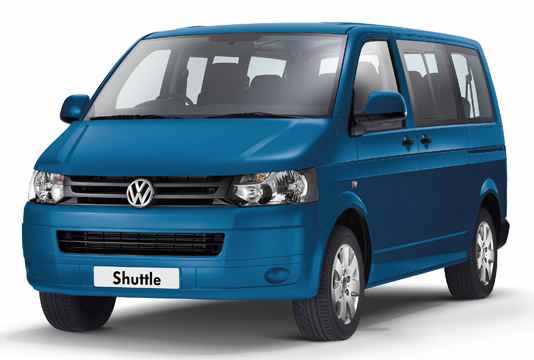 Volkswagen Shuttle front view pictured above
In total, the Volkswagen Shuttle fits in up to nine people with ease and in plenty of comfort. The rear bench seat folds to offer the versatility you would expect, and then some, and buyers can choose between a long and short-wheelbase version to maximise space.
Purchase Price
This People Carrier is often used as a Taxi or Minibus, but for the larger families out there prices start at a little over £22,000. Top of the range new models can cost upwards of £30,000. Second hand costs range between £7,000 and £36,000.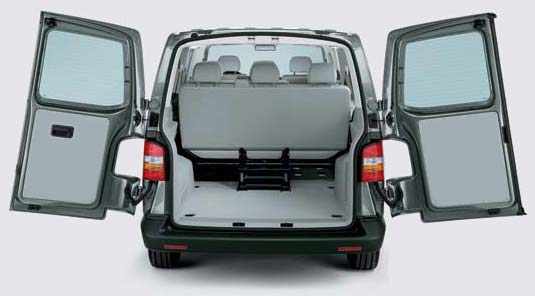 Volkswagen Shuttle boot view pictured above
Engines
The Shuttle offers all the engine variations available in the VW Transporter series, which means a range of 2-litre diesel and petrol engines producing between 83 and 201 break horsepower. It's then just a question of how many people and how much cargo.
Performance
As far as how well it drives, this is a van not a sports car, so don't expect anything too quick-off-the-mark. Indeed, some of the engine variants on offer in the , Shuttle series do little more than get it from A to B. But then, that's exactly what this vehicle is designed to do, and it does it better than just about any other minivan in the same class.
Awards
This is reflected in the awards the Shuttle has picked up over the years, including a host of van accolades from across Europe during the mid-noughties. In many ways, the Volkswagen Shuttle is a no-brainer. If you're not looking for something on this scale it simply isn't worth considering, but for buyers that are there is little else that does the job as well as this.
.more...