Audi Q7
Combined Expert Reviews
The Audi Q7 has been reviewed by (6) Experts and Users (34). Its average score is 69 out of 100. This is based on 40 reviews in total. The Q7 is the one and only 7 seater car produced by the Audi manufacturer.
The Audi Q7 comes in many different models old and new. There are seven new models and an abundance of older versions. The Q7 is also available as a 4WD . Top Gear, Autotrader, Whatcar and others have conducted expert reviews. They have usually only reviewed one model from the range.
Summary of Scores
| Review Source | Type of Review | Score | In Percentage (%) |
| --- | --- | --- | --- |
| WhatCar? | User Reviews | 4 out of 5 | 80 |
| WhatCar? | Expert | 3 out of 5 | 60 |
| Top Gear | Expert | 6 out of 10 | 60 |
| Top Gear | Expert | 7 out of 10 | 70 |
| Top Gear | Expert | 7 out of 10 | 70 |
| Top Gear | Expert | 7 out of 10 | 70 |
| AutoTrader | Expert | 3.6 out of 5 | 72 |
The aggregated Car Review score for the Audi Q7 is 69%
WhatCar - Expert
Whatcar go into detail about the Audi Q7 performance, ride, handling and refinement on the road. There is more discussion about space, practicality, and equipment behind the wheel. All in all it is a good general review about the Audi Q7. Alongside the very thorough expert review there are 34 individual owner reviews included in the information.
The expert reviewers on WhatCar give the Q7 a 3 out of 5 where as the readers give it a 4 out of 5. There is no date on the review to indicate when the review was undertaken.
Top Gear - Expert Review
I've got to admit I prefer the quirky and comical slant the Top Gear vehicle reviewers give to their write-ups. Even if they don't really go into much detail about the car its more interesting to read.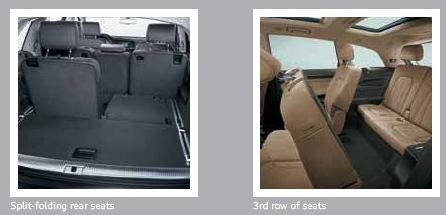 The Top gear crew have reviewed three Q7s. The first is the 3.0-litre TFSI Quattro SE Q7. The review begins with some general Q7 information and a sarcastic comment about Vin Diesel. The article goes on about the Q7's low fuel efficiency and how inappropriate this is in these difficult times. There's some blurb about horsepower and the benefits of having diesel over petrol. Sam Philip undertook the review a while back. I like the way that he says we should avoid the stainless steel running boards, but at just under £1000 who can blame him? Overall this 7 Seater was given 6/10.
Second to be reviewed by Top gear was the 3-litre TDi model. This fares slightly better than the TFSI Quattro SE and scores 7/10. This is probably due to the urea added to the exhaust fumes that apparently makes cleaner air. The story goes on about how this is the future but its no good to us brits because we measure C02 and have no financial incentive to having wee in the exhaust. They can't help but mention that the Audi V8 is much more powerful than any comparable vehicle but do suggest that you will go to heaven if you stick with the 3.0 litre TDI version.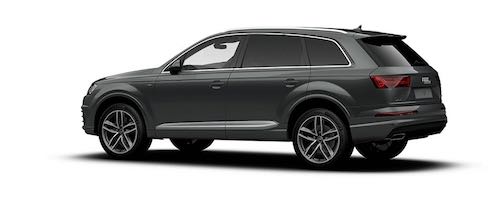 In June 2007 the V12 TDI model got reviewed. The review begins with some depressing news about the Leham brothers and goes on to talk some more American history. They call this model the most powerful SUV! It has a 6 litre engine. Who needs that much power? It can tow and carry passengers and get to a top speed really fast. I have to agree that you buy a seven seater because you are likely to have 3 children or more not because you want to race at silly speeds. I don't understand how it can be given a score of 7/10 when it costs around 100K.
In June 2007 a guy named Matt from the team reviewed the 3.6 V6 FSI S Line Q7. At first he goes on about other drivers hating you whilst driving the Q7, its monstrously huge and somehow no power when you slam your foot on the accelerator. He also seems to think that it's too heavy to pull its own weight let alone people and their stuff. Although it is generally a negative review, he does say that on its own it is comfortable, refined and well made. Overall, despite the expletives he gives it a score of 7/10.
Top Gear - Summary
3.0 Litre TFSI at £49K - Scored 6/10 (March 11);
3.0 Litre TDI at £40K - Scored 7/10 (June 2009);
V12 TDI at £96K - Scored 7/10 (Sept 2008);
3.6 V6 FSI S Line - Scored 7/10 (June 2007).
There are no consumer reviews provided by Top gear.
AutoTrader - Expert
Autotrader have reviewed the Audi Q7 three times.
The first review in 2006 generalizes the whole Q7 into ten neat categories of safety, reliability, etc. Overall they rate the car as 3.6 out of 5. They drove the entry entry-level 3-litre TDI model, which was also the most popular at the time. The most sweeping statement is that it overfills most car parking spaces.
The second review was undertaken in October 2009. In this review they clearly love the power of the V12 TDI but conclude that it is slightly too much power and money. However it does have all the expected toys such a luxurious 4WD 7-Seater should have.
In May 2010 AutoTrader reviewed the Audi Q7 again. In the main because of the increased range of engines and other slight amendments. However it looks more or less the same albeit with slightly cheaper running costs. Fuel efficiency gets better in 2010 too with the MPG increasing to 38.2 and c02 reducing to 195 g/kg. The model driven was the High-performance 4.2 TDI version which they seemed to prefer due to it being a diesel.
Conclusion
Experts seem to love the look and spacious ness of the Audi Q7 but resist loving it completely due to the lower than average fuel economy and initial purchase price.
The aggregated Car Review score for the Audi Q7 is 69%
.more...