Audi Q7 First Generation MPV
The First Generation 2006 Audi Q7 has a third row bench seat making it a 7-seater. Some might call it an SUV, (Sport Utility Vehicle). The Audi Q7 is also a 4 Wheel Vehicle. I don't think it's realistically supposed to be used off-road but it's tougher than the average MPV. The Q7 is one of the more expensive and luxurious MPV's available in the UK. The back row seats do not give much space for passengers and are named "Comfort Seats" by the manufacturer. The rear two seats fold flat to provide more boot space. Our Audi W7 Expert Review score is 69%.
Purchase Price
New Q7's can cost upwards of £42,000. You can pick up a 2nd hand one that is about 5 years old for less than £20,000. If buying new the extras can push the price up much higher. For a top of the range model you are talking spending up to £100k.
Running Costs
The Car Tax bands for this vehicle are between J and L. This is based on the level of c02 emissions emitted. Although work is being done to reduce this figure, the Q7 is ultimately a larger engine car which in turn means higher c02 emissions.
The C02 emissions are at their lowest with the 3.0 TDI Quattro at 190g/km of c02. This rises to 249g/km of c02 with the 3.0 TFSI Quattro Q7.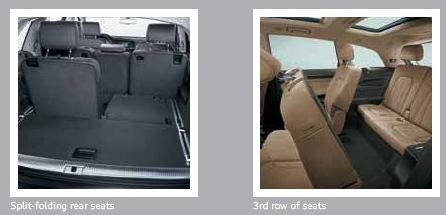 Audi Q7 interior seats pictured above.
The First Generation Audi Q7 does between 26.4 and 38.4 mpg on the combined cycle. This is the difference between the petrol and the diesel versions. The fuel tank capacity is 100 litres. A full tank of Diesel will cost over £150!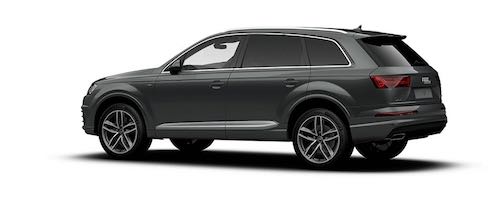 Audi Q7 pictured above.
The insurance group based on the ABI insurance groups vary from 40E to 45E.
A regular service can cost as little as £107.71 with £70.99 for an interim service. A full MOT and service is approximately £155.86. This is based on the 3.6 Petrol or 3L Diesel. This figure has been taken from a national discount car service provider and may not be as thorough as the manufacturer service, so the actual cost will vary. You could opt to pay £40 a month for a 3 year service plan through the Audi Manufacturer or £50 a month for the 5-year service plan.
Additional Options
You could spend an incredible amount on this SUV. The exclusive carpet and floor mats with piping are £1,233. The HDD Satellite navigation system is £2,205. For a Bang + Olufsen advanced stereo the cost is just under £4,000.
Exterior Paint
The standard paint colour is solid ibis white or night black. Metallic and pearlescent paint will cost £2,400 extra including VAT. More details of the paint colours and prices can be found on our Audi Q7 Exterior Paint page.
Dimensions
The Audi Q7 (First Generation 2006) has a luggage capacity of 765 cubic litres with the 5 seats upright and 2035 litres with them folded flat. With all seven seats in use the boot space shrinks to 330 cubic litres, although the middle row can slide in either direction up to 10cm to share out some of the leg room. The Q7 is 5.089m in length and 1.983m wide.
Performance
The 3.6 TFSI has a top speed of 152 miles per hour and reaches 62 miles per hour in 6.9 seconds. More economical Q7's, such as the 3.0 TDI Quattro Clean Diesel reaches 62mpg in 8 seconds and has a top speed of 135mpg. This vehicle can tow a 750kg load unbraked.
Conclusion
Despite the extra expense in insurance, car tax, initial purchase and running costs I would still love to own an Audi Q7. They have an air of exclusivity that contributes to their appeal. Different configurations of the seating allow you to have a six seat Q7 by having three seats across the middle row rather have two. Oh and don't forget that Christian Grey in Fifty Shades owned a Black Audi Q7 SUV.