Mazda 5 MPV
Aggregated Car Reviews
The Mazda 5 MPV (with 7-seats) has been reviewed by Experts (12) and Users (172). Its score is 70 out of 100. This is based on 184 reviews in total.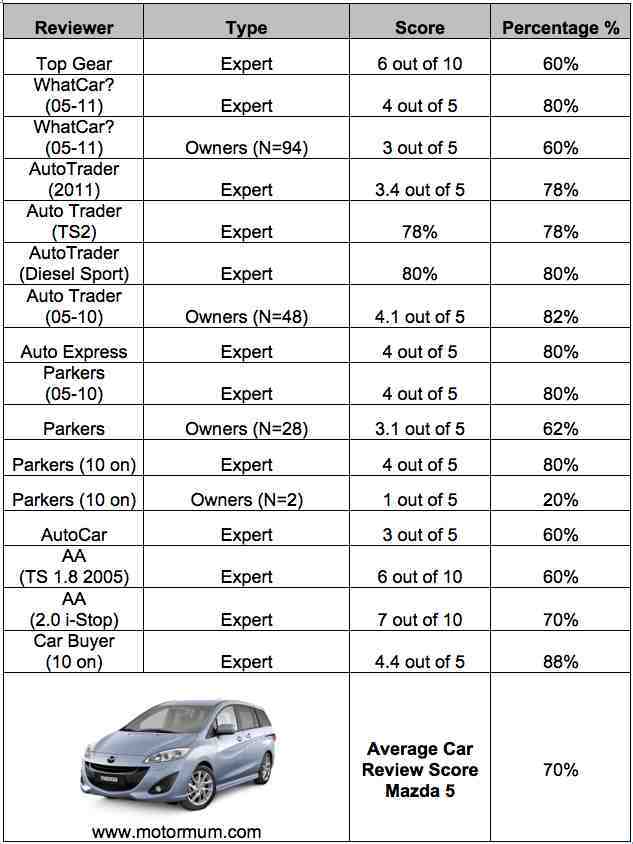 Top Gear - Expert
Top Gear reviewed the 2013 Mazda 5 and were impressed with its driving but not with its spaciousness. According to them the Ford C-max has more flexible seating and space.
The 1.6 diesel is the economical choice for those stacking up the miles but their favourite is punchy 1.8 TS 2010 5 door. The expert at Top Gear scored it a 6 out of 10.
What Car (05-11) – Expert Review
The expert at What Car disagreed with Top Gear because their favourite is the 2.0 DTS, although they say you'll pay more for having a diesel. It's the same old story of getting your money back in fuel savings. They agree on the sportiness of the ride. They love its sliding doors and foldaway middle row seat that allows third row seat passengers to get in and out easily. They scored this family fun 7 seat MPV a 4 out of 5.
What Car (05-11) – Owner Reviews (94)
Nearly 100 owners have kindly left their views on the What Car website. They date from 2008 to current and include 27 different versions of the Mazda 5. Overall the score is 3 out of 5. One owner of the 2.0 D 143 Sport 5dr said it had more problems than any other car he'd owned. He didn't like the handling and uneven tyre wear. Oh and he says the sliding door sticks. There are other negative comments too. But don't let that put you off because alongside the grumpy reviews are some up beat ones too. Although the middle seat being a waste of time does get repeated a lot. An owner of the 1.8 TS2 5dr also suffered excessive tyre wear but still concluded that he would recommend you buy one.
Auto Trader (2010) - Expert
The expert reviewer at Auto Trader looked at the 2010 model. They generally liked it and found the sliding doors, flexibility and good road handling a bonus. They weren't keen on the limited diesel availability because they felt the 1.8 petrol was underpowered. They scored the Mazda 5 a 3.4 out of 5.
Auto Trader – TS2
In 2006 Auto Trader put the Mazda 5 TS2 through their ten point test. It came out well at 78%. Isn't the TS version the one that people complained about in the What Car real owner reviews? However they liked its looks, practicality and safety.
Auto Trader – 2.0 Diesel Sport
In 2008 Auto Trader put the Mazda 5 Diesel Sport through its 10 point test. This did slightly better earning an extra 2% (80%) overall compared to the TS2 model above. The higher score was attributed to its looks.
Auto Trader – Owner Reviews (48)
There are 48 owner reviews on the Auto Trader site that are written between 2005 and 2010. The overall score is 4.1 out of 5. You can split the reviews into two categories; either 05-10 or 2010 onwards. Unfortunately there are no 2010 reviews to read. But if your looking for some great information on older models this is the site for you.
Auto Express
In 2011 Auto Express reviewed the Mazda 5. Their model of choice is the 1.6d Venture Edition. This is the newer model, which seems to have taken all the criticisms of previous versions and improved upon them. Well-done Mazda! They like the clever seat layout although do highlight Mazda's claim that it is a 6+1 car rather than a seven seater. I guess you just have to put a little one in the middle-middle row seat. The overall score given is 4 out of 5.
Parkers (05-10) - Expert
Parkers reviewed the 05-10 Mazda 5's in March 2009. They call it one of the best people carriers and claim it is a better choice to the Zafira or Verso because of its sliding doors. Sliding doors are a bonus but be careful of malfunction (see owner reviews from What Car). The extra weight will affect the MPG too. The expert scored it a 4 out of 5.
Parkers (05-10) – Owner Reviews (28)
Real reviews from real owners have been left for 05 to 08 Mazda 5's. Opinions vary with approximately 1 out of 5 reviewers leaving completely negative comments. Despite this, the overall score is 3.1 out of 5. This is because those that love their Mazda 7 Seater are scoring it a maximum of 5 out of 5. Models written of include the 1.8TS, TS2, Furano, Sport (6) and Sport Nav. The negative comments mention tyre wear and costly repair bills. Notwithstanding this, people love the practicality of seven seats and the radio volume increasing and decreasing with the speed your driving. I suppose that would mask the wind noise that others are commenting on.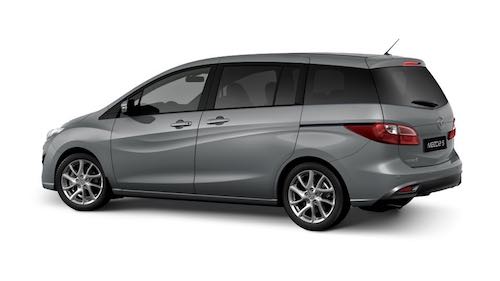 Mazda5 pictured above.
Parkers (10 on) - Expert
In 2011 the Parkers wrote about the 2010 model. The 6+1 issue of seating is mooted again, but the way they've designed the seat for easy access to third row seats is considered inspired. They like the new styling but think the 2.0 litre petrol engine is a bit slow. The overall score is 4 out of 5.
Parkers (10 on) – Owner (2)
Ouch – only two owners gave their opinion on the Parkers site and both have given a 1 out of 5. That is not good! The models spoken about are the 1.6 and 2.0 sport variants. The problems are related to customer service and repeated repairs. Parking is easy with the rear sensors and again the sliding doors are a bonus. The overall score is 1 out of 5.
Auto Car - Expert
The Auto Car experts reviewed the 2010 model. They speak with rather average comments and excuse this by implying that you can't really do much better if you want a family car. The pictures are definitely worth a look. A lot of crisp clear images in and outside the car make it an excellent website to look at when doing your research. The overall score given is an average 3 out of 5.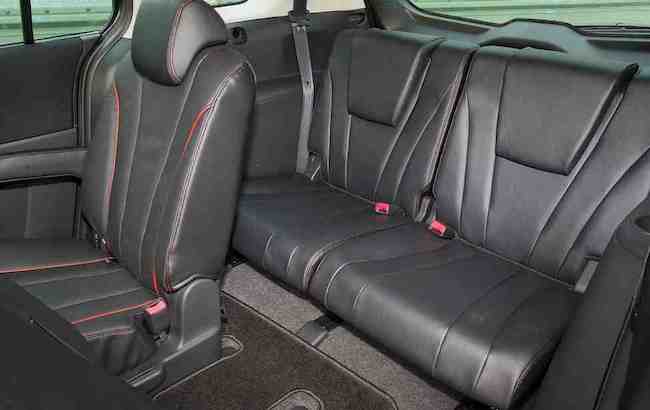 Mazda5 rear seating pictured above.
AA: Expert – TS 1.8
In 2005 AA wrote about the TS 1.8 Mazda 5 MPV. They like the flexible seating and the appeal a shared central space has for potential rear seat passengers. This is at the expense of that middle row seat in the second row. However it must be remembered that this is a family car. They think the on road experience is one of the most enjoyable (please remember this was written in 2005.) The electronic service record is mentioned which is the first time I'd heard of this. The overall score is 6 out of 10.
AA: Expert – 2.0 i-Stop
A recent review was undertaken in July 2010 on the 2.0 i-stop model. They describe its appearance as a flowing bodywork design. They love its practicality, especially the multi functional uses for the middle row seat in the second row. Although its not a first time car buyers choice, the Mazda 5 has mass appeal to families. They like its competitive price (£17,000 upwards) spaciousness and the new anti-pinch feature on the sliding doors. The same old gripe is mentioned about the boot space when all seven seats are in the upright position. The overall score 7 is out of 10.
Car Buyer (10 on) - Expert
Car Buyer looked at the 2010 Mazda 5. The greenest option as the 1.6D Venture Special, but beware because it's nearly £3,000 more expensive then entry models. They say there is lots of luggage space, but this must be when the rear seats are down or a roof rack is in place. Either way, there is definitely only limited space when all seven seats are in position.
The video shows how a fully-grown adult can fit in the rear seats (with legs reasonably placed) but that in reality it's only okay for short journeys or children. The middle row seats can move in either direction to provide more legroom in either the second or third row. The nifty middle row seat is impressive, it can fold away, sideways and even become a drinks holder when a tray magically appears from within an adjoining seat. Much to your annoyance, I'm sure the kids will love playing with that! The steering wheel and front seat can be adjusted up and down, as you'd expect for any modern MPV. The overall score is 4.4 out of 5.
Conclusion
Older models have more things go wrong with them. Everyone loves the sliding doors and the 6+1 seating is either a love it or hate it kind of thing. Boot space is limited with all seven seats upright but you could always opt for a roof box. The newer styling is sleek although some still don't like the way it looks. Beware of some issues that may occur with Mazda customer services. Apart from that you may get the perfect family MPV.
The overall percentage for the Mazda 5 is 70%
.more...