How To Cope As A Designated Driver
How to cope as a designated driver can be tricky when you're giving a lift to a car full of drunken fools. It's a well known fact that driving while under the influence of alcohol leads to accidents, fines, license suspension, driving bans, higher car insurance premiums and even time in prison. Stricter policies have given rise to more people being stopped at the roadside and tested for blood alcohol than ever before, and campaigns in pubs and on the internet, TV and radio mean that nobody escapes the warning.
But while drivers themselves may be behaving responsibly and laying off the drink, being the 'designated driver' comes with its own set of problems.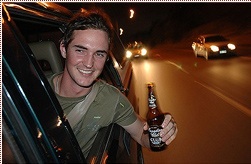 It's estimated that during Christmas/New Year 2010, 13 million designated drivers will take their drunken friends home. Out of these, approximately 750,000 will somehow lose control of their vehicle or crash due to the behaviour of their drunk passengers. Such behaviours include:
Grabbing the steering wheel;
Pulling on the handbrake;
Vomiting;
Singing loudly;
Messing with the radio/volume;
Hanging out of the window;
Making the driver nervous;
Causing some other distraction.
It's easy to see why each of these could cause the most sober of drivers to lose control, but short of refusing lifts to your friends, what can you do about it? Here are some tips on preparing for and coping with drunk passengers:
Make them sit in the back (if you have more than two passengers, let the least drunk one sit in the front);
Put mellow music or dialogue on the radio, if you have it on at all;
Keep the windows open if you think they'll feel sick;
Pull over if they say they're going to be sick;
Remove any loose objects from the back of the car which could be used as a drunken 'toy' (read: weapon);
Make sure the seatbelts are fully operational, and activate the child locks if you have them;
In extreme cases, don't hesitate to call a cab. If you're their friend, you're more likely to remain so if they don't destroy your car!
.more...