Race Track Mazda5
Even if the Mazda5 had developed a decidedly sporty side since it was first released back in 1999, even for the notoriously slick Japanese automaker the latest version of this popular 7-seater seems to defy convention. At this month's SEMA Show, a Las Vegas event in which the automotive industry shows off its wilder side, Mazda showcased this popular MPV with a trim that made it look more race track than people carrier.
The last of five new models at this year's SEMA Show was indeed a Mazda5 built for the track. Mazda added Raceway Laguna Seca graphics, 19-inch forged aluminum wheels and lowered the springs to show off just how sporty this vehicle can be.
In an age that has seen an increasing number of sporty crossover minivans, is the Mazda5 the sportiest of them all? It very possibly is. Although this racetrack version of the popular Mazda 7-seater is not one you will see on the open road, it just goes to show the extent of this vehicle's sporty side. And certainly it's an MPV that has come a long way in terms of design since the first boxy model was released 12 years ago.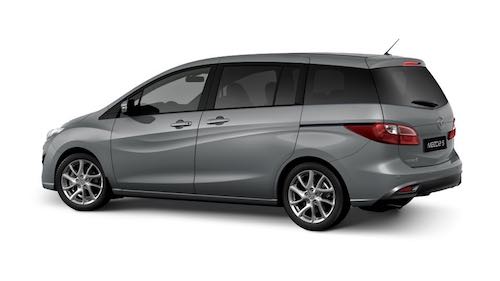 Mazda 5 pictured above.
The Mazda5 creates the look with a sleek front section that seems to defy the traditional bulky norm that is the standard in this segment of the market. This is achieved through a combination of a long, angled windshield and side front grills that bring the nose to a more defined point. At the rear this 7-seater has a sleeker look than most courtesy of side windows that get smaller as they go back past the third row of seats giving the illusion that this is not actually an MPV at all.
New 2012 Mazda5 is more powerful
The new 2012 version of the Mazda5 people carrier packs a powerful 157 horse-power 2.5-litre engine in both a six-speed manual and 5-speed automatic model. The earlier 1.8-litre and 2-litre versions feature Mazda's i-start-stop system which achieves emissions savings of about 15 percent so despite packing a punch it also does its bit for the environment, not to mention your fuel bill.
Mazda to take a green approach
Mazda plans to take this green approach to the Mazda5 range in the next few years as it continues to develop a plug-in hybrid version of this popular vehicle. The working prototype already has a Mazda MPV body shell and is expected to come to market first in Japan within the next two years, followed by an anticipated release in Europe and North America.
It's good to see the Japanese automaker looking to green technology while also considering the sporty feel of the Mazda5. It is yet more proof that the car manufacturers have the technology to mix the best of 7-seater features with a sporty vehicle and an eco outlook. This also points to wider appeal for MPVs outside of the traditional people carrier market for which they were first developed. Nowadays it's possible to own a vehicle that can transport a large family and do justice to a race track. That's what the Mazda5 is all about.