Mazda Crossover SUV CX-9
Off the back of the popular Mazda 5 seven-seater, the Japanese company has launched a crossover SUV seven-seater called the CX-9. It's a swoopy competitor to a Volvo XC-90 and looks less scary to drive than the Swedish car. Offering more of the car-like driving position and stance, it's more of a rugged family car than a genuine off-roader, like the XC-90 is.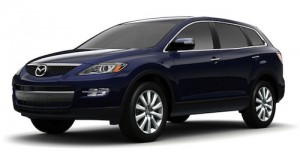 Mazda CX9 - American Seven Seater pictured above.
CX-9 Available in Three Trims
The CX-9 is available in three trims; Sport, Touring and Grand Touring. The Sport trim has firmer and lower suspension, and comes with air-conditioning, 18" alloy wheels, cruise control, Bluetooth, tilt-and-slide steering wheel column, as well as a whole host of stability control, traction control and safety features. The Touring trim is a little softer-edged, and is perfect for long journeys thanks to the power front seats that are also heated and leather-clad, and extra storage bins.
CX-9 Grand Touring Trim
Moving on to the Grand Touring trim, this option brings all of the best of the previous two trims, plus 20in alloy wheels, rain-sensing wipers, memory power front seats, xenon headlights, keyless ignition, a Bose sound system, blind-spot warning system, DVD entertainment screens for the rear passengers, satellite navigation system and electroluminescent gauges.
CX-9 Seats Seven Comfortably
Seven people can comfortably sit in the CX-9 and thanks to the gutsy 3.7-litre V6 engine, the added weight does not dent performance too much. The Mazda is fun to drive, has a sporting edge, even in Grand Touring form, and has little body-roll which brings confidence in the corners. That engine brings with it 263bhp and 249lb-ft of torque, which makes it a very powerful engine, and one that can lazily pull it up hills without needing to change down gears. The automatic transmission can be jumpy thanks to the torque, so a manual would be a better option.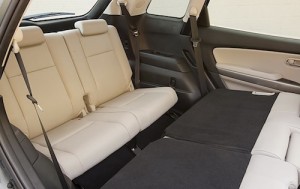 Mazda CX9 third row seats pictured above.
CX-9 Gutsy Petrol Engine
The more athletic stance of the CX-9 bodes well for families which don't want to drive around in a pseudo-minibus or have the full, four-wheel drive off-roader. It's called a crossover for good reason as it's been developed to bring qualities from both sides and drives all the better for it. The only problem with the CX-9 is that engine. It's a thirsty petrol engine that is lifted straight from the 370Z sports coupé, and isn't the most frugal of motors, especially with the extra bulk to carry around. That said, you don't need to 'wring its neck' to get it going or up hills so you can drive it efficiently compared to a small petrol-engined MPV.
Rear Seats can be folded flat
In the back, both rows of seats can be folded flat to reveal a large space to use as a van. There is a easy-to-use latch that allows you to slide the seats backwards and forwards to give more access to the rear, and even with seven people in it, there's still room for a couple of bags in the boot. Long-legged people might struggle with room in the rear but for average-height passengers, there's ample room and from the outside it's quite deceptive just how much space there is in there.
Currently not in the UK
It is unknown if this model will come over from America to us in the United Kingdom. The gutsier engine may be less popular in these parts due to the increasing price of fuel.
.more...