Mazda CX-5
Another new car from Mazda that is far less spacious than the Mazda5 7‐Seater, though plenty dreamy for some, is the Mazda CX-5.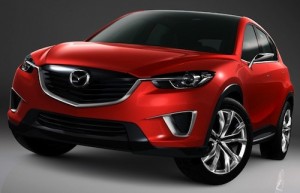 Mazda XC5 (front view) pictured above.
The Mazda's CX-5 is new for 2013 and promises an interesting take on the compact SUV genre. And when I say compact I mean a vehicle with only five seats. Confusingly the preceding letters "CX" actually mean that this vehicle will not be a Seven Seater. It is called an SUV.
The Mazda CX-5 looks a bit like a mix of Subaru WRX, BMW 1 series and Mazda 3, the CX-5 looks like a real hoot to drive. Much of the fun comes from the total gas (pardon the pun) provided by the diesel engine available in some versions with two-stage turbo charging.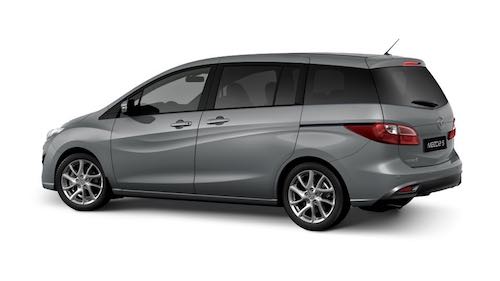 Mazda 5 pictured above.
The CX-5 diesel engine isn't the only engine available in the CX-5 but it's likely to be amongst the most popular, if you can get it. It's likely that not all markets will see this powerful engine, which is a shame, as it endows the relatively civilised (read: easy to live with) diesel lump with twice the torque available in the petrol version.
Outside, the Mazda CX-5 is a handsome little beast (it's noticeably smaller than Toyota's RAV4) that looks a lot like a hot-hatch on steroids. Unfortunately, that size means the CX-5 hasn't the room to offer seven seats, so if you need to carry plenty of people, you'll either have to get a pair of CX-5s or shop around for something a bit bigger.
.more...
Mazda5 - main Facts & Figures;