BMW X5
Combined Expert Reviews
The BMW X5 M 7-Seater has been reviewed by Experts (5) and Users (2). Its average score is 73 out of 100. This score is based on 7 reviews in total. BMW produce the X5 M (2nd hand) and Gran Tourer (new) 7 Seat Vehicles.
If you want an X5 with the additional two seats in the rear you need to go for the M version. Newer versions have the sixth and seventh seat as standard whereas older models had the option to add two extra seats in the boot.
| Review Source | Type of Review | Score | In Percentage (%) |
| --- | --- | --- | --- |
| Top Gear | Expert | 4 out of 10 | 40 |
| WhatCar? | Expert | 4 out of 5 | 80 |
| AutoTrader | Expert | 4 out of 5 | 80 |
| AutoExpress | Expert | 4 out of 5 | 80 |
| Parkers | Expert | 4.5 out of 5 | 90 |
| Parkers | User | 5 out of 5 | 100 |
| Parkers | User | 2 out of 5 | 40 |
Overall the BMW X5 scores 73%
Top Gear - Expert Review
The Top Gear crew reviewed the X5M M in March 2010 and although they loved the performance they did not like it at all. They conclude that it's just the size verses power that's not a goer. They also write a dreamy comment about not being in the spirit of the BMW brand or something.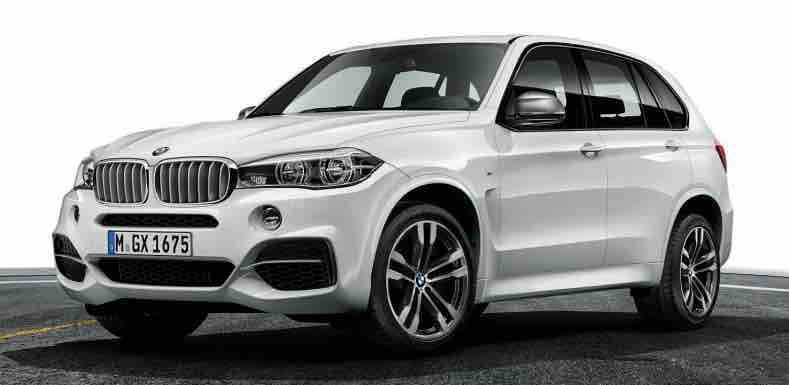 Although suitably impressed with the power of the engine they strongly advise you not to buy this car and only give it a 4/10. At over £70K new you will really have to want a BMW 7-Seater to put up with the wrath of the top gear guys.
WhatCar? - Expert Review
The WhatCar review goes into great detail about the general X5 but nothing too specific about the seven seat version. Within the "in the cabin" section they say that the rear seats are suitable for small adults, which is slightly more positive that the Top Gear who said sitting in the back seats would make your children ill. The WhatCar review is positive about the X5's performance and quality. Overall the experts and the owners give the car a 4 out of 5. But some user reviews are quite negative about the running costs. One reader spends over £500 each service and swopped it for a Grand Jeep Cherokee.
Auto Trader - Expert Review
It took me some time to actually find AutoTrader's X5 M review, but when I did I was impressed with the level of detail they have put into writing it. Their review was undertaken in February 2008. They list the good things as handling, seating and engines and bad things as harsh ride, running costs and uncomfortable sixth and seventh seats. They recommend the X5 xDrive 30D SE for economical running costs, but that model doesn't have seven Seats. AutoTrader indicate that the best seller, which is an indication of how popular seven seat vehicles are in Britain is the X5 xDrive 30d M Sport. Overall Autotrader give the X5 a 4 out of 5.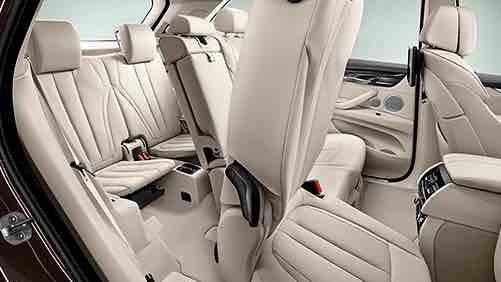 AutoExpress - Expert
Generally they like this SUV and have positive statements about its roominess, when in 5-Seat mode, performance and large choice of engines. However after watching the video they do say like everyone else that the rear seats, (third row) aren't that roomy. And I can't get my head why the bloke says that its very desirable, (well to some I suppose), but my main disbelieve is when he says it will hold its value when you come to resell. That contradicts what the users say in the user reviews on AutoTrader. Auto express give the X5 a 4 out of 5.
Parkers - Expert
Parkers have undertaken two reviews. One for the 2007 onwards model and one from before. I'm beginning to think nearly everyone doesn't like the costs associated with this SUV! They conclude that the 2007 + models are faster, more economical and bigger. That's good right? Parkers love the engines and performance but say that to go truly off road the X5 isn't that good. Although they do say it is one of the best "On-Road" 4x4 7-Seaters. Isn't that contradictory? Overall Parkers score the X5 a 4.5 out of 5. This is the aggregated result from their 14 individual scores. The lower marks come from the buying used, new and running costs.
They also have three user reviews. Once is extremely positive (5 out of 5) for the BMW X5 3.0d M Sport (7 Seat) 5d Auto (2008/58). However it did leave me with a funny feeling when the guy said that owning one of these says you're successful. I suppose it does, but there is no need to show off. Another review is very negative – giving only a 2 out of 5 for this SUV. He bought it in January 2010 and says it isn't worth the money.
Conclusion
It's a bit like Marmite isn't it? You either love or hate the BMW X5 M. There seems to be no in between. The overall aggregated score is 73%.
.more...