BMW Gran Tourer
The BMW Gran Tourer 7-Seater
BMW have finally created a designated seven seater. It has seven seats as standard and has been named the BMW 2 Series Gran Tourer. BMWs only other 7-seater is the BMW X5 M.
The seven seats in the X5 M don't come as standard. The BMW 2 Series Gran Tourer has seven seats as standard. It has classic BMW styling both on the inside and out. I won't be surprised if it wins a number of awards this year.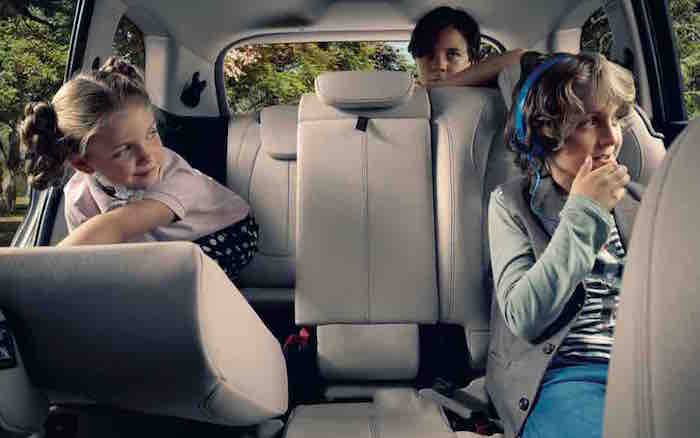 BMW claim that despite its size the TwinPower Turbo engine can propel you forward as if driving something much smaller. It is fitted with BMW's intelligent XDrive all-wheel drive function which reports to provide increased driving pleasure and stability.
The Gran Tourer cockpit is designed to impress the driver whilst the large doorframes will equally impress passengers.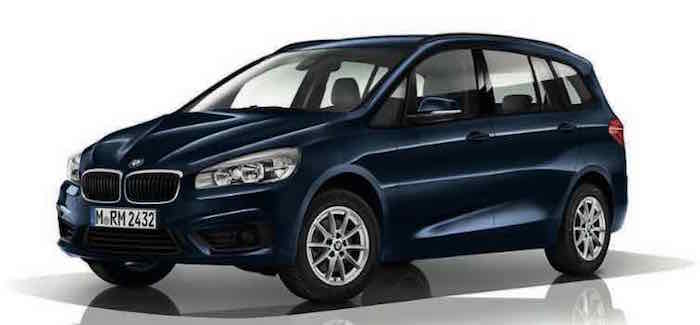 With three sets of front row seats there's enough space and comfort for seven full sized passengers. Or if you wish you can fold the third row seats flat to carry stuff instead.
Pricing
Prices for the BMW 2 Series Gran Tourer differ for each of the four different trims. The SE Gran Tourer (base entry) is £23,930 including VAT. For £1,250 more the Gran Tourer Sport is £25,180 including VAT. An additional £2,000 buys you the Luxury Gran Tourer. The most expensive, with many extras is the M Sport Gran Tourer at £26,930 including VAT. This £3,000 more than the base model.
These prices are correct in July 2015. There will be some variations at the time of purchase. Dealers are offering huge contributions and deals on this new MPV. With these prices (some 20K less than the X5 7 seater) BMW are setting down the foundations to compete against all other 7-seat car manufactures.
Fuel Consumption (MPG)
Fuel consumption varies on the size of the wheel and the engine you choose. The diesels are more economical achieving on average of 20 miles to the gallon more! However even the 220i petrol achieves around 44 to the gallon combined. Miles per gallon increases to nearly 70 when buying the 216d diesel engine.
C02 Levels (VED Bands)
Co2 emissions vary from 108 g/km (216d diesel) to 149 g/km (220i petrol). Similar to above the diesel is performing much more efficiently.
Taking the above figures on board the Car Tax bands range from B (only £20 a year) to Band F (still only £145 a year).
How is Fuel Saved?
A combination of several different functions assists in achieving good fuel economy. The Auto Start-Stop has been around for quite a while but it is a standard addition to the Tourer.
The Break Energy Regeneration uses kinetic energy wasted on braking and feeds it back into the battery as electrical energy.
The Optimum Shift Indicator lets you know if you need to change gear to achieve maximum economy. It senses what you should do and displays its recommendation on the cockpit.
The Electric Power Steering only provides steering support when you need it. For example when negotiating a tricky turn. When less effort is needed to turn the wheel takes less energy from the engine.
Weight / Capacity
If you opt to have a roof box, the roof load capacity is 75kg. If you have a caravan or trailer you can tow up to 1,500kg.
The fuel tank is either 51 or 61 litres depending on which model you choose. The more economic diesel engines have the smaller fuel tanks.
Boot Space
With all the seven seats are folded the cubic capacity is 1820 cubic litres. With all the seven seats upright the boot space in the BMW 2 Series Gran Tourer decreases to 560 cubic litres.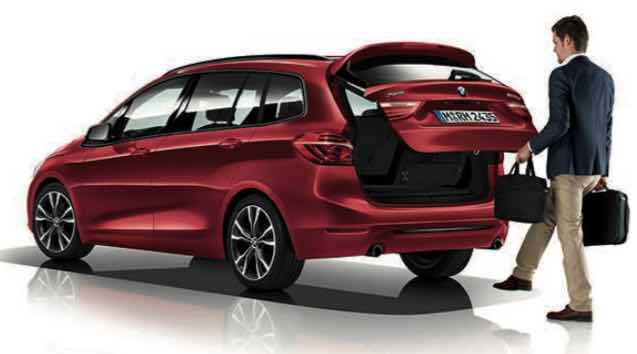 Performance
Top speeds are less impressive if compared to other vehicles but enough for what you'd need and definitely for what is legal in this country. They range from 119 miles per hour / 192 km per hour to 139 miles per hour / 223 km per hour.
TwinPower Turbo Engines
The BMW 2 Series Gran Tourer 7-seater comes with an innovative new engine, which combines advanced injection with a fully variable output control. These functions facilitate better and more economical driving. According to BMW this is a milestone in the BMW EfficientDynamics strategy. Even the TwinPower Turbo 2.0 litre four-cylinder diesel engine is claimed to be responsive and thrifty.
Engines
There are six engines available, namely; BMW 218i, BMW 220i, BMW 216d, BMW 218d, BMW 220d and BMW 220 xDrive. The first two are petrol.
With six engines and four versions (SE, Luxury, Sport and Sport M) the ultimate Gran Tourer choice increases to 17.
Technical Information
The power output ranges from 116 horse power (216d diesel) to 192 (220i petrol). Getting to 62 miles per gallon takes from 7.8 seconds (220i petrol) to 11.4 seconds (216d diesel).
BMW Connected Drive
The Connected Drive function in the BMW Gran Tourer connects you to the outside world and can advise you of what is ahead. Not in a paranormal non-science way but in relation to oncoming traffic jams or speed restrictions.
The Head up Display provides standard information such as speed, music or navigation information. You can choose to upgrade to a full colour version.
The Driving Assist Plus lets you know your driving out of lane by vibrating the steering wheel (Lane Departure Warning).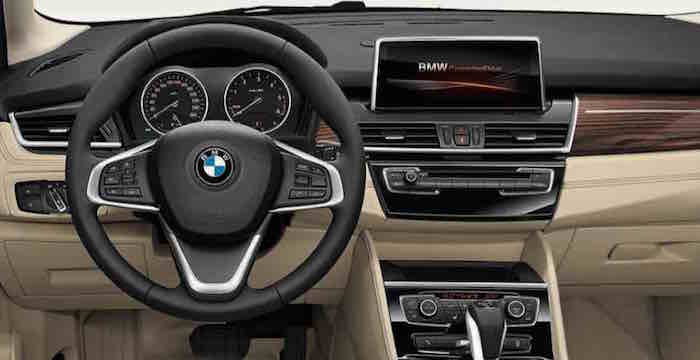 Forward Collision warning does what it says and engages the brakes on your behalf.
The improved Cruise Control also lowers its speed to coincide with a slower vehicle in front.
The BMW Emergency Call function will call the emergency services if it detects a serious collision. It can either do it automatically or manually. I'd be interested to know how the 999 people react to a car calling for assistance. It must notify a call center that does it on your behalf.
You could opt for the Information Plus package where a member of the BMW team will assist you in finding a hotel or restaurant. However anyone with a Google or IPhone won't need this.
Suspension
As you'd expect from BMW a great deal of innovative thinking has led to making sure the BMW 2 Series Grand Tourer 7-seater grips the road and maximises driving pleasure. With xDrive and standard Dynamic Stability Control (DSC) the car stays stuck to the road to increase safety.
As standard the Drive Performance Control allows you to decide one of the three driving modes. There's the Standard Comfort Mode, ECO Pro mode (targeting efficiency) and a Sport mode.
As an option the Variable Sport Steering mode does what it says. It uses less of your energy to steer. Whatever speed you are travelling it will vary the strength needed by you to steer the cars wheel. This helps to steer round corners or parking.
As an option the Electronic Damper Control allows the driver to adjust the shock absorber.
Safety
BMW strives towards protecting passengers and as such include the latest technology relating to vehicle safety. There are three standard safety features and an additional three optional BMW safety packages.
As standard the Dynamic Stability Control (DSC) will intervene the engine and brake to increase stability.
There are driver, front passenger and side airbags in each standard model of the BMW Grand Tourer.
The BMW Emergency Call function will contact the emergency services to facilitate assistance without delay. This is also a standard feature.
The three optional packages relating to safety are Adaptive LED Headlights, Driving Assistant and Traffic Jam Assist.
The Adaptive LED Headlights increase safety by lighting up the road in a better way. It can automatically adjust the glare and includes cornering lights.
The Driving Assistant has two main functions. Firstly to create an alert if it suspects a forward collision and secondly a lane departure warning. On the one hand it will alert you to indicate when moving from one lane to another and on the other it will alert you if it thinks you are meandering out of the current lane without indicating, thereby suggesting an error in driving.
The Traffic Jam Assist is a similar system to cruise control but it steers, controls and maintains a certain distance to the car infront when in a traffic jam. This works up to 37 MPH.
Models
There are four BMW Gran Tourers models namely; the SE, Sport, Luxury and M Sport.
The base model (SE) has 16-inch wheels. You can upgrade to alloys if you like. Other standard features include a 6.5-inch display with an iDrive controller, forward vehicle collision warning, DAB tuner and LED daytime lights.
Buying the Luxury BMW 2 Series Grand Tourer adds contrast stitching to the instrument panel, Dakota leather with contrast stitching, nicer door finishes and interior trim. There's LED ambient lighting in the trim, 17-inch alloys and chrome fixtures.
The Sport model adds an eight speed automatic transmission, exclusive finishes, sports seats, all wheel drive and a chrome exhaust tailpipe.
The M Sport model (most expensive) has switchable ambient lighting, door sill finishes with M designation, leather steering wheel, sports seats, 18 inch alloys and run flat tyres.
There are other extras the higher specification you go for but the ones above are what stand out.
All versions come with a remote control integrated key. The key gets a bit nicer too when you spend more money.
Interior Colours
There is a full range of cloth and leather seat finishes. Different colours and quality are available for each model. In the main you can choose from black, brown or beige in Dakota leather. The leather can be perforated.
There are seven interior trim options. One example is the wood with inlay and pearl chrome finish in the Luxury Model.
Dimensions
The Gran Tourer is 1.8 meters wide and 2.56 metres long. The width across the front, middle and third row seats is 1.44m, 1.47m and 1.19m respectively. The height of the front, middle and third row seats from the seat to the ceiling is 1.078m, 1.003m and 0.9 meters respectively. This equates to the headroom in the rear seats (the sixth and seventh seat) being 11 cm less than the driver and the front seat passenger.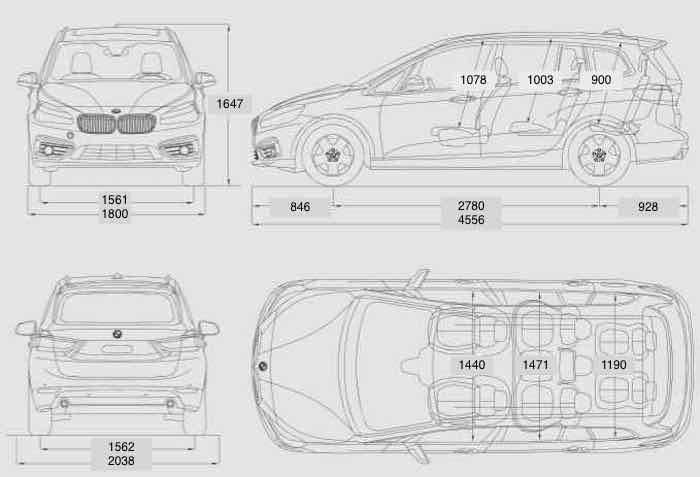 Exterior Colours
BMW's classic colour palette includes non-metallic Alpine White or black. The black is the only colour available as standard. If you prefer a different colour it would be an optional choice. Metallic options include Mineral White, Glacier Silver, Platinum Silver, Atlantic Grey, Mineral Grey, Flamenco Red, Sparkling Brown, Mediterranean Blue, Imperial Blue and Black Sapphire. Estoral Blue is only available when purchasing the BMW M Sport. Some colours are not available in the M sport version.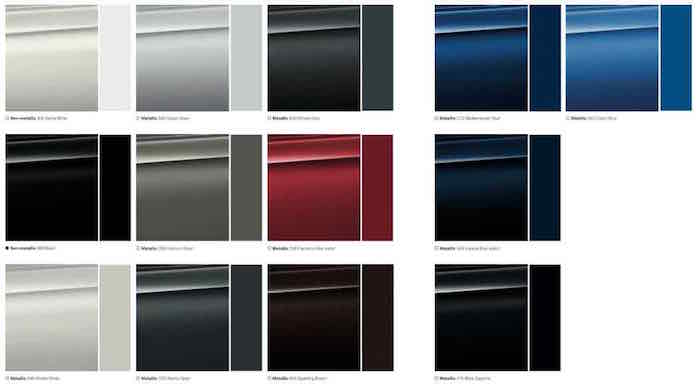 Servicing
As you'd expect from such a large manufacturer there are excellent offers when it comes to servicing. You can choose to have up to 5 years bought as a package.
Sustainability
Being ranked one of the most sustainable automotive companies worldwide has accredited the advances made by BMW. This is achieved by the continued EfficientDynamics innovations. Co2 emissions are lower than they've ever been before. They are continuing to drop too.
.more...