Ferry to France
Catching a Ferry to France in a seven seat MPV was easy. The length of the car has to be within a certain category or you have to pay more. You choose either Car/MPV/4x4 and then are asked to say whether the length of your vehicle is less than 5 or 6 meters. The same for height, where your car is either up to 1.83 meters high, between 1.84cm and 3meters or over 3 meters. You are then asked if you will be taking a Caravan or Trailer. All variables have an effect on the resultant cost of your trip.
Whilst this page details how to catch a ferry to France, I have also written an introduction to European Driving Holidays, which I'm hoping will also be of help.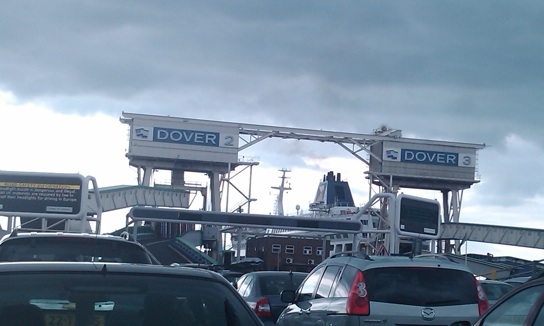 Picture above is us queuing to get on to the Ferry to France at Dover.
Getting the Car Ferry to France
My Kia Carens was within the specified length but a Galaxy is slightly too long and will entail a slightly higher fee. If you have a roof box you may not be able to go in the regular car area but in the other section with higher headroom. This costs more and you'll be with the lorries and buses.
Drive to Dover - Follow Signs
We drove to Dover and followed the signs for the Ferry Port. We were also taking instructions from our satellite navigation system. We were catching the P&O Ferry at 12.55pm. At Dover port the signposts for P&O were clearly visible and we navigated into the correct lane for P&O. We drove through Passport control, which involved everyone in the car showing his or her face to the person in the kiosk. This took minutes and no one had to get out of the car.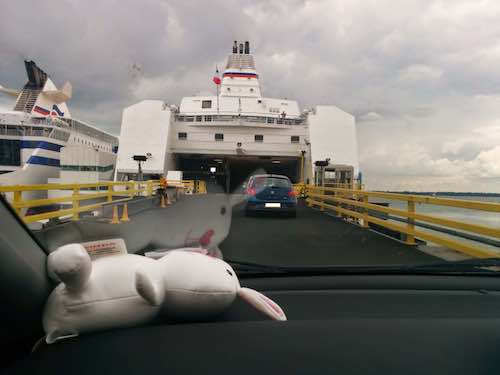 Catching a Brittany Ferry in our Honda FRV 6-Seater from Portsmouth Harbour.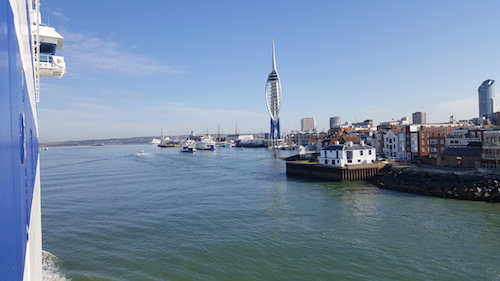 Picture taken from Ferry, overlooking Portsmouth Harbour (when leaving Britain).
Passport Control
Once we were through passport control we followed the signs to the P&O reservations kiosk. It is clearly visible and is a case of driving forward a few hundred yards. P&O reservations seemed to have our booking before we even presented our reference number. I assume this was because they used my number plate to find the booking. We were given a large card indicating the departure time of the Ferry and the number of people in the car. We had to hang this from our rear view mirror. We didn't get out of the car and my children watched a DVD throughout the entire process.
Got in Lane
We were then given a lane number and instructed to queue in that lane. Lanes are clearly indicated and driving to the correct lane is easy. Once in the correct lane we waited for the cars in front to board and we followed when cars started moving. Security staff alert the Police of anything untoward, like an illegal immigrant or drugs by using a sniffer dog. I wasn't carrying any of these.
Once Parked We Explored the Ferry
Once on the Ferry we were allowed to go up to the main part of the boat. We had to keep a note of what colour stairs we'd come up because there are a few. I forgot within half an hour but luckily my four year old remembered.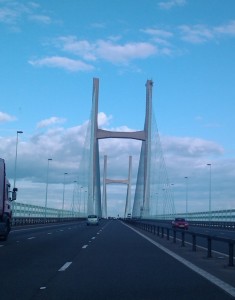 View whilst driving across the severn bridge (in our Honda FRV 6-Seater) - on the way to Portsmouth/Dover.
Early Arrival - Get on Earlier Ferry
On the way back we arrived 2 hours early to catch the Ferry. Luckily as there was room we were allowed to board the earlier Ferry. This was at no extra cost. In fact it is worth bearing in mind that all tickets booked through P&O allow you to turn up two hours earlier and get on a different Ferry at no cost. This gives you a great deal of flexibility when driving. I wish I'd known this on the way over because I was charged £45 to change my booking. However there must be space on the Ferry!
Drive on the Left!
When departing the boat it is easy to continue with your journey as road markings are clear. Remember to drive on the correct side of the road. You could buy a sticker on the Ferry that reminds you to drive on the correct side for only £4.50!! I think traveling via a Ferry to France was so much easier than flying. Far less waiting and far less hassle when going through Passport and security control.
.more...