Why Buy 7 Seater?
Seven seat vehicles are popular with drivers who have large families or are generally used to transport a large number of people. There is a wide range of 7 seaters available to buy in the UK (both new and old), with many well-known car manufacturers represented. Some of these car manufacturers are Audi (with the Q7), BMW (with the Gran Tourer), Citroen (with a the Dispatch Combi) and many more. If you plan to buy, the make options are practically unlimited.
7 Seaters to Consider
If you want to buy a vehicle with seven seater to travel comfortably with your children or friends, there are some basic differences in the types oto consider. A compact multi-purpose vehicle (MPV) is a relatively small 7-seater that typically handles like a regular 5-seat vehicle but has additional seating. A compact MPV MPV may handle great on the road and be relatively easy to park, as well as perform strongly in terms of low CO2 emissions, but it may frankly not be big enough if you also have a need for storage space. This is a similar problem to crossover sports utility vehicles (SUVs).
Read Up on Choices
On the other hand, larger 7-seaters, some of which can be a big as a minibus, can have plenty of space but tend to be more costly to run in terms of fuel consumption and Road Tax. You should spend some time on reading up on the choices available to you. A list of all new cars with seven seats is available here.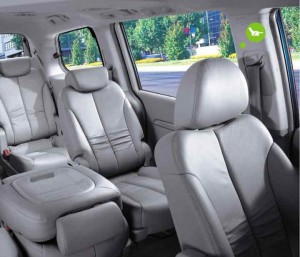 More on Running Costs
Seven-seat MPVs can be practical, handle well on the road, and be aesthetically pleasing. However, when you set out to buy a vehicle of this type you should always consider the running costs. There tends to be two types of cost: standing charges and expenses. The former include car tax, insurance and, if you are buying with a loan, loan interest charges. Expenses include fuel, repairs, MOTs, and toll charges.
Many 7-seaters come with either a petrol or diesel engine. Diesel tends to be more expensive at the pump, but also achieves more miles per gallon on average. Fuel prices may vary according to where you live and change over time.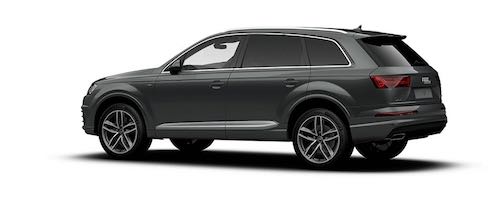 The above Audi Q7 can be one of the most expensive to buy, insure and tax due to the large engines available. With power comes price. But beauty isn't cheap and the Q7 is beautiful.
Buying Online?
Private Motor sales through specialised websites or through eBay tend to provide prospective buyers an array of choices. There are also supermarkets online where you can find a suitable 7-seater before collecting it from the supermarket location.
Online Vehicle Buying has the benefit of giving you the power to browse and compare hundreds of 7 seaters from your own home. Some of the potential disadvantages to be aware of are that you cannot take the 7 seater for a test drive until you go to view it in person and that you are likely to miss out on the warranty or after-sales service a car dealership would offer (in the case of private sales).
Online browsing also tends to be accompanied with suitable 7-Seater reviews that you tend to miss by going in person to a dealership.
Related Information
You may also be interested in the most frugal 7-Seater cars or a list of Off Road Vehicles with Seven Seats.