What does Isofix mean?
Choosing the right child seat is as much about the safety standard as it is about the right type for your child. In Europe that means choosing an ISOFIX carseat if your child is below a certain age.
Applies to Group 0 to 1
The first thing to remember is that ISOFIX applies to any type within Group 0, Group 0+ or Group 1. A Group 0 should be used for any baby from birth up to the age of 12, or up to 10kg in weight. A Group 0+ is typically used for a baby up to the age of 15 months, and Group 1 is for larger toddlers, typically from nine months to four years, weighing between nine and 18kg. Any system for children above this age comes under the ISOFIT standard, so be sure to know the difference between the two.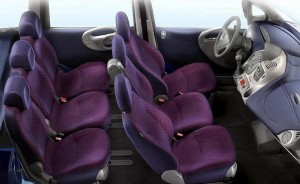 ISOFIX means it fits
ISOFIX, a remarkably simple standard for these types of child seats, guarantees that you will be able to fit your seat into a vehicle. It applies to attachment points that are found tucked away where the horizontal section of the rear row of seating meets the vertical section. Typically, these attachment points are hidden under a removable seat cushion so that vehicle owners that do not need them never even consider they are there. This is a system that means parents can secure their child without relying on the adult seat belt.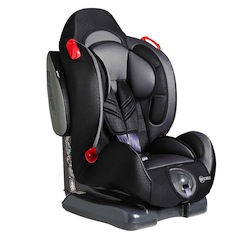 Worldwide Acronyms
The systems available in different countries use different acronyms and don't work the same way, so make sure you know the differences when travelling by car during trips abroad. The system known as ISOFIX in Europe is known as LATCH in the US, or Lower Anchors and Tethers for Children, and in Canada as LUAS, which stands for Lower Universal Anchorage System. The main difference between them is the way the lower anchors attach. The European system relies on two alligator-type clips connecting the lower anchors to the seat.
Three types
If this wasn't already complicated enough, there are three different types of ISOFIX attachments available in Europe (and the US is starting to adopt the European standard). There is a 'universal' type seat that uses a top tether strap under the standard anchorage, which for the 'vehicle-specific' category is missing for certain cars. The 'semi universal' standard is a hybrid of the two, using a 'foot prop'.
ISOFIX guarantees a high standard of restraint
Falling under International Organisation for Standardisation number 13216, ISOFIX has become an important link between your vehicle and the right child seat. Ultimately, the standard makes sure that when you choose a car seat, it will fit into your vehicle and guarantee a high standard of restraint for your child. As such, it has helped to save countless lives during car accidents by restraining babies and toddlers while making sure the fit is exact. If you see the ISOFIX mark on a child seat when you're ready to buy, then you can be sure it will fit in your car. If you're still unsure, it's better to be safe than sorry and ask.