Family Car Motoring in France
If you live in Great Britain and are planning a holiday to France in your family car you need to put aside some time to look at the driving in France rules before setting off. French holidays can be an enjoyable and wonderful experience and hopefully with the tips below your French Holiday will run smoothly.
Car Dimensions
When booking with your Ferry Company make sure you know the dimensions of your car. If your 7-seater is longer than 5 metres then you will have to pay more. You will also have to specify whether or not you have a roof box and tow bar. Most Ferry booking companies will know the make of your car from the number plate that you enter, however not all of them do.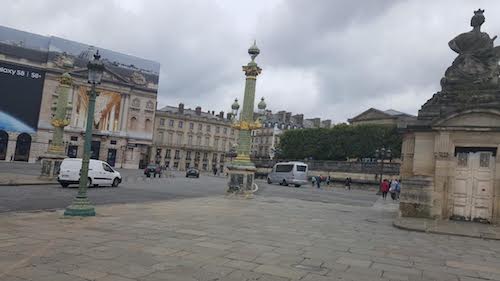 Pictured above is Place de la Concorde in Paris. Easy to get to by car, foot, metro or taxi.
French Driving Rules
When you drive in France there are extra French laws that you must abide to so that you avoid being fined. You will need the following:-
GB sticker showing on the rear of your 7 seater;
High visibility jacket in the main part of your car so that if there is an accident and you need to get out of the car on a busy road the jacket is easily accessible. So don't put the jacket in the boot of your car. Many foreign travellers in France put the jacket on the back of the driver's seat. This is so that the French Police can see the jacket and don't stop the vehicle unnecessarily;
Warning Triangle - It is a requirement in France that in the event of an emergency a warning triangle can be used easily to warn other road users of the potential obstruction in the road;
First Aid Kit - I bought one from Amazon for under ten pounds. It has over 70 items and is in a very neat and tidy Green bag;
Fire extinguisher - Yes this is true in France you nee to have a Fire Extinguisher in your boot. Even if you borrow the one from your kitchen for the journey, but make sure you have one;
Sun visors - it is very hot when driving through France during the summer. If you have small children you would be wise investing in sun visors to protect them;
Travel sickness tablets: Vital if you have little ones that might get car sick. Especially the children sitting in the third row of seats of the 7 seater;
Green Card - this is a car insurance document provided by your UK car insurance provider that confirms that you are insured to drive in France
Satellite Navigation is one of the most important items for me. Without satellite navigation my marriage would probably be over because I can't read maps and my husband requires detailed and accurate driving instructions when in an unfamiliar area. Therefore if you are no good at reading maps and can afford a satellite navigation system I would highly recommend purchasing one in readiness of your French driving trip. Make sure you're your satellite navigation is fully up to date with the French roads. Updates occur periodically and you can usually update these easily via your computer at home.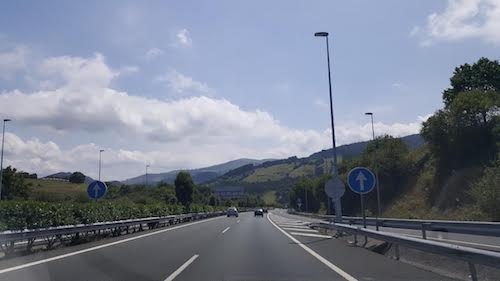 Pictured above is the the road scenery from Bilbao port in Spain to Biarritz in the South West of France.
European Breakdown Cover
Very cheap Car Breakdown Cover can be purchased at the same time that you are booking your Ferry ticket. This seems to be standard procedure for ferry companies. You will be covered for the period of travel between your leaving and return dates. This also applies to driving through Eurotunnel. Your current breakdown cover company may already include European driving or you can buy it separately (usually cheaper than the Ferry).
Pictured above is the welcome sign on the road from Perpignon in South East France to Spain (we were heading for Port Aventura Theme park (near Barcelona).
Travel Insurance
There are many benefits of travel insurance however you do know that the French Health service is better than the UK's. To gain access to their Health Service you will need a European Health Insurance Card which gives you access to reduced-cost or free medical treatment. Your travel insurance will pay for any outstanding costs (such as x-rays). To get your EHIC you need to apply through the post office or apply online.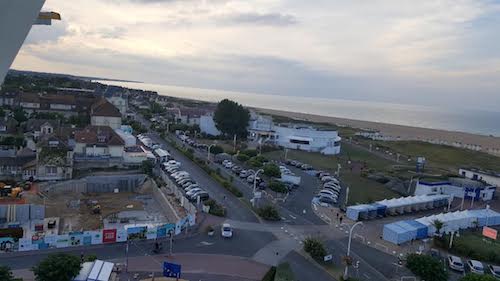 Pictured above is the view of Caen at the top of a ferris wheel. Caen is one of the French car ports and the picture shows the bay area.
Please Note: If you are hurt in France and need hospital care you will need your Passport, Health Insurance and EHIC documents to hand before you are even seen. This I found out first hand in Perigueux Emergency Department. I advise you use Google Translate and write down exactly what happened in French, because otherwise communication is very difficult.
Pictured above is the England-France EuroTunnel entrance from the British side. Going via tunnel will cost you as little as £25.
French Tolls
You should get an idea of what tolls you will come across with your satellite navigation system or an up to date French driving map. Nearly all tolls now take cards. I use my credit card. Keep the tickets to hand because you take them at the beginning of the journey and then the machine tallies how much you owe at the end of the journey. Some payages (french for tolls) charge you a flat fee (pay with card and get no ticket) and some charge you for the length of the Motorway you use.
Catching your Ferry
You need to be fully aware of how much time you will be on the road before catching your Ferry or Eurotunnel. I say this because the majority of you will be going from Dover or Folkstone due to the cheaper rates that this crossing offers. Travelling to these ports will involve going through the M25. The M25 is well known for its delays.
Only last week my sister took eight hours to travel from Basingstoke to Southend. Beware and consider how much time you will really need to catch your Ferry. You will need to check in at least 60 minutes before departure. We are travelling to Maidstone the night before to avoid any traffic delays and then catching the Ferry in the morning because we didn't want to run the risk of missing our Ferry due to the M25!
.more...