Car Hire at Milan Malpensa Airport
There are two terminals at Milan Malpensa Airport. The majority of Car Hire companies are located in Terminal 1. There are a few Car Hire companies in Terminal 2, but not as many. It is easy to get to the Car Hire area in Malpensa Airport because it is signposted green with a logo of a car and a key.
There are also English and Italian signs which are clearly visible. When you pass the baggage area and take a left you pass an indoor shopping area, some lifts, the exits and toilets. Follow the signs to the end and turn right. It is likely that as soon as you've turned on your phone, Google will offer you an Airport map. However, rather than using Google maps it is easier to follow the signs.
Booking your Car Rental
I booked my rental through a Car Hire comparison website. The cheapest result was with Ryan Air. I was expecting a Ryan Air desk. There wasn't one. It turns out that many United Kingdom Car Hire companies are only booking your Car Hire. They don't own the Car Hire Company but they do get a small commission when you book your rental from their website.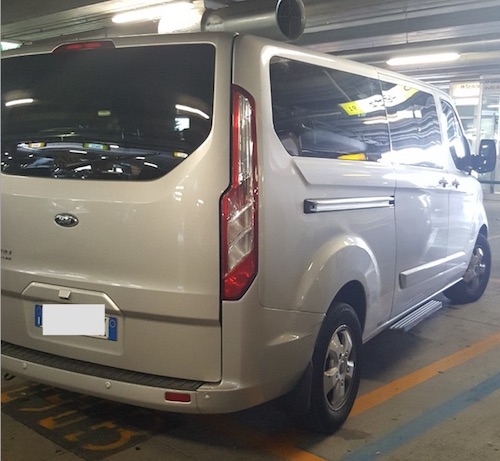 Pictured above is a Ford 9-Seater available to hire at Milan Malpensa Airport
In my case the actual booking was with Enterprise which is known as Locauto in Italy.
Collecting your Rental
At the Enterprise (or other Car Hire desk) you will need to present your Car Hire voucher which you should have printed beforehand. The people at the desk will then photocopy your passport and take a deposit from you. If you want to add an additional driver you can do (I didn't have the option when I made the original booking). In our case it cost an additional 113 Euros to add myself as a named driver for our 16 day Italian trip. I hired a 9 seat Volkswagen Caravelle because it was cheaper (935 Euros) than hiring a 7-Seater (around 1,500 Euros plus).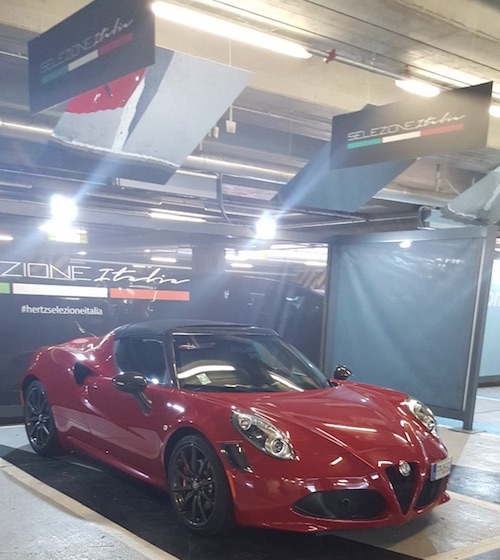 Pictured above is the Car Hire Select Zone at Milan Malpensa Airport
Excess Insurance Cover
The Car Hire Company at Milan Malpensa Airport took a deposit of £2,000 from our credit card in case we damaged the car. I knew the excess of the rental was £2,000 so had also purchased additional Excess refund insurance. Please note, that if the Car Hire Company is unable to reserve the £2,000 on your credit card they will not let you take the car. This is a very important consideration for people who either do not use credit cards or do not have that much money in their bank account.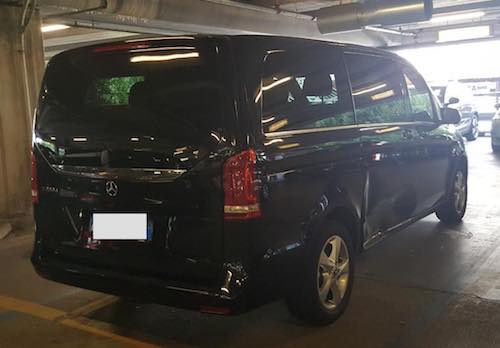 Pictured above is a Mercedes Benz Viano we saw when hiring our 9-Seater from Milan Malpensa Airport
The Excess Refund Insurance for our car rental in Italy cost £75 (via AXA). It was an additional option when booking the car. The idea being that if the car was damaged and the rental company kept some or all of the £2,000 deposit (to pay for damages) we could use the Insurance to claim back the money. The additional insurance gave us peace of mind that if we were unfortunate enough to be in that situation we would not be excessively out of pocket.
Pictured above is an example of a Prestige Car Hire Option
Roadside Assistance whilst in Italy
At the Car Rental desk the rental assistant attempted to sell us additional roadside cover. This cover would eliminate any cost we may have incurred in the event of being towed. This cost is covered by the excess (additional) insurance. However, we would need to pay out initially and then claim the cost back. We took the risk even though it was only around 45 Euros to buy. Within the Car Hire paperwork there is a number you can phone in the event of needing roadside assistance in Italy. We took the risk because we had European Roadside Assistance with our UK cover. However you will need to check that your insurance covers the driver and not just the car.
Getting your Car Rental
Once all the paperwork was completed we were directed to the garage area to collect our nine seat Volkswagen Caravelle. Much like a car park we were given a block letter and a number and directed to go there and collect the rental.
On leaving Milan Malpensa Car hire desk we walked through a dark room with a large cinema screen to the right. It had some sort of visual effect on display. We exited this part and walked towards the garage.
The garage is quite straight forward, simply signed and easy to navigate. To get to our Car Rental collection point we passed a number of prestige cars that were are also available to rent.
We found our desk and showed the rental assistant our paper work. The car wasn't there but the rental assistant told us it would be with us in a few minutes as it was being cleaned.
Before you can take your Car Rental
The car arrived and the rental assistant had a tablet with her. She keyed in the vehicle details and insisted that one of us inspect the car with her. There were a number of bumps and scratches which they had documented and it was our job to agree them before we took the car away. Interestingly they didn't look at the roof.
The excess fuel issue was also repeated to us before we left Terminal 1 Milan Malpensa Airport.
If for some reason you have rented a car from a different terminal that you have arrived in don't worry as there are free shuttle buses going every 10 or 20 minutes, day and night between Terminals 1 and 2.
A lot of the staff working in Milan Malpensa Airport speak good English, so if you are unsure just ask someone.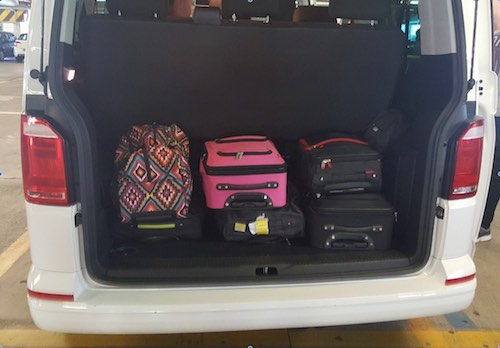 Pictured above is the Volkswagen Caravelle boot space (when hiring a 9-seater from Milan Malpensa Airport)
Top Car Rental Tips (Milan)
Buy Excess refund insurance as we had to pay out 770 Euros for a chipped windscreen on returning to the Airport. If you would like more information on what to do when you damage your Rental Car please read this article about what to do when you have damaged your car hire vehicle ;
Take photos of the Car yourself;
Before you go on your trip spend some time on Google Earth (Google maps) to familiarise yourself with the roads just outside the Car Hire exit, because it can be quite daunting. Italian drivers seem to be quite aggressive;
Take a photo of the number plate because it is likely that wherever you stay you will need to provide the number along with your passports. There is nothing worse than having to run back to the Car and write down the number plate to be able check in;
Pin (on Google maps) your location when picking up your Car Rental at Milan Malpensa Airport because the signage back to the drop off area is not clear;
Keep your signed rental agreement very safe because you may need it in the event of a claim. I'd advise taking a photo of it in case you lose it;
Take your own phone (Sat Nav), buy extra data and use Google or Apple maps to navigate through Italy. You must also remember to take a phone holder and charger;
Use this PDF Car Hire Checklist to make sure you have it all covered;
Swot up on how to fill your car up with fuel in Italy. Filling up your car in Italy is slightly different to the United Kingdom so it may be handy to do a bit of reasearch before arriving in Italy and being unable to suss out how to use the Italian petrol pumps.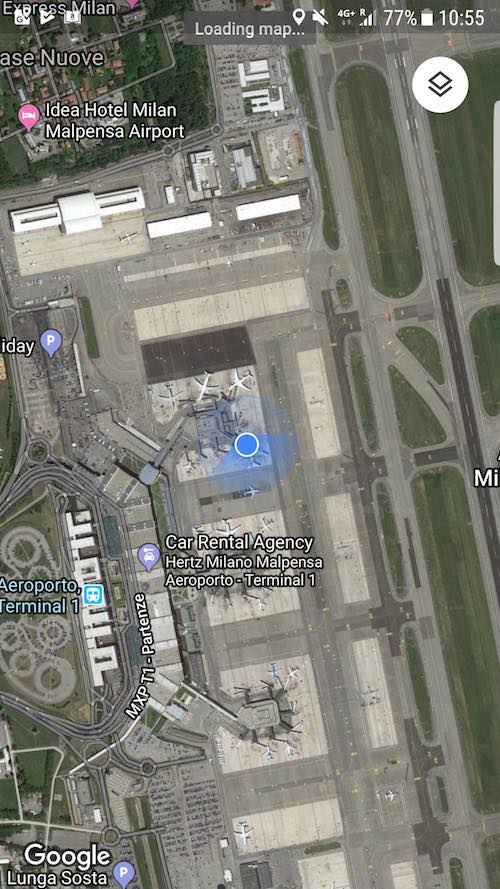 Pictured above is the ariel (Google Maps) view of the Car Hire area at Milan Malpensa Airport
Places to go from Milan Malpensa Airport
Our trip involved six accommodation stops all over Italy including Lake Garda, Venice, Florence, Rome, Pisa and then back to Milan. Our first stop was Lake Garda and it took just under 2 hours to get there from Milan Malpensa Airport. Google or Apple Maps are invaluable in getting you where you need to be.
Pictures taken while driving through Italy: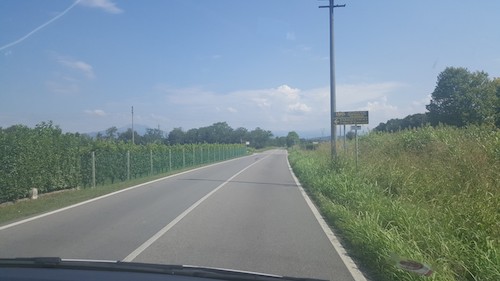 Pictured above is an italian road between Milan Malpensa and Lake Garda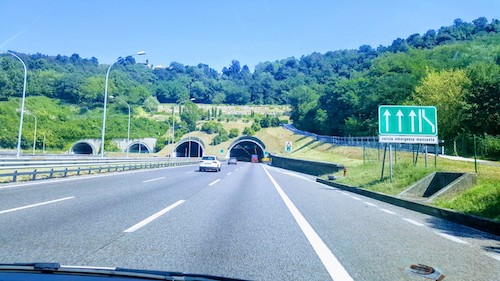 Pictured above is an italian road from Verona to Venice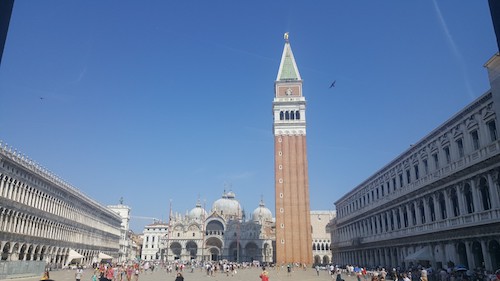 Pictured above is Venice main square which we visited whilst driving through Italy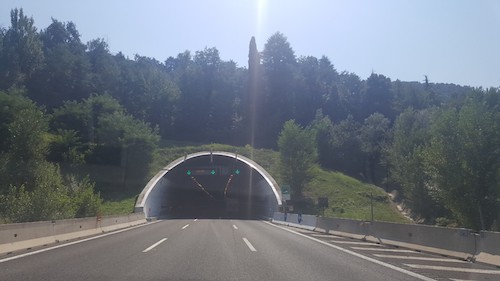 Pictured above is an Italian tunnel on the road from Verona to Venice
In Summary
Renting a Car in Italy can be quite expensive if you need more than 5 seats. The process can be quite daunting and the thought of paying such a deposit can frighten some. This article was written to provide advice and hopefully make you aware of everything you need to consider before renting a car at Milan Malpensa Airport. I have also made a PDF Car Hire Checklist which should help avoid forgetting anything important. Please drive safely and I hope you enjoy your trip to Italy!
.more...
Our recommended specialists, www.carrentals.co.uk search and compare all companies, giving you the best choice and cheapest options.