UK Car Seat Law
This page details information on Child Car Seat Law in the United Kingdom so that you can plan accordingly.
In the UK, the biggest change to the rules came into force in 2006 when the government stipulated on September 18 that children under the age of 12 would be required to use a booster seat that is appropriate to their height. This only applies to minors that are below 4ft 5in tall (135cm using the metric system).
Height and Weight Considerations
This means parents are required to keep a regular check on their children's weight and height, something that changes regularly as youngsters hit their early teens, but it is always better to be safe than sorry. Although there are recommendations for children to remain in a booster seat until they are slightly taller, for the time being, it remains clear: children under 4ft 5in must use a suitable child seat at all times in the UK.
Rules for the Under 3's
This is where the parents choice comes in. A child under 3 has a huge variety of different child seats in categories of 0, 0+, 1, 2 and 3. These are different categories of seats suitable for a child dependant on their weight.
Rules for 3 to 12 years old
Children of this age must sit on a booster seat. If they are over the legal height then they don't have to but again the recommendations are for children to remain in a car seat until they are 4ft 11inches.
The Law Without a Seat?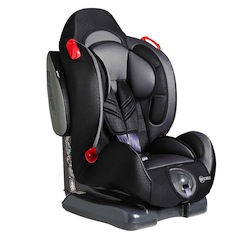 What must be remembered is if there is a passenger and a seatbelt it must be worn. Failure to wear a seatbelt will incur fine and possible criminal charges. This applies to all passengers including drivers and hormonal teenagers. Notwithstanding the fine and criminal charges wearing a seatbelt could save your life.
Exceptions
Unbelievably there are three exceptions where a child can travel without a car seat. These are in the back of a taxi, for short journeys in exceptional circumstances and where a third child seat cannot fit across the vehicle. I would never travel without my child being in a suitable car seat and would re-iterate that these exceptions should not be an excuse for not restraining your child in a car.
Airbags
Seating a child in the front of a car with a fitted and working airbag is illegal, and extremely dangerous in the event of an accident. At no point should this be an option. However most cars have the option of switching off the Airbag.
Which Car Seat?
With the Law and Recommendations for Child Seats this website aims to give the best possible advice on Which Car Seat to buy for your child.
Decided by EU
In Germany and Austria, the rules are even stricter, stipulating that children under 4ft 11in must be restrained at all times. It should also be noted that the European Parliament has weighed in on legislation applicable to child seats within the EU. These have tended to apply to individual member states following a period in which compliance is required on a national basis. Make sure you keep up to date here too.