Dodge Durango
The Dodge Durango is an American MPV that can carry seven people.
There has been an influx of US-made cars sent to the UK over the past five years, giving us a larger choice of cars, mainly due to General Motors and Chrysler. SUVs and 7 seater cars are popular over there and always have been, so when it comes to choosing a multi-seat vehicle for your next purchase, it's a good idea to check out every possible manufacturer.
Up until now the Dodge Durango has only been available as an import or second hand seven seat vehicle. Second hand prices start from as low as £6,000. These are massive cars with large engines so beware of more expensive running costs.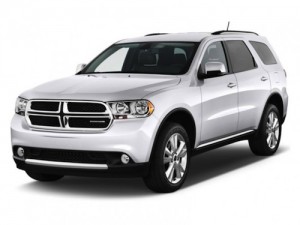 Dodge Durango front view pictured above.
Prices for the United Kingdom have not yet been confirmed however in America the approximate cost is around 28,000 dollars, which is about £18,000 in the United Kingdom. For additional features including All Wheel Drive you will pay more.
Dodge has now released the new Durango, which is a large, HEMI-engined seven-seater that is based on the Jeep Grand Cherokee. That HEMI engine is a 5.7 V8 that's been seen in lots of sports Chevys over the years and now comes with a very clever multi-displacement system (MDS), which lets it run on four cylinders when it's driving slowly or under less load than normal. This is very handy for reducing emissions and fuel consumption, so you shouldn't shy aware from buying this particular V8. There is a 3.6-litre V6 engine available also.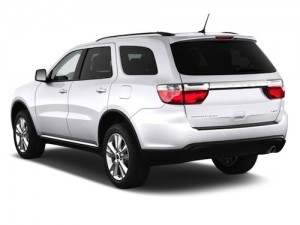 Dodge Durango rear view pictured above.
The dominating 'face' of the Dodge Durango will be appealing to many buyers as it looks like no other seven-seater SUV on the market. The 2+3+2 seating allows seven adults to sit comfortably and thanks to the latest 'soft-touch' leather, the arm chair-like seats are good for long journeys. The interior is littered with storage bins and cup holders too, so it seems like it's been designed for family holidays and trips to the country.
Being a large vehicle with a choice of powerful engines, there is a host of safety features such as electronic stability control, traction control, ABS brakes, side-curtain airbags, seat-mounted airbags for the front, active head-restraints and forward collision warning, just in case you lose concentration while driving. There is adaptive cruise control, rear cross path detection and blind-spot monitoring, which all combine to help you improve your driving.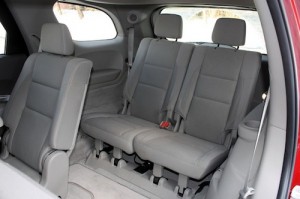 Dodge Durango rear seating pictured above.
As Dodge has stopped production of the V10 Viper, the efforts have obviously been ploughed into creating a myriad of family cars and a high-volume of sales. As they might not have the panache of a Mercedes-Benz or the sophistication of an Audi, the models do make up for it with lots of gizmos, features, clever electronic aids and lots of standard kit. With Ford not bringing the Explorer to the UK any more Durango's main competitor), it seems that the Dodge will be a good seller in the UK and an extra choice for people who are looking to buy a seven-seater but want something a little different.
The rear compartment has 22 different seating options which offer the chance to switch the inside around to suit your preference. If you're carrying five people and long items, such as surfboards, then you can leave one side free, and similarly, if you need a large boot space, the seats can be folded away to reveal a large cargo area.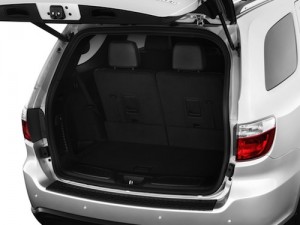 Dodge Durango boot space pictured above.
The Dodge Durango might not be the first car you think of when looking for a 7 seater, but it sure is an alternative choice and has a unique presence on UK roads.