Dodge Journey
This macho, rather brutish Dodge Journey MPV clearly hails from the USA and enjoys distinctive styling that won't suit all. This MPV easily carries seven people and has plenty of room inside a shape that does a good job of hiding its people-mover utility, the unrefined styling and unsophisticated engineering are joined by low levels of comfort and poor value. Though it looks more like a car than an MPV. However some say that the Dodge Journey beats both hands down for space, reliability, build quality and comfort. This plus the lower than average price may make this one of the best kept secrets of 7-seat motoring!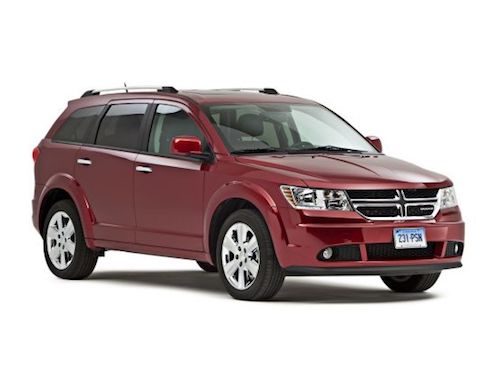 Dodge Journey shown above.
Purchase Price
A new one can cost just under £17,000.00. Second hand prices are much lower ranging from £6,000 to around £10,000.
Car Tax Band (VED)
Ideally, when choosing a car, you want to aim for something that will minimise the regular pain of paying for Car Tax. The Dodge Journey is unlikely to help much in this regard but sitting as it does in the G band, it's no worse than its main competitors. Shopping for a new car these days offers motorists the chance to reduce their own carbon footprints and do their bit to help the planet. Ideally, we would all drive zero-emissions cars but the Dodge Journey is not practical for most drivers. The Journey's CO2 emission levels are not exactly tiny but at some 165g/km, (2.0 CRD Manual), they're not too bad either.
Dodge Journey Safety
What it fails to deliver in terms of styling finesse and dynamic sophistication, it partially recovers with a solid safety offering. In the USA, its home market, the Journey has won many awards for its high levels of passenger safety. Multiple airbags and a secure passenger cell design help minimise the risks from front and side impacts.
Dodge Journey Miles Per Gallon (MPG)
Thanks to the VW-sourced diesel engine, the Journey enjoys fine fuel economy. The most efficient Dodge Journey does 44.8mpg with 34.4mpg combined and a pretty efficient 55.4mpg on the Extra Urban Cycle. The Journey does not sell in big numbers so repair and maintenance costs could be driven up slightly by a lack of dealer network, tight parts supplies and import costs. Find a Dodge dealer, however, and this ought not to be a major issue.
Dodge Journey Quality Build
Some say that it is a distinct disappointment when it comes to comfort. There is plenty of room inside but a clumsy suspension and cheap interior materials make the cabin a fairly lackluster place. The petrol engine is agricultural and the VW diesel has to work a little too hard. However, quality is better than we are typically used to from Chrysler vehicles (Dodge is a Chrysler brand). Interior materials for newer models are better than many past Dodge Journey cars, though could still be improved. Panel fit and engineering is good but still falls short of the better rivals in this sector. Overall it is not terrible but the Journey is up against some truly excellent competition.
It offers excellent interior space. Seven people can easily enjoy life in the cabin, though legroom at the back is a little cramped, and there is a lot of well-designed room for bits and pieces. The Journey suffers from uncomfortable seats and a clumsy, wallowy ride, which can make extended journeys tiring. Watch out for weak resale values, too, which can make this car even more expensive overall than a lot of other options.
The front passenger seat can be folded down along with the second and third row seats, creating a huge amount of storage. Then there's a hefty roof rack on top that can take 68kg so carrying things along for the ride shouldn't be a problem.
Performance
The 2.0 CRD, with a 1,968cc diesel engine from Volkswagen, is generally the most popular option. This is a very good engine but it has to work hard in the relatively heavy Journey, which weighs nearly two tonnes.
It will do the 0-60mph dash in about 11 seconds but it fails to crack 120mph at the top end. The 2.4-litre petrol engine is to be avoided.
Handling
It does not offer great handling. Dodge marketing material talks of 'sporty'. Maybe Chrysler forgot the 'compared to an inflatable dinghy' caveat. The suspension crashes over potholes and the cabin feels too tall – an impression worsened by the imprecise steering and bouncy ride.
With its more robust looking frame, new logo and revised grill, the 2012 version is a good looking SUV that still packs a formidable amount of power under the bonnet. And it's now the smallest SUV produced by Dodge with the demise of the Nitro. The interior is a solid improvement on earlier versions of the Chrysler Dodge Journey – it looks nicer, there are more toys and the use of space has been bettered. In Europe it looks as if Chrysler Dodge has decided to offer the Fiat Freemont instead. We'll have to wait and see, but if this vehicle does make it to the UK it will certainly be one worth having.
The new mobile phone system is pretty smart. Called the U-connect voice-control system, all the driver needs to do is push the phone button and tell the system the name of the person they wish to call.
The 2.4-litre petrol engine generates 172 horsepower with a lot of the excess trim bringing down the cost, making this model an absolute bargain. And the standard features are excellent; there's keyless entry, all-speed traction control and trailer-sway control.
.more...