Fiat 500L MPW – 7 Seater
The Fiat 500L MPW is a new MPV from Fiat is fresh on the market. There has been a lot of talk about it and it follows the incredibly popular Fiat 500.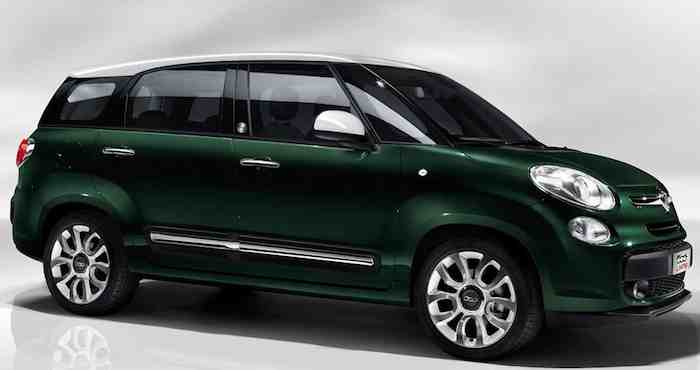 Fiat 500L side view pictured above.
The 500L MPW is longer and it is bigger! It is the longest of the three. The three are the 500, the 500L and the 500L MPW. Only some of the MPW's have 7-Seats.
Purchase Price
The entry 7-seat model will cost from £17,990. You can spend more to get more. If you only want 5-seats it's 2K cheaper. It's clearly specified and repeated that the two rear seats are only suitable for individuals 1.65 meters in height or less. Got that?
Safety
There are no confirmed safety results yet but if you look at what the 500L scored at Euro NCAP (5 stars) then this is likely to be just as good. There are six air bags, two at the front, two at the side and a couple on the windows. There are seven three point seatbelts, 2 middle row ISOFIX seats, ABS, electronic stability system and the option of knee air bags if you wish.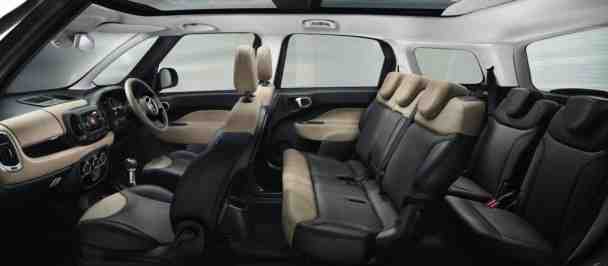 Fiat 500L interior seating pictured above.
Performance
There are eight engines to choose if you want the 7-seat variant. The BHP ranges from 83 to 103. Fiat's infamous Multijet engines have been tried and tested in the Doblo's, so there's nothing new here. The gearbox can have 5 or 6 gears. Top speed average between 102 and 112 miles per hour.
Miles Per Gallon
The figures vary with the 0.9 Twin Air Pop Star (7 Seat) achieving 58mpg. This is impressive. But I'm not sure it's going to be that pokey with seven passengers. The 1.6 Multijet boasts 62MPG but will cost more to buy initially. The small print states that fuel consumption and C02 figures are obtained from a comparative process and may not actually represent driving conditions. To my mind that means knock about 20% off the quoted figures (maybe more or maybe less – I'm guessing). Please let me know!
Co2 Emissions
Again with a small engine comes low emissions. The 0.9 Twin Air Pop Star emissions are only 112 g/km, which equates to Car Tax Bracket C. This is one of the lowest C02 brackets (currently £30 a year). The stronger 1.6 Multijet Lounge model is also in Car Tax bracket C. This is highly impressive for a 7-Seat MPV.
Boot Space
Current cubic litres of the Fiat 500L MPW boot space isn't specified. It's likely to be small when all seven seats in use. With only 5-seats you get up to 638 cubic litres. This is enough for five suitcases as the picture shows.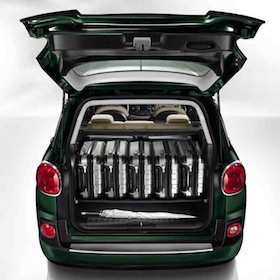 Fiat 500L boot space pictured above.
Models
Fiat have lovingly categorized the models available into either "Pop Star" or "Lounge". In addition to the main standard equipment in the Pop Star which include A/C, Blue Tooth, Cruise control, rear parking sensors, 16" alloy wheels, Cargo magic space, easy fold seats, UConnect, CD/MP3 the Lounge has a suede dashboard, climate control, automatic rain sensors, fog lights, electro chromatic (what's that?) dipping rear view mirror, electric rear windows, tinted rear windows and an electric sunroof.
Colours
In all the recent press the Fiat 500L MPW has been shown in a lovely racing green colour. Even on the website there are options such as beat box green and different roof colours.

Fiat 500L exterior colours pictured above.
The downloadable brochure has varying shades of white, grey, black and red to choose from. My choice would be "Amore" red in metallic finish. Lovely!
Conclusion
It's all very exciting. A great design with a huge fan base. The motherhood and fatherhood advertising going on will do so much for its appeal. Not sure what the W in MPW stands for? I am going to test drive one and probably be persuaded to buy one. Simply because I'm a mother and I'm in the hood, for good!