French Breathalyzer
France had around 4,000 fatal motor vehicle accidents last year and 31 per cent of these were caused by drunk driving. To try and reduce this number, the French Government has passed a new law; from 1 July all drivers in the country must carry a breathalyzer test in their vehicle. Both French residents and those driving over for holiday are required to do this.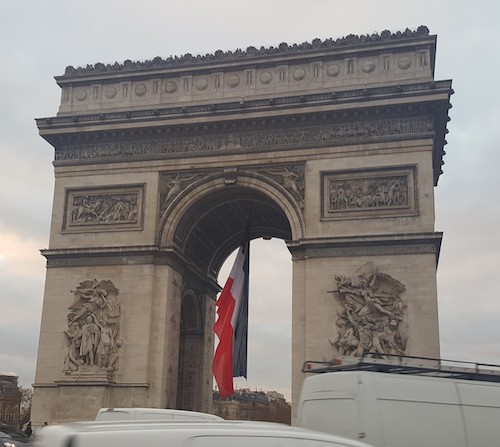 French Flag (flown inside Arc Du Triomphe, Paris) pictured above. Taken while in France (Dec 17).
Self Breathalyzer Testing
The idea is that with a breathalyzer in every car, drivers that may be over the limit can test themselves before getting behind the wheel. In doing this, the government hopes to save 500 lives each year. The drink-driving limit in France is 50mg (0.05), which is 30mg less than the limit in the UK.
Products Available through Amazon
Most, if not all of the following listed products will have next day, free delivery and be available to purchase via the "one click" method:-
Random Checks with Possible Fines
The French Police plan to carry out random checks on cars throughout the country as well as to those entering from the UK via the Channel Tunnel and those arriving on car ferries. Fines for not carrying a breathalyzer are only EUR 11, which is less than the cost of the actual breathalyzer test. Tests can be electronic and reusable, or a single use chemical test. Electronic tests can cost upwards of EUR 80, while a chemical test only costs a few Euros but has an expiration date.
Short Supply for Demand
A recent poll found that only 37 per cent of French drivers were prepared with a breathalyzer kit, but part of the reason for this is that there has been a shortage of tests since the new law came in. As a result, the government has granted a four-month grace period to allow motorists to prepare and, until then, the random checks will not be enforced.
Huge Profits for Breathalyzer Manufacturer
Currently, there are only two government-approved companies that make the cheaper single-use breathalyzers and it has been reported that the president of France's road and safety association also works for Contracol, one of the approved companies. This association lobbied hard to get the law implemented, meaning huge profits for this manufacturer.
Four Month Grace Period – Before Fines
Tens of millions of Breathalyzer tests will be needed for the law to take full effect, which further explains the four-month grace period. Sales in the UK for breathalyzers have already risen as a result of this, although only six out of every 10 Britons travelling into France know about the law. In addition to these vacationers, there are around 200,000 UK expats living in France, many of which approve of the new law.
Will they be Effective?
There are mixed reviews from the public about the move. Some fully support it, saying that it will make motorists think twice before driving drunk, while others are concerned that it is strictly a money-making ploy. Still, the effectiveness of breathalyzers has been questioned. They are not always reliable, especially considering that alcohol levels rise for around 45 minutes after you stop drinking.
Penalties for Drink Driving Increased Too
All motorists must comply with this new law except for those driving electronic wheel chairs and mopeds, which are exempt. In addition to the breathalyzer law, the government has also increased the penalties for drinking and driving.