GMC Envoy not in UK
Although never sold in the UK, the US-based GMC Envoy was imported by a few special suppliers and there are a few, if you look hard enough, on the UK roads today. Originally made in 1998, its 11 year run was a good one and many face-lifts, body changes and equipment additions were added over the years.
Later-spec Envoys had either two- or four-wheel drive, a straight-6 cylinder or 5.3 V8 engine, and the XL body had an extended floor pan that allowed two extra seats in the rear, making it a true seven-seater people carrier. The XL body made the suspension work harder gave it a floaty, unconnected feeling, although no one really drives a seven-seater that fast, so it's not really a big deal. The torquey V8 is the choice between the two options, as it is perfect for hauling caravans, trailers or just a cabin full of people and bags.
The GMC Envoy cabin is huge, even with all seats occupied, and there is still boot space for luggage. The Denali trim saw seven sumptuous leather-clad seats, chrome trim and heated seats. There was more insulation added, for a quieter ride, although you could still use the electric windows to hear that gruff V8. Speaking of electric gizmos, you'll find electric mirrors, a sunroof and tailgate too. Tractions control and stability control keep the 300+ horses under the bonnet in check and with side, curtain and driver and passenger airbags, it's a safe old beast.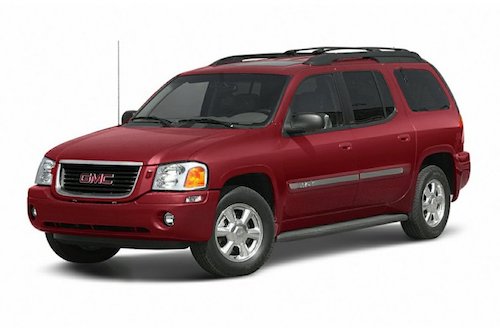 GMC Envoy pictured above.
While it might be difficult to track down an Envoy in the UK, it is possible and they aren't as poor on fuel economy as you'd think for an American car. Miles per gallon will be in the low to mid-20s, if you drive frugally. With more and more Chevrolet garages cropping up the UK, there is more of a chance to have the Envoy serviced from experienced technicians and parts will be easier to source, if you need any.
The Envoy XL came with optional air rear suspension, which really helps keeps the body in line when carrying lots of weight. This helps the ride, too, as it is a similar system to what Mercedes has used for the past 30 years, and in 2009 when the last Envoy rolled off the production line, it was still a rare sight on cars. One area of concern is the body-on-frame chassis. This reduces structural rigidity, although many SUVs from the US are built this way. It exacerbates body roll, pitching and yawing of the car under braking, acceleration and cornering, but for town duties and the odd-motorway jaunt, it's liveable.
If you're looking for a nice-looking seven-seater that won't embarrass you on the hills, thanks to the 300bhp V8, and has lots of room for the kids, friends and bags, then the GMC Envoy XL is a good choice. It's not the most refined, nor the most frugal, but it does have oodles of equipment as standard and thanks to the conversion rate of the USD to the £, many Envoys in the UK have many options ticked.