GMC Yukon XL – American Import
Although it never officially arrived on UK shores, during 2005-2007 when the dollar/pound exchange rate was 2:1, many importers brought boat-loads of American cars to the UK. With 7 seater poeple carrier, at the time, being small, people-carrier types, there was a gap in the market to bring in large, extended estate-type SUVs.
The GMC Yukon XL has actually been around for many decades, and is the longest running SUV. Of course, it has undergone many changes from its original truck-based, commercial use stature of old, but the extended cabin and high ground clearance still harks back to the original one.
Cheap in UK
It might take some searching to find a good Yukon XL in the UK, but if you do the prices can be rock bottom due to the misconception that parts and servicing will be difficult. With Chrysler and Chevrolet throwing themselves into the European market and with many parts shared with GMCs, there is more of a chance to source parts through main dealers. For the sheer size and dominating look, the GMC Yukon XL is a unique choice for any UK motorist.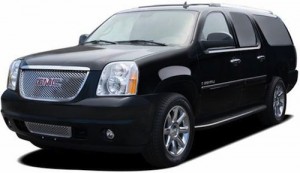 GMC Yukon XL American imported MPV pictured above.
Many SUVs and people carriers might be able to carry seven people easily, but at the demise of cabin space for luggage. Not the Yukon, though, it has huge amounts of cargo space, even with all of the seats occupied. What's more, the Yukon weighs enough and has enough grunt to be able to tow up to 4.5-tonnes! There are two versions of the Yukon, the heavy duty 2500 and the 1500. The 1500 has a 5.3-litre V8 which boasts 335lb-ft of torque and 320bhp. The 2500 has the inaugural 6.0-litre V8m which delivers a supercar-like punch with its 417lb-ft and 403bhp. There is a choice of two- or four-wheel drive and both models come with a six-speed automatic gearbox.
Good Performance
It's odd to talk about, but performance is really good. Sixty comes up in nine seconds and it will go onto 120mph, but neither is recommended to try out. With a body-on-frame chassis and a high centre of gravity, if you hustle it like a Porsche it will come unstuck and even the traction control won't be able to stop inertia taking over.
Luxury
The interior is a luxurious affair. With leather-clad seats, which are large and arm chair-like, and lots of safety features such as stability control, front, side and curtain airbags. The latter are available for all three rows of seats. The plasticky dashboard is a bit of a let-down, but climate control, air conditioning and a good CD player came as standard.
Tyre pressure monitors, steering wheel audio controls, DVD player, power adjustable pedals, Quadrasteer (four-wheel steering) reduces the turning circle, and lots of room to stretch out for passengers, it's quite an event being in a Yukon. If you can find one, then give it some serious thought. If you need a large SUV that can tow a race car and trailer, a fully laden caravan or a horse box, then the Yukon XL fits the bill.