Electric Car Subsidy
The British government has officially launched a subsidy for motorists who buy electric cars. The programme, budgeted at £43 million, subsidies the purchase of electrically-powered cars by 25%, up to a maximum of £5,000.
The programme was announced by UK Transport Secretary Philip Hammond at the scheme's official launch. Mr Hammond highlighted the economic attraction of being able to 'fill up' an electric car at home for as little as one penny per kilometer.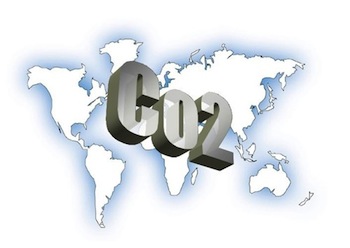 Co2 Emissions info graphic pictured above.
However, though the subsidy programme goes live from the beginning of 2011, very few qualifying cars will actually be available at that point. The government has already identified nine cars that will qualify for the subsidy but the manufacturers say only three of these will be shipping in January.
Over the next two years, manufacturers plan to launch a total of nine electric cars in the UK. From January, British drivers will have access to the Mitsubishi i-MiEV, the Peugeot iOn and the Smart Fortwo electric drive.
Only the Mitsubishi i-MEV will be available for purchase, however. Both the Peugeot iOn and the Smart Fortwo electric drive are only available to start with on 48-month leases.
From March, the launch of a couple of highly-anticipated new electric cars sees the selection available to UK drivers nearly doubled. Indian automaker Tata begins deliveries of its Vista electric car and Nissan rolls out its Leaf, which could well herald a revolution in electric vehicles.
Electric cars have until recently been valiant but compromised attempts at boosting the attraction of green motoring. The Nissan Leaf, however, has received strong reviews from motoring journalists, who see it as an eminently practical alternative to conventional saloons and hatchbacks.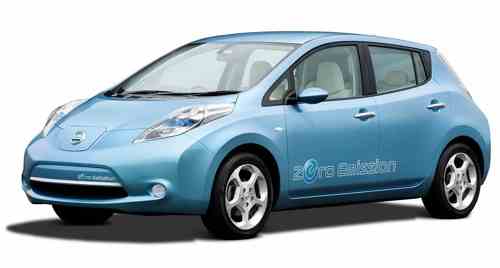 Nissan Leaf pictured above.
Even with a subsidy of £5,000, most buyers will have to think long and hard about the cost of an electric car, which should be around £24,000, after the government discount.
In addition to that high price, electric cars suffer from range limitations that, for now, mean they're really only useful as second cars. For example no 7 seater cars that are electric or 4x4 options. On the positive side, electric cars typically come with a lot of standard equipment, as well as low running costs and of course, huge benefits for the environment.
Most of the upcoming crop of electric cars does an excellent job of providing comfortable, practical urban motoring. However, their utility in long-distance motoring is severely limited by an average range between charges of about 100 miles. Electric vehicles also tend to run out of power at motorway speeds.
As the network of public charging points in the UK expands, range should become less of an issue. The new government scheme also covers the expansion of charging points.
Though electric cars can easily and cheaply be recharged at home, motorists hoping to travel beyond their electric vehicle's normal range currently face the challenge of finding one of the few public charging points available in the UK, most of which are in London.
The government is making £20 million in funding available to support the expansion of public charging points. Most of the UK's existing charging points are in London, as well as Milton Keynes and in the North East. More charging points are planned for the Midlands, the east of England, Greater Manchester, Scotland and Northern Ireland.
The Transport Minister was, however, keen to point out that there is little real value in the use of electric vehicles if the electricity is generated by dirty power plants that produce large amounts of carbon emissions. Mr Hammond said the real value of electric cars in Britain would hopefully be realised in the future, as the use of renewable forms of energy expands.