Cherokee – 5 or 7 Seats
Before we all get exited about the Cherokee being a 7-Seater I'm putting the record straight. The Jeep Cherokee is only a 5-Seater but Jeep created the Commander as a 7-Seat counterpart of the Cherokee. You can't get a new Commander anymore as production ceased in 2010. However if your in the market for a 5-Seat MPV then maybe the Cherokee is for you.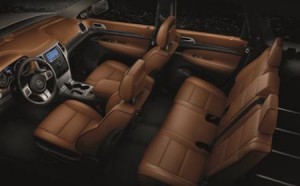 Grand Jeep Cherokee leather seats pictured above.
Cherokee History
The original Jeep Cherokee was first released over 20 years ago, and now the latest generation is ready to be unleashed onto the market, much to the delight of 4x4 lovers. The new Grand Cherokee (the 5-Seat Version of the Jeep Commander), is the result of extensive efforts from some of the world's most talented designers and engineers, and it does not disappoint. With a clever mix of technology, safety, durability, style and luxury, this model is set to impress.
Tell Tale Aesthetic Features
The Grand Cherokee is instantly recognisable as a Jeep product with its standard tell-tale aesthetic features, but something is different. The broader, wider stance projects an image of robust strength and stability. This is not just an image. Engineering quality control tests were put in place to tirelessly assess the durability of the Grand Cherokee.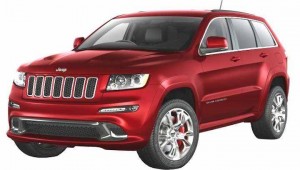 Grand Jeep Cherokee pictured above (5 seat).
Excellent Up to Date Innovations
As a result, the finished product is a vehicle that is extremely aerodynamic, providing a smooth, quiet and comfortable ride, even in trying conditions. The Grand Cherokee really is ready for anything. World-class design and engineering have been put into this model, allowing it to tackle any situation it may come across. Excellent up-to-date innovations include the Quadra-Lift system, the Selec-Terrain system and Adaptive Cruise Control.
Jeep Grand Cherokee at Geneva Motor Show
Safety and Stability
There's also Electronic Roll Mitigation, which ensures safety, stability and full control at all times. The Hill Descent Control and Hill Start Assist functions help when travelling at an incline, giving the extra power required for driving on mountainous terrain. Slippery surfaces are also no problem due to the Anti-Lock Brake System.
Easier Driving and Parking
The Blind Spot Monitoring and Rear Cross-Path Detection Systems provide full special-awareness and safety, making both driving and parking easier and safer. This is just a selection of the technology that the Grand Cherokee has to offer. Numerous safety-ensuring technological innovations have been put to use with this model.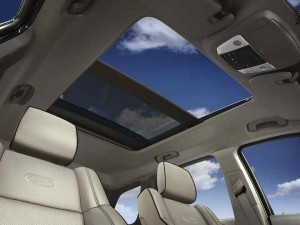 Jeep Grand Cherokee panoramic sunroof pictured above.
Rough and Ready Exterior
There is no doubt that the exterior is tough, rough and ready. However, the interior has not been forgotten, and extra care has been taken to ensure that passengers experience the best in comfort, convenience and luxury. Hands-free technology allows drivers to control the sound system and well as their phones by voice-activation, and top-of-the-range entertainment and satellite navigation systems add to the luxury of the cabin.
Such a Smooth Ride
While the Grand Cherokee is able to withstand the harshest road conditions, passengers will always enjoy a delightfully smooth ride. Noise has been reduced to an absolute minimum, and individual suspension cradles for the front and back of the vehicle provide extra cushioning for supreme comfort. This means that users can enjoy a uniquely comfortable off-roading experience.
Powerful Performance
The powerful 3.0 CRD V6 petrol engine provides 237 hp and 550 Nm of torque, but still manages to remain efficient. It features a Variable Geometry Turbocharger, which helps to reduce fuel consumption while cutting emissions and bringing engine noise to a minimum. A V8 diesel engine version is also available.
Optional Extras
Optional extras include a Command view sunroof - a dual-pane, automatic sliding glass panoramic roof that provides optimum views to allow drivers and passengers to fully enjoy the scenery while travelling. Polished alloy wheels can also be added at 20 inches rather than that standard 18 inches.
Fantastic in All Weather and Terrain
The Grand Cherokee is a fantastic all-weather and all-terrain vehicle that gives nothing but the best when it comes to safety and comfort. Those looking for the perfect off-road MPV need look no further.