Honda Pilot 8-Seat MPV
With its muscular look and third row of seating, the Honda Pilot 8-Seat MPV is a mid-sized SUV crossover that keeps 4WD admirers happy while also providing that much sought after additional seating. And it's had a further facelift for the 2012 edition. This vehicle is only available in America. But you could import one in if you so wished.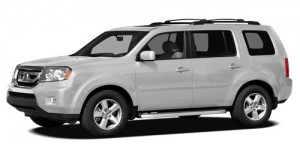 Honda Pilot (with 8 seats) pictures above.
More frugal fuel economy
The grille of the Honda Pilot 8-Seat MPV is the most noticeable change in terms of the aesthetics. An improvement on the letterbox-style grill of the previous version, the 2012 installment features a more sophisticated looking 3-bar grille with a re-jigged headlight layout and more subtle edges. Along with the redesigned alloy wheels, the more aerodynamic Honda Pilot manages a more frugal fuel economy performance.
Three rows are stepped
As ever, the Honda Pilot is a more sizeable vehicle compared to its competition, namely the Hyundai Veracruz and Toyota Highlander. The 8 seats across three rows are stepped much in the same way as in a cinema meaning everyone gets a view of the road and the back row doesn't feel a million miles away.
Perfectly weighted ride
Where the Pilot really comes into its own, and proves its credentials as a true crossover, is in the chassis construction. It uses a combination of a unibody format, similar to a family sedan, crossed with a perimeter frame much like you would find on a truck. The result is a perfectly weighted ride that feels smooth yet sturdy all at the same time.
Honda Pilot interior seating pictures above.
People Carrier that looks like an MPV
Former buyers of this crossover SUV will almost certainly go into autopilot when considering an update – for those that have already tried it, there is no other choice. And for those that haven't, this is the perfect compromise. It's a people carrier: it just looks like an SUV.
.more...