Hyundai Trajet the Budget 7-Seater
Featuring a huge amount of rear space, the Hyundai Trajet is a superb budget 7-seater and far more besides. While later MPVs have come up with clever ways to maximise space and add versatility in terms of folding seats, few can compete with this vehicle.
It allows the seats to be completely removed as well as turned into tables, while the front seats can be rotated 180 degrees. This effectively turns the Trajet into a picnic table or writing desk in a matter of seconds.
Purchase Price
Its competitors – a dying breed these days as MPVs have become more sporty – include the Toyota Previa and Kia Carnival, 7-seaters at the people carrier end of the hatchback spectrum. Prices for this second hand seven seat MPV range from £250 to just over £5,000. Remember that there is quite a good bit of boot space left with all the seven seats upright.
Newer Versions
Newer versions of the Trajet represents a major improvement on older models in terms of fuel efficiency and safety. Around town the newer editions does more than 30 miles per gallon which rises to 32.5 mpg during motorway driving. It may not look as sleek as some of the other MPVs that have been released recently, but this is a people carrier that does what it is supposed to – move people in comfort and with sufficient interior space.
Still Popular Today
Originally launched in 1999, the Hyundai Trajet is still a popular seven-seater today despite production having ceased in 2008. It has five engine choices and is a bargain nowadays. It's not the most stylish MPV around but it has many unique features, which even new cars cannot match.
Hyundai Traject pictured above.
The road tax is fairly high and ranges between J to L bands, depending on whether it is fitted with a petrol or a diesel engine. The choice motor is the 2.0CRTD GSI five-door diesel, which is in tax band J and returns 39mpg. The emissions aren't great for the Trajet. The average across the range comes in at a smoky 223g/km CO2, which is higher than many of its competitors. The diesel engine pumps out the lowest amount of CO2, at just 189g/km.
Safety Features
Jam-packed with the latest safety features, the Trajet will bode well when the going gets tough. Driver and passenger airbags, power-assisted steering and anti-lock brakes are standard fitment. Visibility is good out of the large front and side windows, meaning there aren't those pesky blind spots you normally get with MPVs.
Low Purchase Prices
With residual prices already at the lowest they will go, buying a Trajet is an economical investment. The Trajet is still fairly unknown to many people and that affects the price, meaning in the second-hand market you can find some bargains. The 2.7 V6 is a fuel-guzzler and is not recommended compared to the 2.0-litre diesel or even the 2.0-litre petrol engine. Expect around 32mpg on a combined cycle.
Large Comfy Seats
The seats in Hyundai's are akin to arm chairs. They boast comfort levels that welcome long drives and even adults can fit quite comfortably in the rearmost seats. If the suspension is not tested too much with pot holes, the Trajet has an easy ride. One thing the Trajet suffers from is low quality parts. There is a great deal of kit on the Hyundai and the later models qualify for the seven-year warranty, but the plastics seem cheap and they don't ooze the quality of Ford or Citroen.
Fuel Consumption
Whatever engine is fitted, the Trajet is slow off the mark and noisy once at motorway speed. The V6 is the smoothest but it also drinks the most fuel and only returns 26mpg. The steering is fairly imprecise and that doesn't inspire a lot of confidence through the corners, despite it not having much body roll and a low centre of gravity.
Move Those Seats
There are six different ways to fold down the rear seats, including flat into the floor, which makes it a fantastic load-lugger or people carrier. Seven people fit in perfectly comfortably. There are a lot of little cubby holes to keep your bits and bobs, as well as drink holders in the front and middle seats. The Trajet is also easy to park due to the good visibility.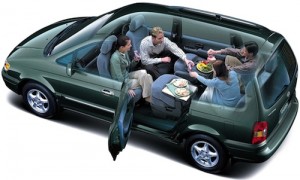 Hyundai Traject interior pictured above.
The handling is poor but a seven-seater MPV is not the type of car you want to be hustling around country lanes anyway. The ride is a little wallowy at times, which can be unnerving over a series of bumps. Pot holes aren't dealt with very well either. Yet the fact that most Trajets have depreciated quickly means you can easily pick up a bargain, even at main dealers!