Hyundai i800 Eight-Seater
Hyundai's i800 model is an innovative eight-seater MPV that combines functionality and practicality with aesthetic style and elegance. With a powerful CRDI 2.5-litre 168 BHP engine, this model is available with automatic and manual transmissions. Both options have four cylinders and 16 valves, but the automatic option provides slightly more torque.
Purchase Price
Standard finish is ceramic white, but a selection of other options is available at an extra fee. Other optional extras include a satellite navigation system and leather seating. The standard price for the manual option is £21,910 while the automatic option starts at £23,820.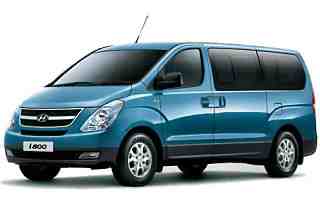 Hyundai i800 pictured above.
For those who want nothing but the best from their MPV, the i800 is the perfect choice. With a practical design and a spacious yet refined interior, this model has the best of both worlds.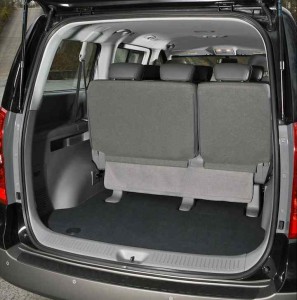 Hyundai i800 boot space pictured above.
851 Litre Maximum Luggage Capacity
The innovative seating system is incredibly versatile, allowing users to recline the third row of seats for more loading space, and also to slide and recline the second row of seats on a 60/40 split. This means that users have total freedom over how they make use of the huge 851 litre maximum luggage capacity. Sliding doors and windows also provide easy access.
Hyundai i800 interior view pictured above.
Comfort is Key
Comfort is key with the Hyundai i800, and the interior has been designed to ensure optimum driver comfort while keeping all passengers in mind. The driver's seat is elevated to give a better view, and is also heated for an extra touch of luxury. The front windows are electronically controlled, and the air-conditioning can be altered from the front two rows of seating.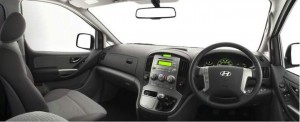 Hyundai i800 cockpit pictured above.
Generous Legroom
Generous legroom is providing throughout the interior and can be further enhanced according to individual passengers by adjusting, reclining and moving the seats. The dashboard has been ergonomically designed to ensure comfort and ease of use. Extra touches include a leather steering wheel and gear stick handle, and adjustable LED mood lighting. Those who want a touch of class may want to add privacy glass, which keeps you, your passengers and your valuables out of sight.
Intelligent Technology
The i800 is not just about looks and functionality. It also features intelligent technology, including a combined remote central locking and alarm system, which provides total security and peace of mind. There's an Anti-Lock Braking System and Electronic Brake force Distribution for safety, as well as a Traction Control System.
Reversing Sensors
Reversing sensors provide extra protection and make parking much easier. All these features combined give the i800 the kind of technical specifications that are usually expected from high-end executive cars rather than family MPVs.
Entertainment Facilities
Entertainment facilities include a stereo RDS Radio and CD player, which has USB and Aux ports to allow use of MP3 players. There are six speakers throughout the vehicle to show off the system, and the audio can be conveniently adjusted by controls located on the steering wheel.