Lincoln Navigator
The Lincoln Navigator is a popular SUV with footballer David Beckham for one, and those that think bigger is better. In terms of needing a seven-seater car, more is more, and there are acres of space in the cabin. It's not sold directly in the UK, but many have made the trip across the pond, thanks to the inadvertent advertising by Mr Beckham, so many importers brought boatloads to the UK shores.
It's a beast, with space to swing your arms around inside, carry seven people in comfort and have rooms for bags too. It's got a 5.4-litre V8 which is lazy, grumbly (in a good way) and full of torque. The slush-box automatic wafts between gears effortlessly and with four-wheel drive, it's handy when towing or for any off-road duties. If you can stand its in-your-face looks, then it's a handy piece of equipment.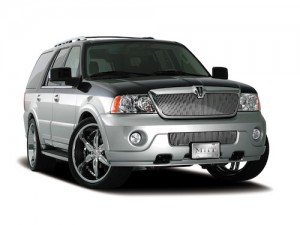 Lincoln Navigator pictured above.
The downsides of the Lincoln Navigator, unfortunately, are more than the upsides. The lusty V8 will only return 17mpg on motorways and around 12mpg in the city. With fuel prices reaching astronomical levels in the UK over the past 10 years, it's safe to say you'll need deep pockets to complete even the shortest of journeys. It's massive too, which means it's difficult to park in the tiny spaces around the cities, particularly London. As the Navigator will be a few years old, there are no parking sensors and parts will have to be shipped from the States if you prang it.
The Lincoln Navigator suspension is typical for flat, straight American roads. It works over there, but in the UK on our cobbled, natty, pot-hole-ridden roads, it is uncomfortable and harsh over bumps. When it comes to corners, it rolls and pitches under braking, so it's best to waft around slowly – if anything, just to keep the mpg levels as high as possible.
The transmission, however, is as safe as houses. It originally came with a four-year warranty, which was extended to six years or 70,000 miles. With the fuel economy being so poor, it's doubtful that many Navigators have done many miles in the UK, so you're pretty safe in that respect.
Inside the cabin is a good dashboard, with everything laid out nicely and within arm's reach. There is wood-trim, which can look cheap on many other cars, but it suits the Navigator and adds a sense of sophistication to it. The seats are more like arm chairs and do a better job of making the ride comfortable compared to the age-old suspension. There are DVD, CD and MP3 players available, 18-inch wheels (or 20"...), power folding rear seats, leather seats, sunroof and power retracting running boards. It really is a barge-full of electronic gizmos.
At three-tonnes, it's one of the heaviest seven-seaters around. What it does mean is that it'll most likely fare well in an accident. With stability control, traction control, curtain and regular airbags, it's got many safety features. With 300 lb-ft of torque, you'll be glad to have the safety net of traction control on your side, particularly in the snow and poor weather conditions.